A Traveling Bar: No-Bake Nutty Rice Crispy Squares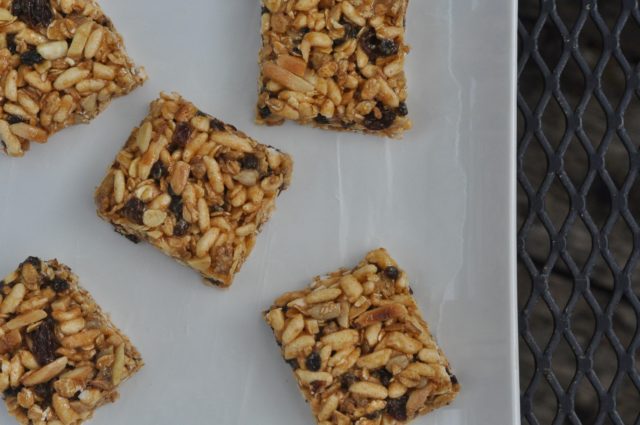 I've been making some version of these for years, but when I saw a granola bar recipe on Pinterest that used brown rice syrup, I decided to make another batch and use brown rice syrup instead of my go-to, honey, to see if it would create a bar that held together a bit better than mine.
Not that I mind the fall-aparty ones – I just keep them in the freezer and pack them in plastic bags for traveling, which is why I started making them in the first place.
I travel a lot –  usually long-haul trips across the Atlantic – which means I might go through several different salty or sweet cravings in the 10+ hour flight, and I like to be prepared. In my carry-on, I always have a plastic bag with a mix organic almonds, cranberries and cashews. Another with McVitie's Digestive cookies, which I've convinced myself are healthy and good for me. Fruit, if there's something good that's portable and in season, like Spanish Clementines. Chocolate, because you don't want to see me without chocolate when I need it, especially on a long flight. And these bars. Always. They're filling and crunchy and take about five minutes to make.
So do the new ones.
The new version: They firm up nicely in the freezer, just like the original recipe, and because of the puffy rice and the sticky brown rice syrup feel more like a Rice Krispie treat than a granola bar. They're also slightly less sweet than the ones I make with honey.
Which one is best? I really like them both. This one's softer, while the other one has far more crunch. Besides, we don't really have to have favorites, do we?
No-Bake Nutty Rice Crispy Squares
Makes 16
1 ½ cups puffed rice cereal (no sugar added)
1 ½ cups muesli (I like Bob's Red Mill)
½ cup almond slivers, toasted
½ cup currants
½ cup peanut butter or almond butter
½ cup brown rice syrup
Mix everything together in a large bowl with a wooden spoon.
Pour into a foil or parchment-lined 7 1/2-inch by 11-inch glass dish, and press down with a spatula to even out the top. Cover with plastic or foil and put in the freezer until firm, about 3 hours or so. Slice into squares and individually wrap each one. I keep mine in the freezer, then put them in my carry-on before I'm leaving for the airport.