Almond Butter Crunch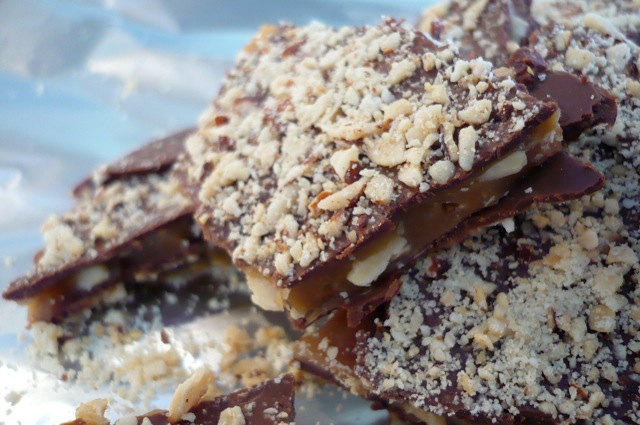 The Christmas line-up at our house was always the same: red and green pecan logs covered with powdered sugar snow; fluffy white divinity; sugar cookies in Santa, snowman, and reindeer shapes; icebox cookies (eaten in the raw state more than cooked); M&M cookies; cheese balls; buckeyes; fudge; and my favorite, my mom's almond butter crunch.
It's what a Heath bar wishes it could be, but never will — melted Hershey bars spread across a cooled plank of crunchy almond-studded brittle, always broken up by hand, in uneven, bark-like pieces.
Sigh.
The woman that makes picture-perfect pie crusts, and bakes cinnamon rolls every Christmas morning, is also the queen of all things candy (she's also the queen of fried chicken, biscuits and many other things, but I'll try to stay on topic).
Because Mom knows that I love her almond butter crunch, she always made a double batch so I'd have plenty to take home after Christmas. Each year, she'd buy special glass jars for her take-home toffee, and sometimes, if she had time (though I don't know how she did), she'd get out her acrylic paints and brushes and decorate the cheery red lid with my name and holly leaves with tiny red berries. Then she'd tie it up with a red gingham checkedy bow — just for good measure, as she'd say.
As if the almond butter crunch itself wasn't enough. Isn't my mom incredible?
Baking together at Christmastime is one of the things that I miss most about having this big old ocean between us. Sure, I can make Mom's recipes, and I can sing the "Sisters" song from "White Christmas" just like we used to do, but it's just not the same as sitting at the kitchen table with mom, sharing a cup of coffee, and biting the head off of a snowman cookie with red hot buttons and a crooked smile.
Almond Butter Crunch
This is my mom's aunt Faye's recipe, and it was given to her in 1960, before I was born, even. She left the 25-cent Hershey bar reference in the recipe just for fun.
1 cup butter
1 ⅓ cups sugar
1 tablespoon white corn syrup
3 tablespoons water
1 cup blanched slivered almonds, toasted
4 4 1/2 oz. (25 cents) Hershey bars, melted (that's a total of 18 oz. milk chocolate)
1 cup sliced almonds, toasted and chopped
Line a 10″ x 15″ cookie sheet with heavy duty foil and generously grease with butter.
1. Working in two different batches, put the toasted almonds in a small food processor and pulse a couple of times so they're in smaller pieces, but not powdered. Put the almonds in separate small bowls, and set aside.
2. Melt butter in large, heavy, deep-sided saucepan over low heat. Add sugar, corn syrup and water. Cook, stirring with a wooden spoon until candy thermometer reads "crack" stage (300 degrees). Quickly stir in 1 cup toasted slivered almonds, and spread on cookie sheet with a spatula. Mom Tip: "Do this quick, quick, quick. You've got to spread it quickly before it sets up on you." Cool thoroughly at room temperature.
3. Spread one side with half of the chocolate and sprinkle with half of the toasted sliced almonds. Let cool completely. Once the chocolate on first side has hardened, cover with wax paper, carefully flip to the other side, and spread with remaining chocolate and sliced almonds. Let cool, and break into pieces. This candy keeps best stored in the fridge.