Almost Salade Nicoise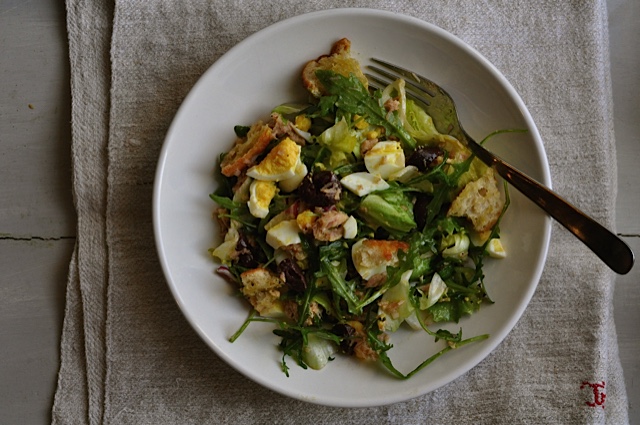 Of course, if this were an authentic salade Nicoise, there would be potatoes. There would also be anchovies.  Haricots verts. Maybe some tomatoes. And the olives would not be Kalamata, which these are; rather, the smaller Nicoise. So I know this is something else, but it is very close, and more than that, it's really good, and it's quick to put together.
The tuna with the eggs and briny olives are what make this so wonderful, and the crunchy croutons add a whole other texture, which I just love.
But this salad happened by accident. Challenging myself to not to go to the grocery store every single damn day, I decided to use what I had on hand to make…something. I wasn't sure what. I had just bought some tuna in olive oil, and had some leftover lettuce from the weekend, part of a baguette from the day before, and there you go.
I was on my way to some kind of salad with it all.
Which seemed just like the thing to have on a sunny 60-degree day. Happy almost spring, y'all!
Almost Salade Nicoise
Makes enough for 2 dinner-size servings
½ baguette
2 tablespoons olive oil
sea salt and cracked pepper
2 eggs
2 big handfuls of lettuce mix
2 big handfuls of arugula
1 (160 gram/5.64 ounce) can tuna in olive oil, drained
12 Kalamata olives, chopped
juice of ½ lemon
1 shallot finely chopped (about 1 tablespoon)
1 teaspoon Dijon mustard
2 tablespoons red wine vinegar
about ⅓ cup olive oil
Preheat your oven to 400°F.
Tear the half baguette into bite-size pieces and put them in a bowl. Add the olive oil, a pinch of salt and pepper and toss. Put them on a cookie sheet and into the oven for 10 minutes or so, just until they begin to crisp.
Put the eggs in a saucepan of water and turn the heat to high. When it boils, reduce to a simmer and set your timer for 10 minutes. Pour off the hot water, let cold water run on your eggs until you can handle them. Peel the eggs, then chop them.
Put both lettuces in a large bowl and add the eggs, the tuna, croutons and Kalamata olives. Squeeze the lemon juice all over the salad.
Make your vinaigrette by whisking together the shallots, mustard, red wine vinegar and a pinch of sea salt and pepper. Slowly add the olive oil while whisking and taste as you go. You may need a bit more oil or a little more salt and pepper. Pour some of the vinaigrette over the salad and toss (you may not need all of it– you can refrigerate what you don't use). Serve right away.