Avocado, Goat Cheese and Roasted Cauliflower Quesadillas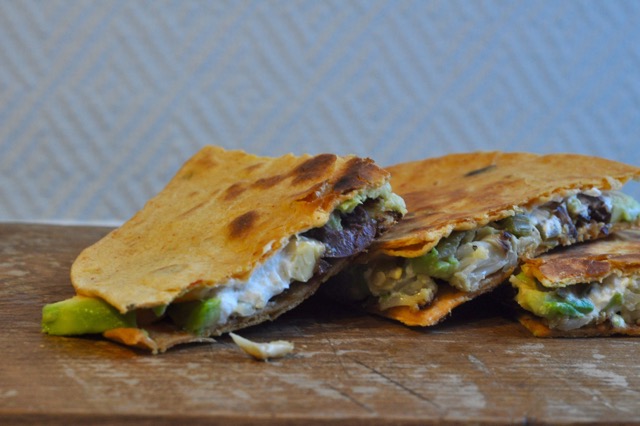 In my world, anything can be turned into a taco — which is just a hop, skip and a jump to a quesadilla.
Heads of choufleur were on sale for 1.29 euros the other day at the Monoprix, stacked in large wooden crates as high as an elephant's eye (as my dad would say), and I couldn't resist. I love roasted cauliflower (so does Rose) and the problem is to try not to eat all of the little caramelized florets as they come out of the oven, which as problems go, isn't a bad one to have.
Nor is having an avocado in the fridge that must be eaten that day.
So I figured, quesadilla, with the two last red chile flour tortillas I'd brought back from Central Market.
After two long months of not wanting to eat much more than soup, my appetite is definitely back, and I'm wishing I'd had more Tex-Mex while I was home. But flu, bronchitis, whatever that thing I had was, got in the way. I did what I could, people, but I left Texas in December having only had one margarita.
Far less than my quota. I know. Sad, sad, sad.
Avocado, Goat Cheese and Roasted Cauliflower Quesadillas
Makes 1 serving
1 heaping cup roasted cauliflower florets*
4 kalamata olives, pitted and chopped
1 jalapeño, chopped
½ avocado, chopped
2 tablespoons soft goat cheese
2 flour tortillas
1 tablespoon olive oil
salsa, for serving
Spread around the first 5 ingredients on one of your tortillas. Top with the second one.
Put the olive oil in a skillet over medium-high heat, and when it's hot, add the quesadilla. After a few minutes, check to see if the bottom's brown, and if it is, turn it over. Press down firmly with a large spatula so the cheese will help glue it all together. Cook until the second side is brown. Remove to a cutting board and cut into 4 pieces. Serve with salsa on the side.
*To roast your cauliflower, simply remove the florets from the head, toss them in a bowl with 1 to 2 tablespoons of olive oil and salt and pepper. Cook in a 450°F oven for 30 to 45 minutes, turning them over halfway.