Baba Ganoush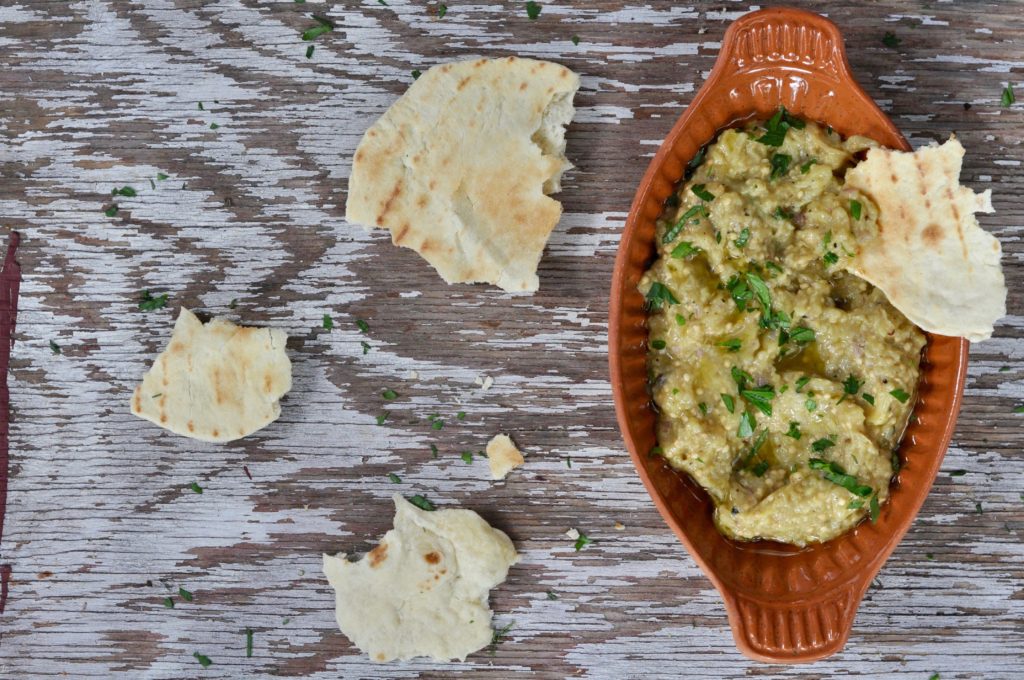 I've always loved eggplant, but lately I've been thinking about it all the time. It started when I was in Sicily a few months ago. Every single day, there was something on my plate starring eggplant. Caponata. Pasta alla Norma. Eggplant picatta.
No matter how it was served, or how often, I never got tired of eating it. On the contrary, it made me realize – again – how versatile and wonderful this big purple light bulb-shaped vegetable is.
Sliced or cubed and tossed in olive oil, salt and pepper, and roasted in a super hot oven is my go-to, but slow roasting it over a flame brings out a whole other kind of magic.
Which brings me to this, the old school Middle Eastern dip with a pita assist, baba ganoush. I've made this before, but it's been ages, and my best recollection of the recipe I used (which I can no longer find), is that it involved tahini, and tasted not unlike hummus. No disrespect to hummus, but I didn't feel like I needed my baba ganoush to be its eggplanty twin.
A quick Google search got me to a non-tahini version by Yotam Ottolenghi, which this recipe is based on. It's simple as it can be, and it is worth the 20 minutes or so of standing near the flames, tongs in hand, turning the eggplant bit by bit, making sure every bit has been properly cooked through.
Eggplant's in season now and available everywhere. Big purple, I'm not finished with you yet.
Baba Ganoush
Makes about 2 cups
Adapted from a recipe by Yotam Ottolenghi
2 large eggplants
⅓ cup olive oil + more for serving
juice of 1 lemons
1 tablespoon chopped shallot
salt and pepper
1 tablespoon chopped parsley, for serving
Place the eggplants over a gas flame turned to low. The idea is to slowly burn the skin so the flesh takes on a smoky flavor. Watch them carefully and turn as needed. It'll take about 15 to 20 minutes, and by the end of the process, you'll have a deflated, burned eggplant that won't resemble its former self. Let it cool, carefully peel off the burnt skin, then let the flesh sit in a colander to drain for at least an hour.
Put the flesh into a bowl and use a pair of forks to pull the flesh into strands. Add olive oil, lemon juice, and salt and pepper to taste, and stir until uniform. Taste for seasonings. Refrigerate for an hour before serving with a drizzle of olive oil and some chopped parsley on top.