Baci di Dama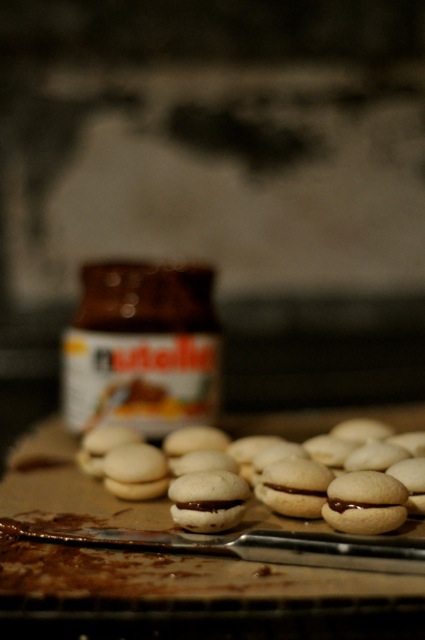 One of my resolutions this past year was to be more spontaneous, and my schedule has just now lightened up enough for me to do so, which I realize isn't exactly how a more carefree, fly-by-the-seat-of-the-pants life is supposed to go…but I'm trying.
Case in point, see these cookies? Little Italian macarons – made with egg whites and ground hazelnuts, whereas the French ones are made with ground almonds. On Christmas Eve, I was invited to a last-minute tapas party, and when I asked what I could bring, the hostess said, "Cookies."
Ugh, I thought. As if I could just whip up a batch of an impressive holiday cookie that afternoon with what I had on hand, no trip to the store required.
But that's exactly what I did, and look how cute they are, their sweet shape only outdone by their deliciousness — a pair of crisp hazelnut meringue puffs, filled with Nutella.
Dear oh dear oh dear.
The thing about cookies, especially holiday ones, is that they can be time consuming, but end up being a great, tasty payoff. These can be made in less than an hour, and are probably unlike anything else you've ever had, unless, of course, you've been in Italy recently. Or France.
So when someone asks if you can bring cookies, and it's 3 p.m. and you don't want to leave the house, put on your spontaneous hat and whip up a batch of these. Super-fast, totally last minute, and easy, too. Gotta love that any time of year.
Baci di Dama
Makes about 6 dozen 1-inch cookies
(Adapted from Saveur magazine)
I used Nutella to fill these cookies because this is what I had on hand; melted milk chocolate would work even better, because it would harden and act as great cookie "glue." This is what I plan to use next time.
6 ounces/170 grams of whole hazelnuts, skins removed
1 cup/200 grams of sugar
¼ teaspoon of sea salt
⅓ cup/43 grams of corn starch
2 egg whites
about ⅔ cup/170 grams of Nutella
1. Preheat your oven to 325°F/160° C and line two cookie sheets with parchment paper.
2. Put your hazelnuts, 1/2 cup/100 grams of the sugar, and sea salt in your food processor and pulse until the nuts are a finely ground powder. Put this in a bowl and whisk in the cornstarch. Set this aside.
3. In a mixer bowl, beat the egg whites on medium-high speed until soft peaks form; slowly add the other 1/2 cup/100 grams of sugar and beat until stiff peaks form. Fold in the hazelnut mixture.
4. Transfer the batter to a piping bag or a freezer-thickness plastic bag and cut off the corner. Pipe 1/2-inch/1.27 cm circles onto your cookie sheets, making sure to leave about a 1/2-inch/1.27 between them. Bake until light brown, about 15 minutes, and let cool completely on a rack.
5. Once cookies are cool, simply spread about 1/4-teaspoon of Nutella on one cookie; top with another cookie.