Beans & Taters, Gascon-Style and Cowgirl-Style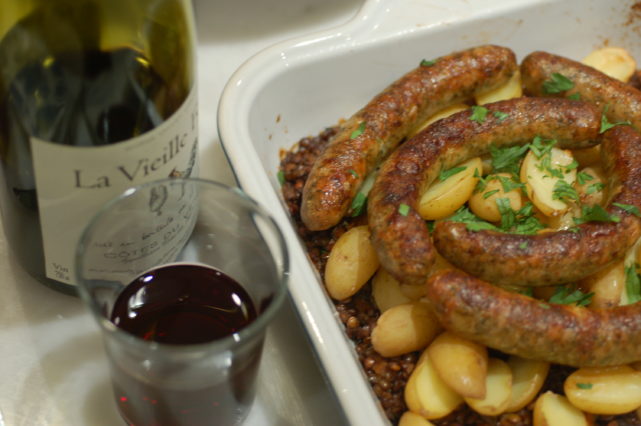 Just back from Gascony, still feeling buzzed from the 80-degree sun and too much Armagnac, I found myself craving what I'd stuffed myself with – and vowing not to eat for awhile – the week before. Duck pate. Foie gras. Magret, cooked on the grill like a rib eye. Rillettes, made with goose. Pork, done every way you can imagine – barbecued chops, with tender loin centers left intact; seasoned slices of ham; cheeks braised in wine and served on top of a simple salad.
I threw some spinach into a bowl, and some lentils on top of that, added some fresh chevre, and a bit of vinaigrette. Then I opened a jar of duck pate that I'd brought back with me, and smeared it on toast, as thick as I would peanut butter.
So much for the idea of a few greens for lunch.
I'd just spent the week with Kate Hill, an American who's lived in the Southwest corner of France for the last 20 years, living on a barge, restoring her 18th century farmhouse, and teaching everyone from professional chefs to passionate home cooks all about the hearty, quintessentially French cuisine of the area, which also includes duck confit, cassoulet, and an apple tart made with pastry as delicate as tissue paper, and when cooked, crisps up like potato chips.
I visited so I could learn about this cuisine and write about it for my Cowgirl Chef column for Cowboys & Indians magazine, which will be appearing in the April '10 issue.
But over the week that I spent at Kate's house, as I chopped leeks and carrots for potimarron soup, pulled weeds from the garden and fed them to the chickens and ducks, and gathered the morning's eggs in my t-shirt, I started to feel something that I'd not felt in a long, long time. Like I was home.
Since Xavier stayed in Paris with Rose, I wanted to share part of Gascony with him, so that first weekend that I was back, I found some homemade turkey/pork  sausages in the nearby town of Dreux and decided to make my version of what we'd eaten one night at Kate's: a simple dish of lentils, potatoes and sausage (which in this case, was magret de canard – oh my).
One bite, and I was back at the big round table underneath the grapevines, with Kate's 130-pound dog, Bacon, sitting next to me.
Over the next few days, I started thinking about this combo of lentils, potatoes, and sausage, and decided that I'd cowgirlify it, just for fun.
I swapped out the lentils for black beans, sweet potatoes for the potatoes, and made my own chorizo to use instead of sausage links. Then, just for fun, I layered this over a bed of fresh, baby spinach, added some fresh chevre at the end, and made Rick Bayless' Roasted Guajillo Vinaigrette.
Then, guess who called for dinner?
Kate Hill, who'd just come up from Agen the day before on the TGV. I told her to come on over, I'd get some beers, and we could try out my new cowgirl version of her hearty Gascon classic.
The verdict? We love them both.
Gascon-Style Lentils & Sausage
1 pound potatoes (small ones, red-skinned are nice), cubed or halved
1 recipe lentils du Puy (below)
2 pounds fresh sausage ( use your fave )
Preheat oven to 350.
1. In a medium saucepan, put the potatoes, enough water to cover by a few inches, and a generous sprinkle of sea salt. Turn the heat on medium-high, and once it boils, turn the heat down and let taters cook for only about 10 minutes. We're parboiling them; we don't want to cook them all the way through.
2. In a skillet on medium, cook the sausages until they, too, are about halfway cooked.
3. Now, layer the lentils in a baking dish. Then add the potatoes. Now the sausages (it looks pretty if you keep the sausages in links and make circles with them). Pour any leftover fat from the sausages over the whole dish (wouldn't want to leave out the best part, would we?).
4. Pop in the oven until warmed through, about 20 minutes.
Lentils
1 pound lentils du Puy, rinsed
2 medium carrots, 1/4-inch dice
2 cloves garlic, minced
1 medium onion, 1/4-inch dice
bouquet garni (lovage, thyme, bay leaf)
sea salt
pepper
olive oil
1. Drizzle a bit of olive oil in a heavy-bottom stockpot, add onions and garlic, and turn the heat on medium-low. Let cook until onions become translucent, about 5-10 minutes.
2. Add carrots, and let cook for about 5 minutes, or until they just begin to soften.
3. Now add everything else, and enough water to cover the lentils by about 4 inches.
4. Cover and turn heat up to medium. Cook until lentils are tender but not mushy, about an hour.
Cowgirl Tip: If you can't find lovage, you may want to add 2 stalks of celery, finely chopped.
Now, here's my version.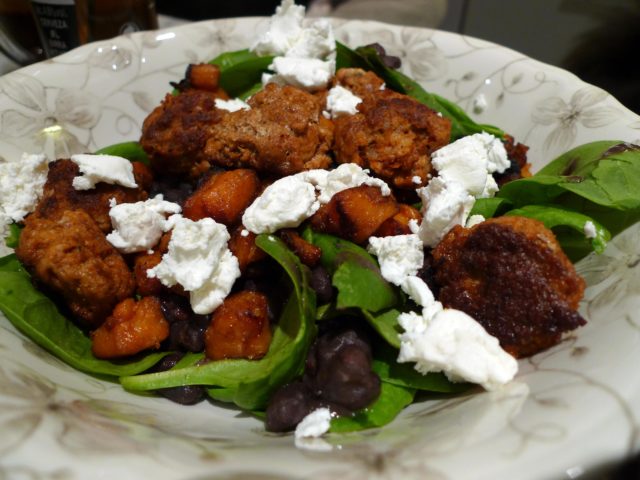 Cowgirl-Style Black Beans, Sweet Potato & Chorizo Spinach Salad with Fresh Chevre
Makes two big salads.
1 package (as much as you want, really) baby spinach, well rinsed and dried
3 cups black beans
3 cups roasted sweet potatoes (use the recipe for fries; just cut the potatoes in smaller pieces)
8 oz. chorizo
4 oz. fresh chevre
Roasted Guajillo Dressing (recipe follows)
1. Cook the chorizo in crumbles or make little patties, as I've done here. Set aside.
2. Reheat the sweet potatoes by drizzling a bit of olive oil in a skillet, turning the heat on medium-high, and cook until crispy and warmed through.
3. Heat the black beans in another saucepan.
4. Make the Roasted Guajillo Vinaigrette.
5. Now, it's time to assemble. Simply put some of the spinach in a couple of bowls — as much as you want — and add the warm black beans, sweet potatoes, and chorizo. Now, dollop a bit of goat cheese all over the top, and drizzle with the Roasted Guajillo Vinaigrette. Voila!
Roasted Guajillo Chile Dressing
From Rick Bayless' "Mexican Everyday"
¾ cup grapeseed oil or vegetable oil
3 medium dried guajillo chiles
2 large garlic cloves
¼ cup balsamic vinegar
sea salt
1. With your kitchen scissors, cut the stems off the chiles, then cut them down the sides and remove the seeds. Give them a quick rinse under some water and gently dry with a paper towel.
2. Pour the oil into a skillet over medium-low heat. Add garlic cloves and lay the chiles flat in the oil, pressing down with a spatula. The chiles won't take too long to cook — about 30 seconds or less on each side — when you see them change color, and when you smell them, it's time to take them out.
3. Put the chiles in a baby Cuisinart for now. Add the vinegar.
4. Pour the oil (it should be orangey now) and garlic in a little bowl to cool, about 10 minutes.
5. When the oil + garlic are cool, add to the baby Cuisinart and give it a whir. Add salt. 
Pour into a jar and refrigerate until ready to use.
Cowgirl tip: You might want to double this recipe, since it's so yummy.