Beet, Avocado & Endive Salad with Goat Cheese and Walnuts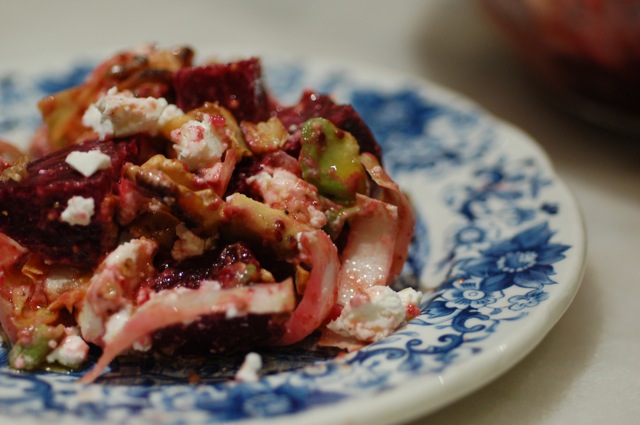 Earlier this week, I skipped out on the Rosedog walk (I bribed X to take her out for her morning jaunt by promising to make hot fudge sundaes again), and met my friend Merja for lunch at Rose Bakery in Montmartre. Y'all may remember that I was completely head-over-heels with RB awhile back. I loved the boxes of English oatmeal and Maldon sea salt at the front, the cute little signature square quiches, and the bowls of innovative, veggie-centric side salads, but I loved most the sticky toffee pudding, which I vowed to make at home –and I did, with my own crazy twist. It's still one of my favorite desserts.
Last year, Rose Bakery opened a second location, in the Marais, in a slender little space with far less room than the original, which was on the cramped side. But growing pains, I figured, would work all of this out.
So with much anticipation and excitement, back to RB I went, expecting that feeling of "Gosh, why have I stayed away for so long?!" Maybe it was an off day, maybe they were down to their last two tiny slivers of squash (which is all I got on my plate, along with a teensy "pizzetta," which was nothing more than a bit of flat bread with a couple of bite-size pieces of eggplant on top), or something.
Then I took a bite out of my endive salad, which wasn't an endive salad at all, as I'd ordered, but a beet salad with a bit of endive, plus one little piece of avocado.
I was hooked. I was in some kind of crazy love again, but this time, it was the beets. Beets! (Mom, are you reading this?) I loved the idea of avocado with beets – a beautiful balance of the nutty with the sweet, and the peppery endive made all of the flavors pop.
Here's my version. Unlike RB's beet-heavy salad, I wanted more flavor balance, so I added more endive, more avocado, and to really take it to a level of true fabulousness, I threw in a whole bunch of goat cheese and some toasted walnuts, too. Tossed it all with a little vinaigrette, let it hang out for a while, and it was absolutely perfect.
Which just goes to show you. When life gives you beets, just go make your own damn salad.
Beet, Avocado and Endive Salad with Goat Cheese and Walnuts
Serves 4
2 large beets, cut in 2-inch chunks
1 avocado, cut in 2-inch chunks
1 endive, 1/2-inch slices
4 ounces walnuts, roasted
4 ounces goat cheese, crumbled
1 recipe E-Z Dijon vinaigrette, recipe follows
Put everything in a bowl and gently toss. Let sit at room temperature for 15 minutes, at least, before serving.
E-Z Dijon Vinaigrette
⅓ cup red wine vinegar
1 tablespoon Dijon mustard
teaspoon shallots, minced
1 teaspoon fresh herbs, such as thyme, basil, parsley, chopped
salt
pepper
⅔ cup olive oil
1. Put everything but the olive oil in a jar (I always use old jam jars for my dressings) and shake until combined.
2. Add oil, shake again, taste, and adjust for seasonings if necessary.