Best Burger: Bobcat Bite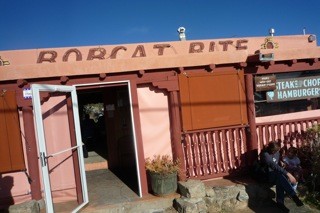 It's not the sort of place that you just come across; unless, that is, you're ambling down Old Las Vegas Highway east of Santa Fe, and happen to look over and see the cars, and the crowd of people standing around in the parking lot here, waiting patiently for their names to be called.
For what, you ask? A burger. Not just any burger, mind you — a big 'ol juicy fresh ground whole boneless chuck burger that puts nearly all others to shame.
I first heard about Bobcat Bite awhile back from Katharine Kagel at Cafe Pasqual's in Santa Fe, and felt silly for not knowing about it sooner. It's a New Mexico — and national — institution. Bon Appetit named the 10 oz. chile cheeseburger here the best in the U.S., and GQ listed Bobcat Bite #12 on its "20 Burgers you must eat before you die" list.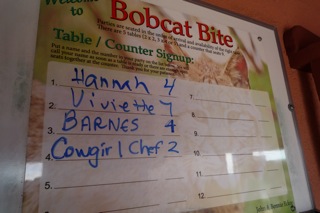 So I put my name on the list and waited, too.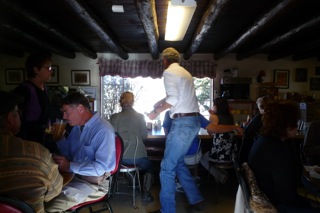 Here I am, sitting at the bar in the tiny space with the beams on the ceilings. Bobcat Bite's been around since 1953, and has been family-owned throughout its history, though not the same family. Bobcats used to come down to this little adobe, once a trading post and gun shop, where the owners would feed them treats. Not sure if "treats" means burgers, but I didn't see any  bobcats on the day that I was there. Except for this one.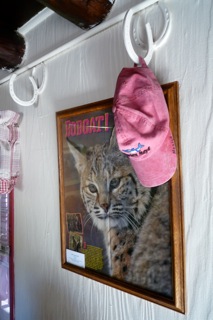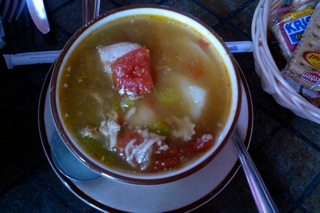 While I was waiting for my burger, I had a little bowl of green chile stew, which immediately went to the top of my own personal "green chile stew you must eat before you die" list. See the Hatch green chiles floating in this broth? Still vibrant and fresh, and just spicy enough to warm the simple soup, with tomatoes and juicy chunks of pork.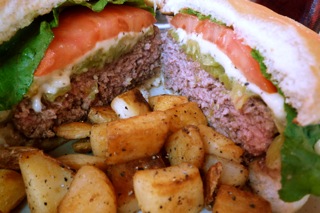 Then — drum roll, please — it was burger time. Oh my my.
I took one look, and said, "I'll never be able to eat all of this."
Then guess what I did? Yup. All gone.
Bobcat Bite (420 Old Las Vegas Highway, Santa Fe, NM) is open in the winter Wednesday – Saturday, 11 a.m. – 7:50 p.m., so plan your trip — and eating schedule — accordingly.
Don't forget to wear your cowgirl boots.