Best Pizza in Paris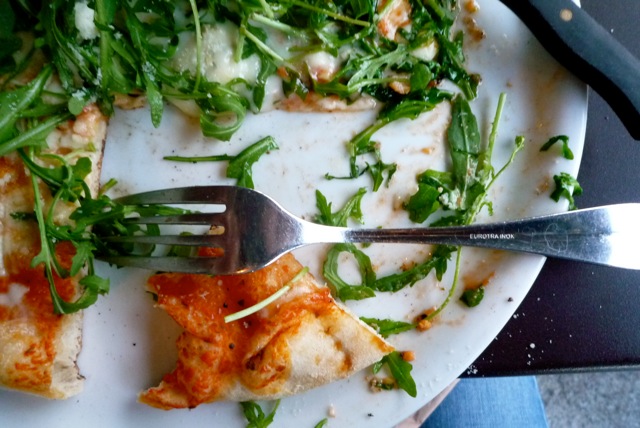 At the end of the week, after I've tested I don't know how many recipes, I'm often in the mood for something simple. Like a good pizza.
You'd think that with Italy being right there, good pizza wouldn't be a hard thing to find around here, but it is. It's not that easy to find good Italian anything here (unless you count Nutella), which is odd when you see how much shelf space is devoted to pasta in the grocery stores. Just like the U.S., pizza's an easy frozen convenience food, and the stinky Franprix and other grocery stores are filled with cardboard boxes stuffed with cheapo cardboard-tasting pies. (Full disclosure: Picard, the kinda fancy frozen food store, also has pizza, and for research purposes, I once tried the sundried tomato/spinach/ricotta/red and yellow peppers one, and it wasn't half bad. It was also less than 4 euros, which is more than what you pay for coffee in my neighborhood.)
While there aren't any decent pizzerias in my neighborhood, I've found a few that are just a short metro ride away.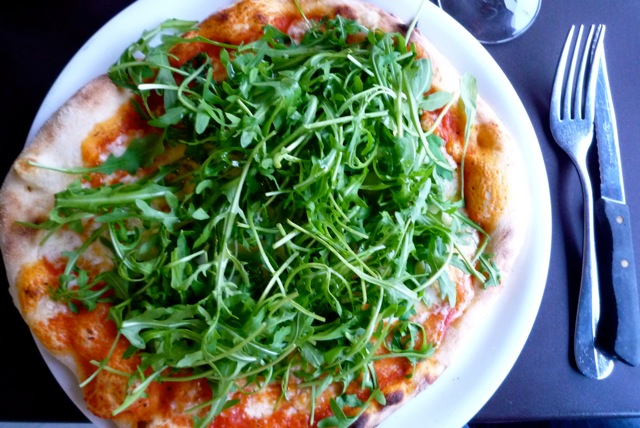 I discovered Maria Luisa near Canal St. Martin a few years ago after I'd taken a salsa class with some friends. I loved the pizza, but somehow this place dropped off my radar – but only recently did I learn that X has been secretly coming here without me.
The nerve.
So on a recent Saturday night, we – together – revisited Maria Luisa, sat outside along with people from the neighborhood, and the pizza was wonderful. I ordered the quattro formaggi with arugula added, because that's the way that I used to eat it when I lived in Florence for awhile, and I love it best that way. Here, they serve along with the pizza two different oils – one's a basil oil, and the other, a very spicy pepper oil — and it comes straight from the oven, super-duper hot. So hot that I burned the roof of my mouth and am still recovering nearly three weeks later. But as you can see, it didn't stop me from gobbling up the whole pie.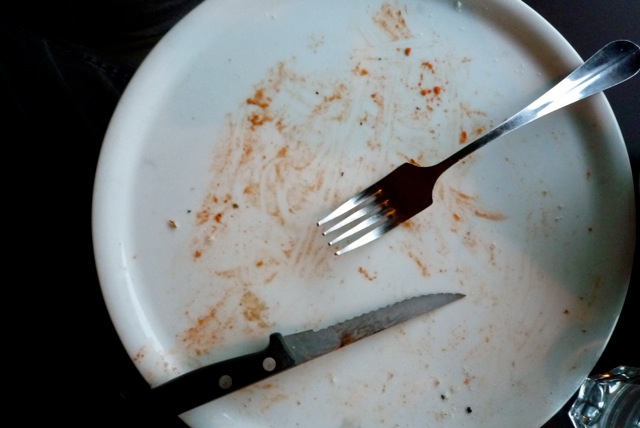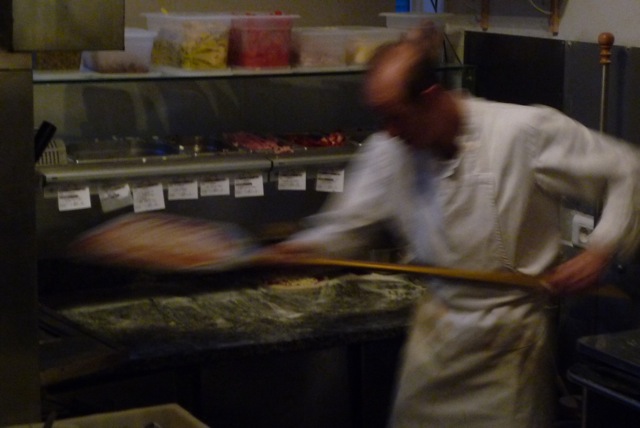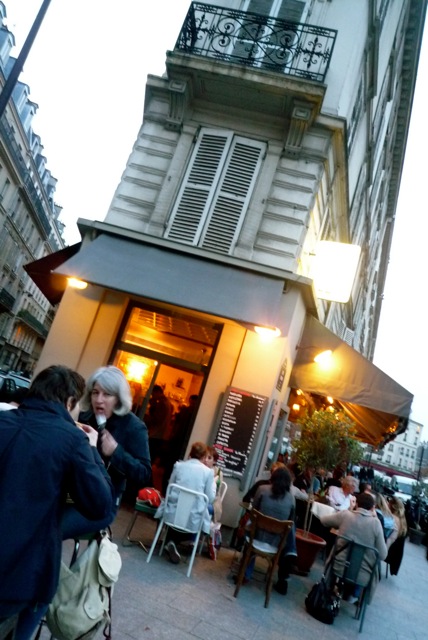 The other place where I go for Neopolitan-style pizza is a place that X and I discovered about a year ago while we were actually looking for someplace else. When we discovered that the restaurant was closed, we popped into a wine bar, had a glass of wine and asked the proprietor if he knew of a good pizzeria in the neighborhood. That's how we found Trattoria Pulcinella.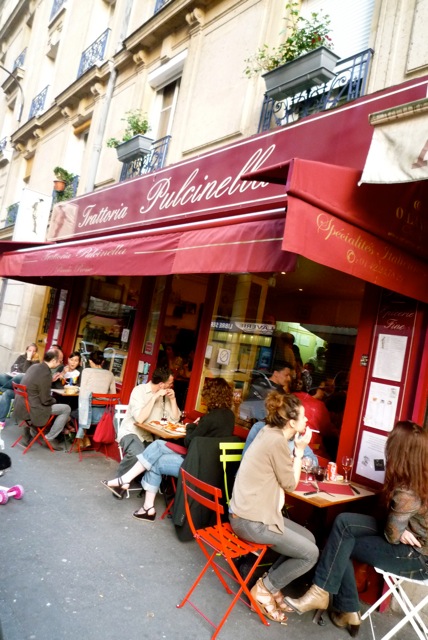 We've been coming here ever since. The dough is crisp and tasty, and the cheese isn't too heavy, either. There's a bit of the smoky scamorza on the quattro formaggi, but always in the center is a scoop of homemade ricotta, which I just adore.
It's a small neighborhood place and it's usually packed by 8 pm, so we often try to go a tiny bit early to grab a table outside. Be warned, though. The outside tables are on a bit of a slope, and last time I was there, I put my wine on the sidewalk so it wouldn't slide off when I cut my pizza. To avoid any spills, I guzzled my vin rouge as quickly as possible. Naturellement.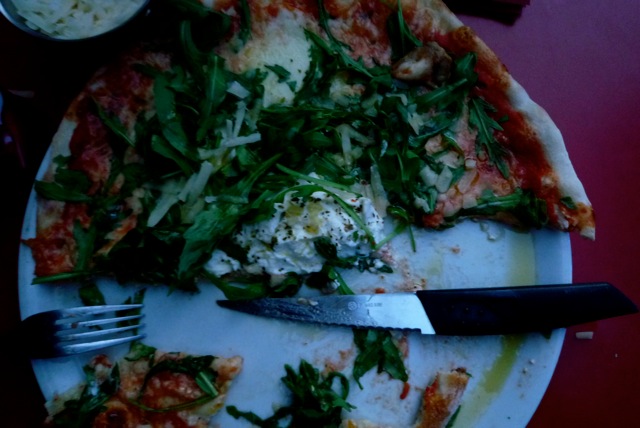 Al Taglio is something else entirely – a Roman-style take-away pizza place, where they slice up enormous, 2 kilo flats of pizza with scissors and sell it by the slice, by weight (each slice is about 3-7 euros, depending on the topping). I suppose one piece could be enough, but for me, it never is, and for the purposes of research and thoroughness, X and I ordered one of just about each of the five different varieties offered on a recent Saturday night, starting with the carrot puree/ginger pizza, with sundried tomatoes and San Danielle ham.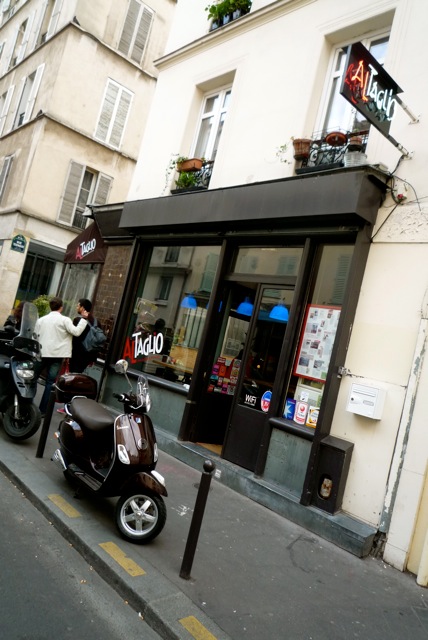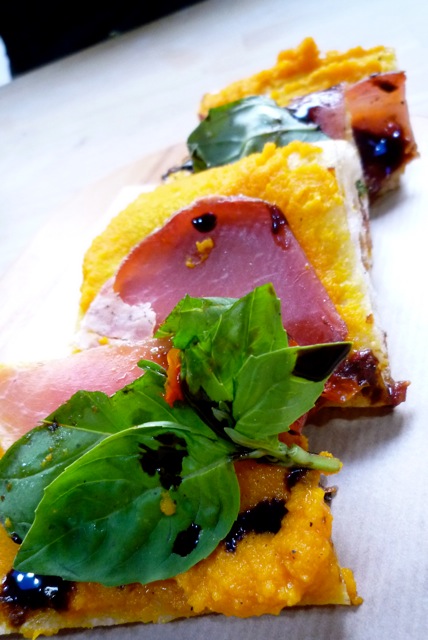 Lucky for us, they'd just made their signature pizza, potato with Alba truffle cream. Sigh. I don't even know where to begin.
This slice alone is worth taking the metro for, no matter where you are in Paris. Even if it's crowded, as it was the other night. It's just crazy-good stuff.
But wait. There's lots more. Behind the truffle madness is a pancetta-Brebis pizza, and below, that's a mixed champignon-scamorza pizza and a Margarita, too.
And get this, pizzaheads: In May, Al Taglio is opening a second location in the Marais at 27 rue Saintonge (yes, near Candelaria – can you stand it?); Maria Luisa's second store, at 52 rue Saint Maur in the 11th, will open, too.
So I can't really complain anymore about the rotten pizza in Paris. There's great pizza here.
Just not in my neighborhood, and I'm going to continue to complain about that.
See how Parisienne I'm becoming?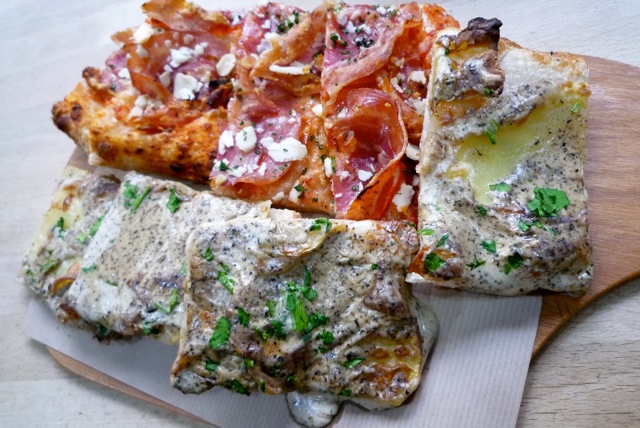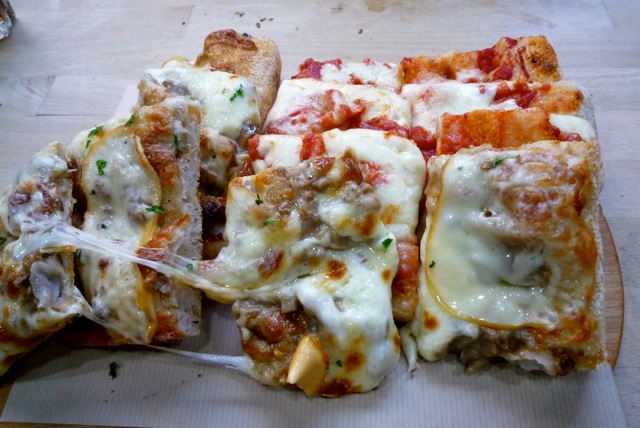 More recent pizza posts:
Check out Forest Collins' review of the recently opened pizzeria/cocktail bar, Grazie, on her blog, 52Martinis.
Kim wrote about Grazie, too, on her blog, I Heart Paris.
Check out what Lindsay thinks about Pizza Chic in the 6th on Lost in Cheeseland.
Maria Luisa
2 rue Marie et Louise
75010
01 44 84 04 01
Trattoria Pulcinella
2 rue Eugène Sue
75018
01 42 23 78 29
Al Taglio
2 Bis rue Neuve Popincourt
75011
01 43 38 12 00