Bite-Size Black Pepper-Strawberry Scones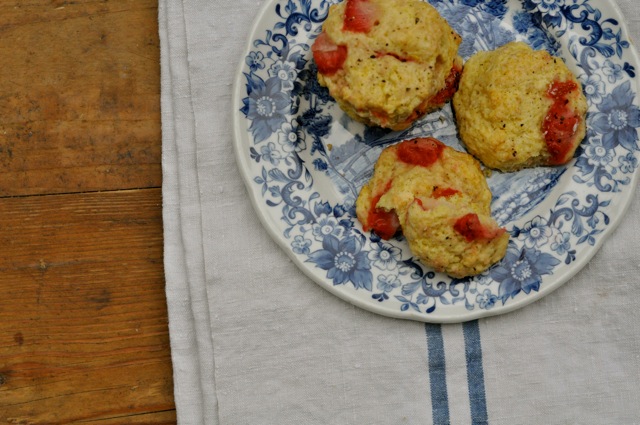 If you've never had this seemingly unlikely combination, then let this be the year that you do.
Strawberries and cream, strawberries and balsamic, strawberries and chocolate (yawn), we know you. You're good, but you're exactly what we expect. You're predictable.
This spring, why not do the unexpected? Take the car instead of the plane. Order something at dinner that you've never tried – and can't pronounce. And instead of reaching for the powdered sugar, crank that pepper mill right over those strawberries.
You'll thank me for this.
I first tried this killer combination a few years ago, when I first moved to Paris and had dinner with X's cousin and his wife. I don't remember what was served for dinner, but I remember the dessert. Strawberries, passed around the table, family-style, in a large bowl. Then the pepper mill. That was it.
It's important that the strawberries be the juiciest and sweetest that you can find. Here in Paris, I'm crazy about the strawberry candy-like Gariguette and the Mara des Bois, but wherever you are, go for the sweetest of the available berries, so they'll contrast nicely with the heat of the pepper.
I've always felt like the arrival of strawberries is one of the first signs of spring – it's a bit like getting to open that first present on Christmas Eve, knowing that there are other gifts to come. So here's a big welcome to le printemps, and a hideeho to the rest of the Twitter #LetsLunch bunch, all of whom have posted spring-like small bites today.
Cheryl's Popia: Singporean Summer Rolls at A Tiger in the Kitchen
Emma's Radish Phyllo Cups at Dreaming of Pots and Pans
Karen's Sushi at Geofooding
Linda's Breakfast Cookies at Free Range Cookies
Cathy's Dandelion Bread Pudding with Sundried Tomatoes and Gruyere at ShowFoodChef
Bite-Size Black Pepper-Strawberry Scones
Makes 30 1 ½ – inch scones (or can be rolled into a circle and cut into 8 larger triangles)
2 cups flour
1 tablespoon baking powder
½ teaspoon sea salt
½ teaspoon black pepper
⅓ cup sugar
4 tablespoons butter, cold
2 large eggs
⅓ cup cream
4 oz. fresh strawberries, cut in 1/2-inch pieces
1 tablespoon lemon zest
fresh cracked black pepper
Preheat oven to 425 F.
1. Combine the flour, sugar, baking powder, sea salt and pepper in a bowl put in a food processor and pulse one or two times.
2. Add pats of very cold butter and pulse 3 or 4 times, or until you see large and small pebble-like (not bam bam) pieces of butter throughout.
3. With the motor running, add the eggs one at a time, then the cream and lemon zest.
4. Turn dough out onto a floured board, smashing it down a bit so it's a large, flat disc (about 1/2-inch thick). Put the strawberries on the dough and very gently fold the other half of the dough on top. Press down so the dough comes together, but not so much that the strawberries get smashed. Key here is to have a light touch and not to overwork the dough at all. Pat the dough until it's 1 inch thick, and using a 1 1/2 inch round biscuit cutter, cut out the scones. Place on a parchment paper-lined cookie sheet, crank the black pepper mill over all of them, and bake for 15 minutes, or until they begin to brown on top.
Serve immediately with butter, jam, whipped cream — or, as I often do, all three.