Blueberry Cornmeal Cake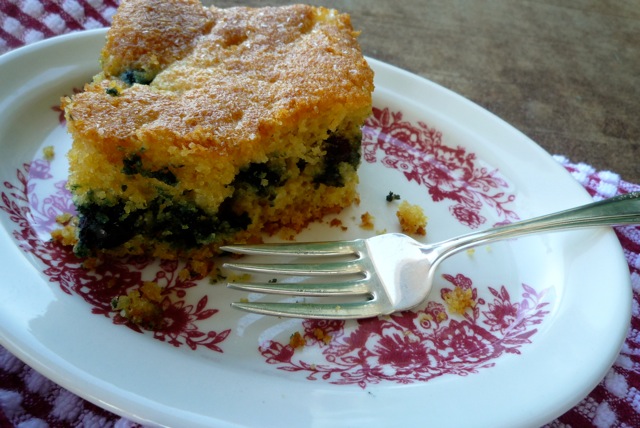 I can't stop thinking about this cake. Over the years, I've eaten many (perhaps too many, according to my thighs) cakes — fluffy and light-as-air cakes; flourless cakes; half-cooked cakes with gooey middles; cakes with nuts; cakes with poofy swirls of icing — but I've never tasted a cake quite like this one.
A cross between a cornbread and a sweet cake, this cake is both moist and with that good old Southern texture that I usually attribute to Aunt Jemima and things made in cast iron skillets.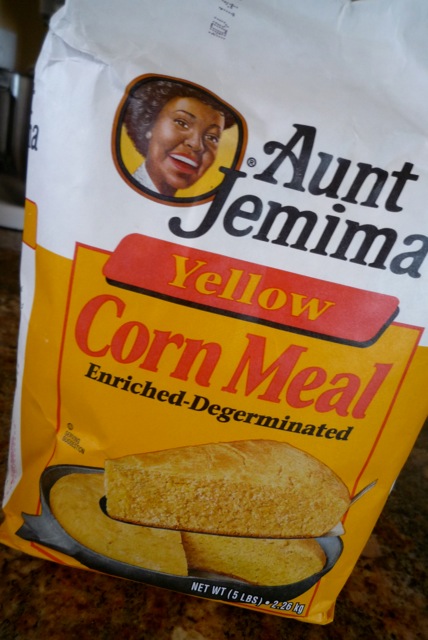 What makes this cake really special is the fat ribbon of blueberries in the middle. My lord, would you look at these plump Texas beauties?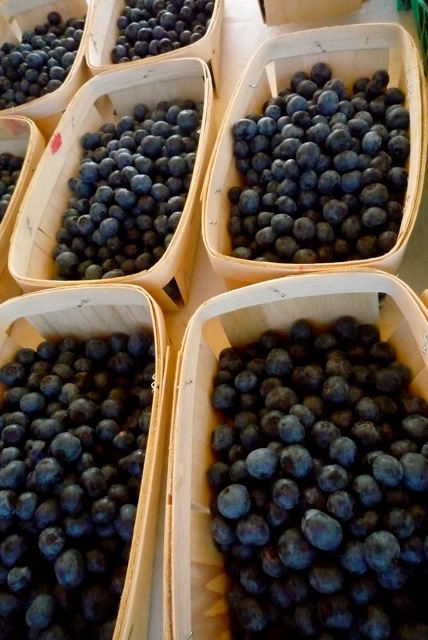 Mom and I stopped by the farmer's market in Denton last week — four pick-up trucks with local farmers selling their veggies — and found these blueberries, and some beautiful tomatoes and zucchini, too.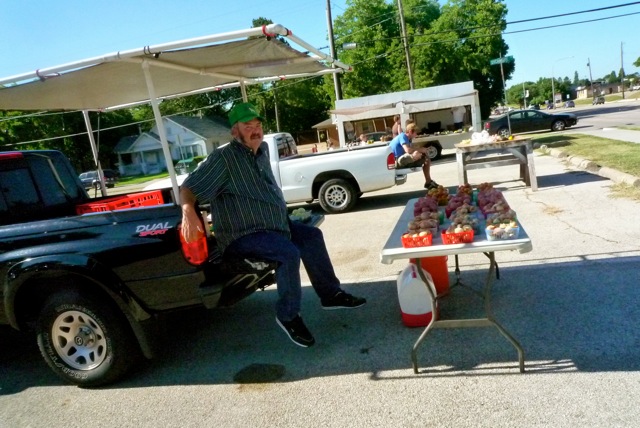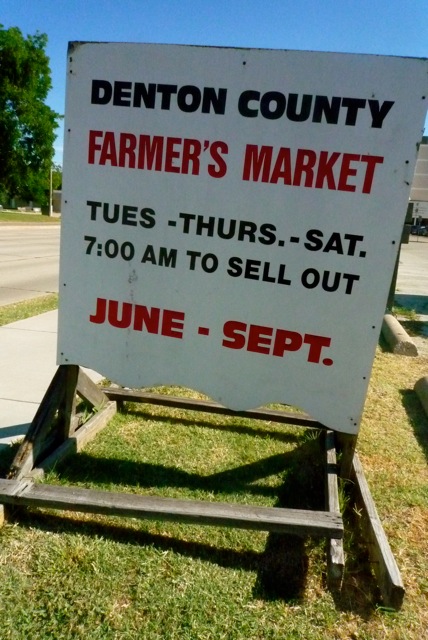 We ran into Travis Wilson from Pilot Point (below), selling a few tomatoes, who was one of my dad's patients. "I sure did enjoy your father," he said to me.
"I did, too," I said.
Daddy died seven years ago this week. Sometimes the seven years seems like a lifetime; other times, it feels like he was just here, tending his garden, as he always did, in the spring and summer. I'd get weekly updates on the growth of his tomato plants, and his corn, cucumbers, and squash. I suppose that's why I miss him most this time of year.
Mom wanted to make blueberry muffins with our berries, but I told her that I wanted to try something new. I'd just found this recipe in Bon Appetit, and thought that it sounded perfect. I swapped out a few things here and there — I opted for olive oil instead of vegetable oil, added lemon juice and zest, swapped out crunchy coarse sugar for plain (definitely do this; it makes a huge impact), and baked the cake in a 9 x 9 inch square pan (instead of a 10-inch springform) because that's all I had. It turned out just fine.
This little cake can do double-duty: it'll work as a breakfast cake (Mom and I ate it every morning) or as a dessert, with a spoonful of whipped cream, or a bit of vanilla ice cream on top.
Either way, this cake tastes like home.
Blueberry Cornmeal Cake
Adapted from Huckleberry Bakery and Café in Santa Monica
Makes one 9 x 9 inch cake
1 ⅓ cups all-purpose flour
⅔ cup yellow cornmeal
2 teaspoons baking powder
2 teaspoons baking soda
1 teaspoon sea salt
6 tablespoons olive oil, plus more for greasing pan
2 large eggs
1 teaspoon vanilla
zest of one lemon
2 tablespoons lemon juice
10 tablespoons (1 1/4 sticks) butter, room temperature
3/4 cup plus 2 tablespoons sugar
1 cup ricotta
⅓ cup plain yogurt
3 cups fresh blueberries
3 tablespoons coarse sugar (for the top)
Preheat oven to 325F.
Lightly grease a foil-lined 9 x 9 pan (or 10-inch diameter springform pan) with olive oil.
In a medium bowl, sift together the flour, baking powder, baking soda and salt. Add the cornmeal, and with a whisk, blend together.
Whisk together the olive oil, eggs, vanilla, lemon juice and zest in a small bowl and set aside.
In a stand mixer, beat the butter and sugar until creamy. With the mixer on medium speed, add the egg mixture. Add the flour mixture, just to blend. Now, lower he speed, and add the ricotta and yogurt, just until mixed in. Pour half of the batter into the pan, then add the layer of blueberries. Add the rest of the batter in dollops over the blueberries, and sprinkle with coarse sugar.
Bake for one hour, or until tester inserted in center comes out clean. Cool completely.
Cowgirl Tip: This cake is more moist and flavorful the next day, so you may want to bake this a day in advance.