Brasserie Lipp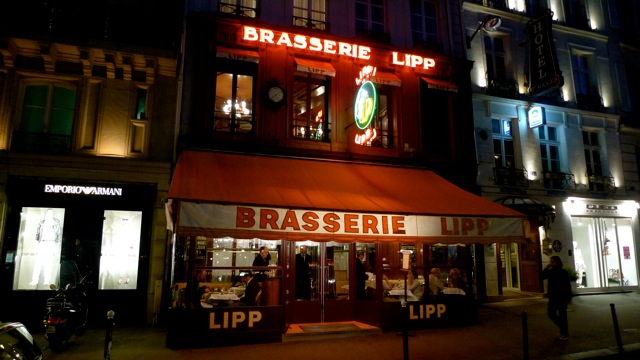 The first time I ate at Brasserie Lipp, one of Paris' most famous brasseries, it was on a Sunday, and I was there to meet X's parents. A flute of champagne and a couple of glasses of wine later, the meal ended with me expressing my excitement over the incredible profiteroles a la Lucy Ricardo: I shoved X so hard that he nearly fell out of the booth.
Not exactly a Miss Manners moment.
Luckily, his parents accepted me anyway, and the kind folks at Brasserie Lipp have welcomed me back many times over the years. It's one of those places where you go in Paris for that cozy, old-timey ambiance  — if cozy to you means Belle Epoque design from the 1920's, and apparently, for lots of Parisians, it does.
It's funny, Brasserie Lipp. It's not the kind of place that you'd expect to see celebrities, but I always do. X brought me here on my birthday one year, and Marianne Faithful sat next to me, and together, we toasted my birthday. Last week, we saw Azzedine Alaia in the booth across the way. The other times that I've visited, X has pointed out various French politicians and actors, but I don't remember those.
Throughout its history, Lipp has always been a place where people come to see and be seen. Across the street from Cafe des Flores, another big Left Bank haunt of intellectuals, philosophers, artists and writers, Brasserie Lipp was where Hemingway wrote his pre-war dispatches, and he even wrote about it in "A Moveable Feast." Marc Chagall, Albert Camus, and lots of others frequented Lipp, too; today, you may see Harrison Ford, Gerard Depardieu, or Sharon Stone. (Or me – ha!)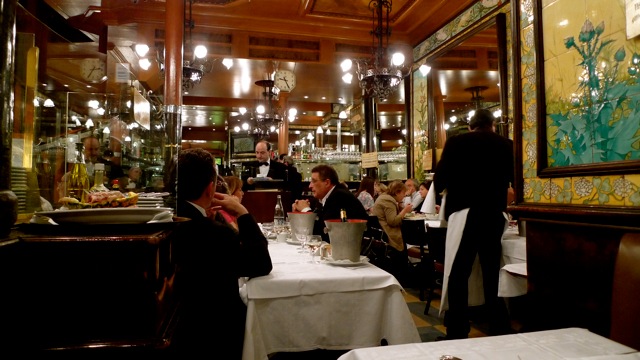 Leonard Lipp probably had no idea that he was creating a classic Parisian bistro when he opened Brasserie Lipp in the 1870s, after he left Alsace during the Franco-Prussian war. Lipp owned the place until the 1920s, when he sold it to Marcellin Cazas, but his menu — which still includes sausage and sauerkraut and other regional Alsatian specialties — has stayed close to its roots. I doubt that it has changed much in the last 100 years or so.
The food here isn't fancy, but it's good, typical bistro fare — sure, you come here to eat, but you're really here for the experience of dining at Lipp, and wondering who you might be seated next to. (I, for one, would like to know why I never see Johnny Depp.)
Onto the meal. For a starter, I ordered the terrine de campagne, and was oh so happy to not have to share.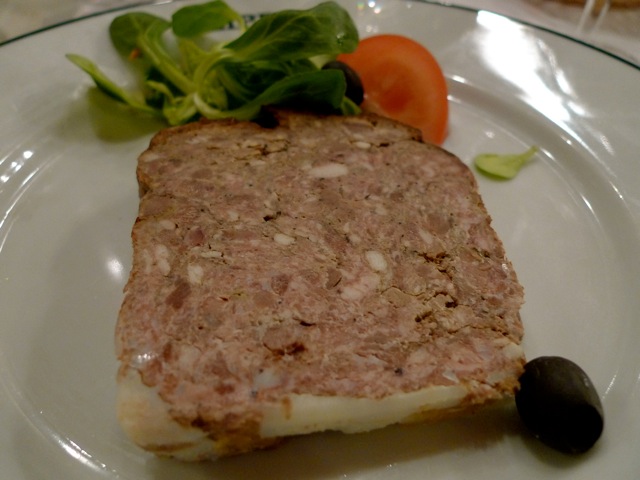 I can't resist making a sandwich out of whatever I'm given, so here, I spread a little butter on the bread, some pate, and a cornichon – voila!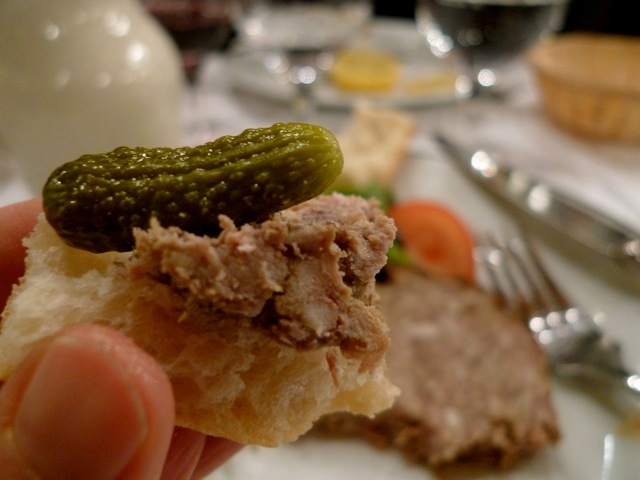 I didn't order the avocat et crevettes, another bistro classic, but Charlotte, X's niece did, and she let me have a bite. A little heavy on the mayo.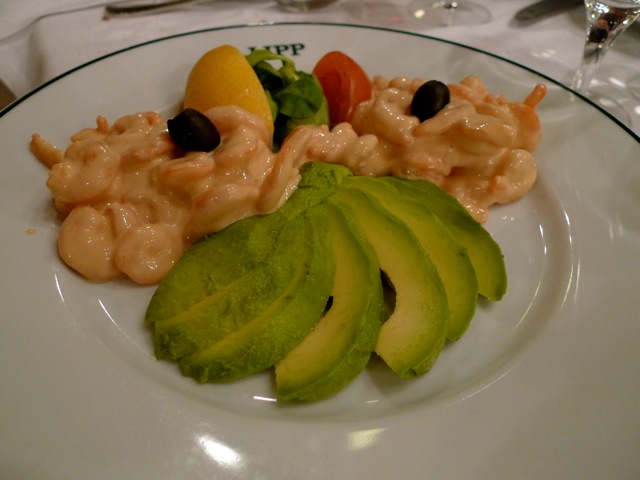 Then, Charlotte and I both had confit de canard, my favorite. Look how crispy that duck skin is! (Warning: cholesterol-phobes, you may not want to come here, or, for that matter, France).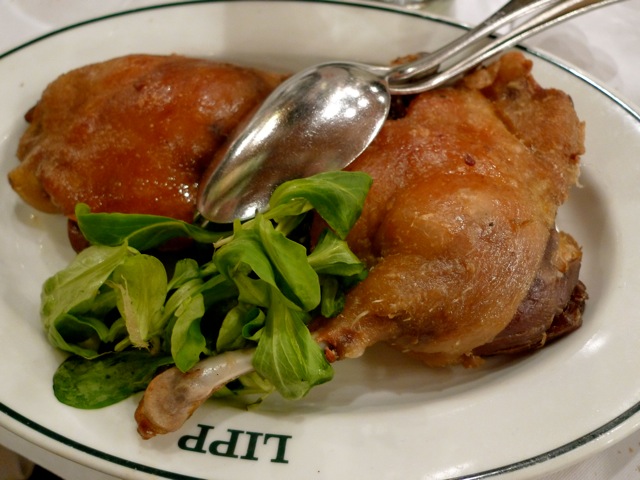 X ordered the brandade de morue, which was light and fluffy, and really some of the best that I've tasted.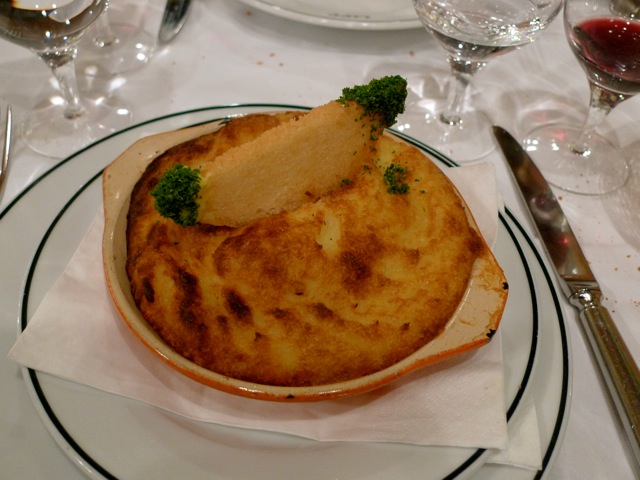 The best of all? Dessert. Guess what I ordered?
(Boff!)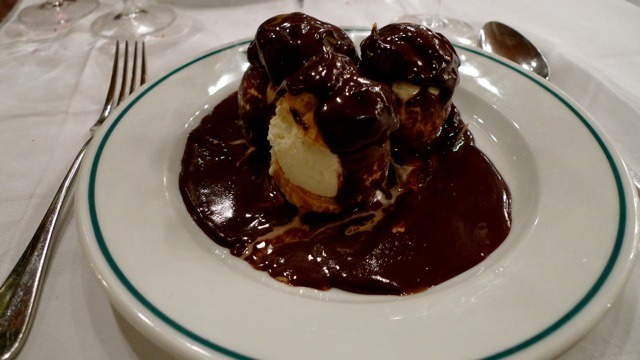 Brasserie Lipp
151 blvd St. Germain
01-45-48-53-91