Broccoli + Basmati Rice Salad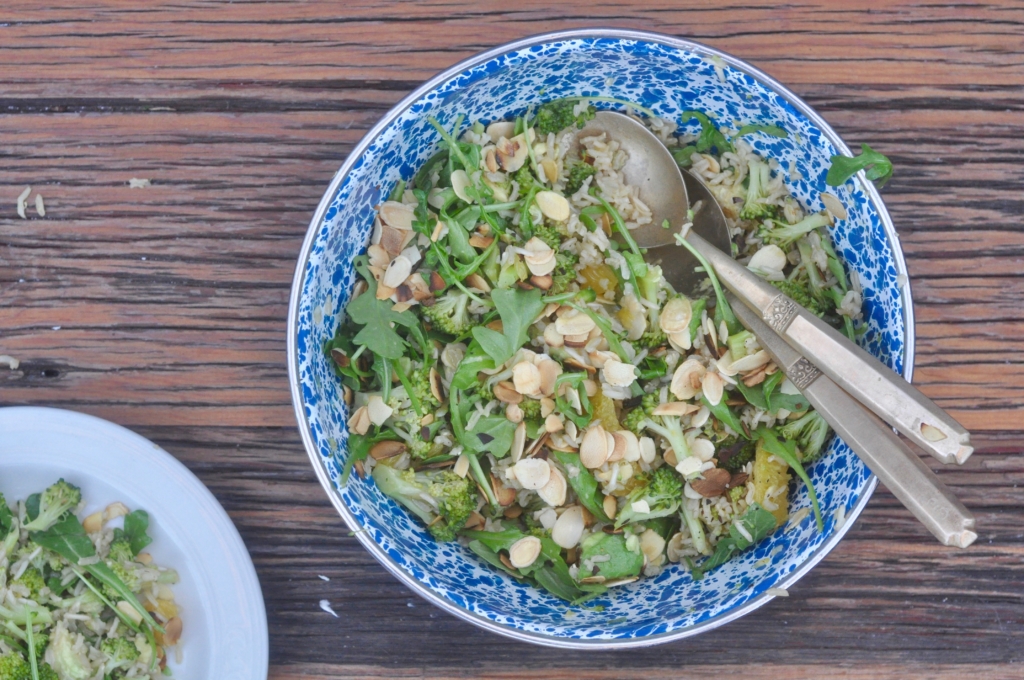 I did not wake up and say, "Oh I'll make a salad with rice and broccoli and oranges and all of these other things." It went more like this: broccoli, broccoli, and….?? Let's see, I have steamed broccoli in the fridge and it's on its last good day so what can I do with it? What can I do with broccoli that I've not done before? Remember all of that rice you bought at the Indian grocery? You burned a whole pot of it a week ago. You need to make rice again to prove to yourself that you can. Rice and broccoli, rice and broccoli…and I didn't know what else.
I left it at that and went on that afternoon to make the Orange + Chocolate Chip Cake. As I zested the orange for the cake, I realized I needed to go ahead and peel the orange, and while I was at it, I might as well practice my orange supreme-ing skills, which could be much better than they are. (Have you ever seen Jacques Pépin supreme an orange? Poetry!) That's when I realized that the orange pieces would be great with the broccoli and rice, and then I remembered that I had an avocado, and arugula, too, plus I had almond slices in the freezer.
A gingery vinaigrette to pull it all together, and dinner dilemma, done.
It isn't always this easy, but sometimes it is.
Broccoli + Basmati Rice Salad
Makes 4 servings
1 cup basmati rice*
1 tablespoon olive oil
1 pound broccoli
1 orange
1 avocado
¼ cup sliced almonds
big handful arugula
Ginger-Lime vinaigrette, recipe follows
Rinse the rice well.
Put the olive oil in a saucepan over medium heat, add the rice and cook, stirring frequently, until most of the rice becomes opaque, about 3 to 4 minutes. Add 2 cups water, stir, and bring to a boil. Cover, reduce the heat to a simmer and cook for 30 minutes or until the rice has absorbed all of the water.
Save time: Cook the rice in advance and keep in the fridge until you're ready to make the salad.
Remove the broccoli florets and place them in a steamer basket over simmering water. Cook until the broccoli has reached your desired tenderness (I like mine fork-tender), then rinse under cold water to keep the color.
Supreme the orange. Peel it with a knife, removing all of the pith, then carefully slice out each segment.
Slice the avocado in half. Remove the seed. Chop into 1-inch pieces.
Toast the sliced almonds in a large skillet over medium-low heat, watching them carefully and turning as needed. This won't take more than 10 minutes.
To assemble the salad: Put the cooled rice, broccoli florets, orange segments, avocado and arugula in a bowl. Toss with some of the vinaigrette. Sprinkle the toasted almonds. Serve. Eat.
*1 cup dry will yield 4 cups cooked. Store what you don't use in a heavy-duty plastic bag and keep in the freezer.
Ginger-Lime Vinaigrette II
Makes about ½ cup
1 teaspoon fresh ginger, grated
1 teaspoon chopped jalapeño
2 tablespoons lime juice (about 1 lime)
3 tablespoons rice wine vinegar
a small handful cilantro
2 teaspoons soy sauce
3 tablespoons grapeseed or canola oil
Put everything in a jam jar and shake to combine. Taste for seasonings.