Broccoli, Carrots, Spinach and Tofu + Miso-Ginger Lime Sauce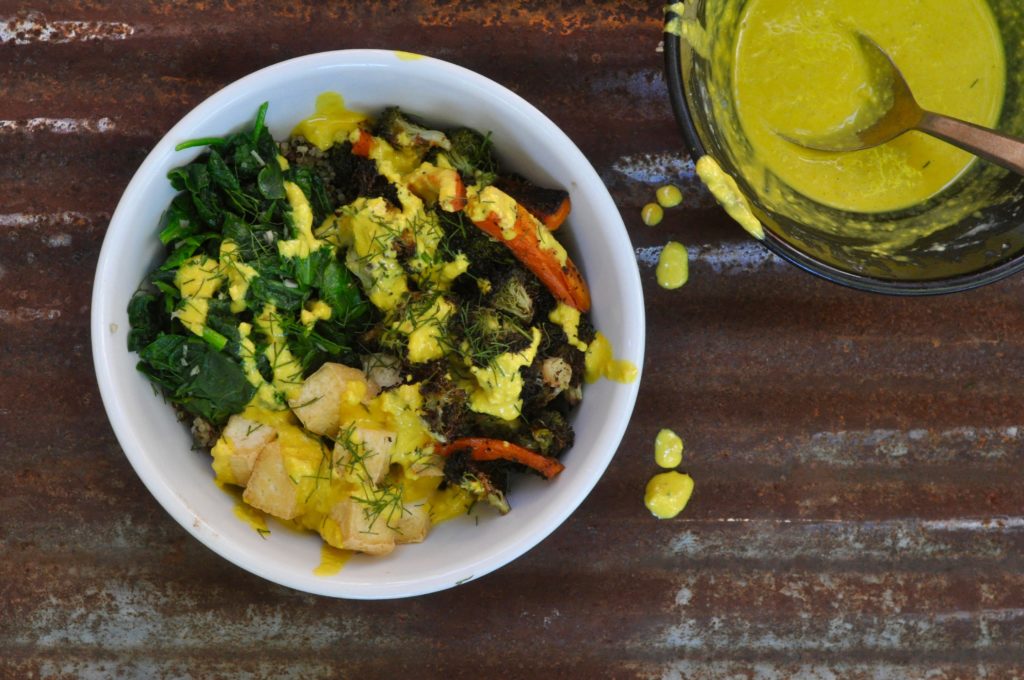 Next time I make this, I will double the sauce. Who am I kidding? Next time I make this, I will double the everything.
Another culinary mish-mash I will soon repeat.
This throw-together dinner began like so many things, as a way to use up what was in the fridge before it was too late — in this case, the broccoli and carrots. The tofu didn't have much time left and the lemongrass was starting to go brown on the ends.
As I sipped my iced coffee, I started chopping. Broccoli first, then the carrots. Peelings and ends to Rose, who believes that most vegetables are treats. Then onto a sheet pan with a bit of olive oil and into the oven.
With my very last lime, I whisked together a variation of miso-tahini sauce, and I felt virtuous as I finely chopped the almost too-tough lemongrass into the tiniest bits ever. I used up the last of my quinoa. I had fennel fronds leftover from some fennel I'd roasted the week before and sprinkled them on top for a garnish.
Crazy, unpredictable harmony made out of scraps. The almost thrown aways.
Broccoli, Carrots, Spinach and Tofu + Miso-Ginger Lime Sauce
Makes 4 servings
1 cup organic tricolor quinoa
1 large head of broccoli, florets removed
4 large carrots, peeled and chopped into 2-inch fingers
2 tablespoons olive oil
salt and pepper
1 (14-ounce) package firm organic tofu
2 tablespoons +1 tablespoon peanut oil
1 stalk lemongrass
2 large handfuls baby spinach
1 tablespoon white miso
1 tablespoon tahini
the juice of 1 lime
½ teaspoon turmeric
chopped fennel fronds, for serving
Put 2 cups of lightly salted water onto boil. When it boils, add the quinoa, stir, cover, and reduce the heat to a simmer. Set the timer for 10 minutes and check for doneness. Keep the lid on and set this aside, or better yet, make it in advance.
Preheat the oven to 450°F.
On a large baking sheet, toss the broccoli and carrot sticks with the olive oil and salt and pepper to taste. Slide into the oven for 20 to 30 minutes or until well browned. Let cool.
Put the tofu in a colander set over a bowl. Put a large heavy skillet on top of the tofu to help coax out the extra water. Leave it for 30 minutes, then chop into 1-inch cubes.
Put 2 tablespoons of the peanut oil in a wok over high heat. Fry the tofu until browned on all sides, about 5 to 7 minutes total. You may need to work in batches. Put the cooked tofu on a paper towel-lined plate to drain.
In a small bowl, whisk together the miso, tahini, lime juice, and turmeric with as much water as you need to thin it out. Set this aside.
Finely chop the lemongrass. Add the remaining tablespoon of peanut oil to the wok and add the lemongrass and baby spinach. Cook for just a minute or until it wilts slightly.
To assemble your bowls, put a layer of quinoa in the bowl and top with: broccoli and carrots/tofu/spinach. Spoon the sauce over the top and sprinkle with fennel fronds. Eat.