Broccoli Spinach Soup with Lime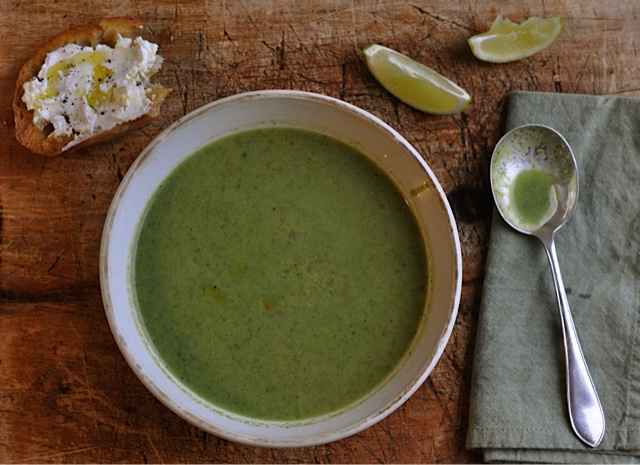 Because I can be a little obsessive, and because I love broccoli and spinach, this soup has both.
Maybe I just forgot about all the rain and gray, but I don't remember such a wet patch like the one we've been having and are still in the midst of. It's been messy. And mostly cold, but lately, less so.  (Highs in the 40s! Hot damn!)
To celebrate our unexpected heat wave in Paris, today I swapped out my big ol' coat for my far more stylish Western suede one to hop the bus to run to my favorite Monoprix, which happens to be too far to walk, but a short 10 minute ride away…then just a street to cross, and voilà. Even better, the bus stop going the other direction is right in front of the store, and really y'all, it just doesn't get much nicer than that.
I like to think of the 123 bus as my own private ride to all things wonderful, like the Monop, and the metro stop on line 10 which takes me everywhere I want to go. The 10 is my new 2, and the 123 is my new 52. Oh how I love the 123! The bus driver (there are always different ones, but we're getting to know each other) and I always wave goodbye once I get off of the bus.
Which has nothing whatsoever to do with soup.
I think you're gonna love it. Well, you will if you like broccoli and spinach and making soup in 30 minutes or so, because that's all this takes. It's a simple soup, but if you've got limes, and of course you do, and if you have the end of a baguette hanging around and some chèvre, fancy or non, consider dinner done.
Plus it's such a gorgeous green, which goes so well with gray.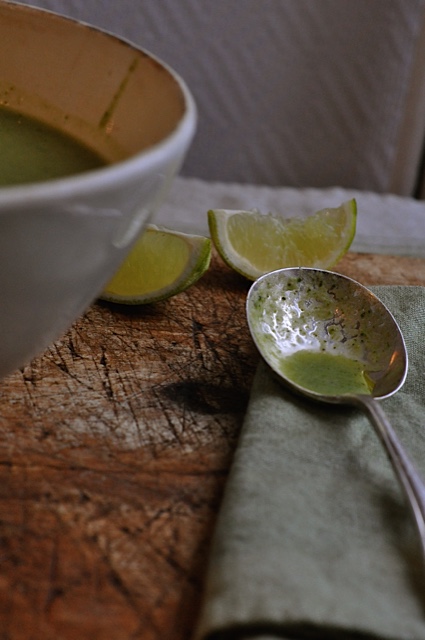 Broccoli Spinach Soup
Makes 4 to 6 servings
2 tablespoons olive oil
¼ cup chopped white onion
1 head broccoli, florets removed and the stalk peeled and chopped
4 cups/1 quart chicken or vegetable stock
salt and pepper (to taste)
a pinch nutmeg
a big pinch cayenne
zest of 1 lime
5 ounces fresh spinach
lime wedges, for serving 
Put the olive oil in your soup pot and turn the heat to medium-high. Add the onion and cook until it's translucent and you can smell it, about 5 minutes.
Add all of the broccoli florets and stem pieces, along with the stock, spices, and lime zest. Let come to a boil, reduce heat and cook for 15 to 30 minutes or until all of the broccoli stem pieces are easily pierced with a fork.
Turn off the heat and add the spinach to the pot, and stir it in — it'll wilt immediately.
Gently pour the soup into your blender, and purée until it has a very smooth, fine consistency. Serve right away with lime wedges or let cool and rewarm later.