Broccoli Spinach Tart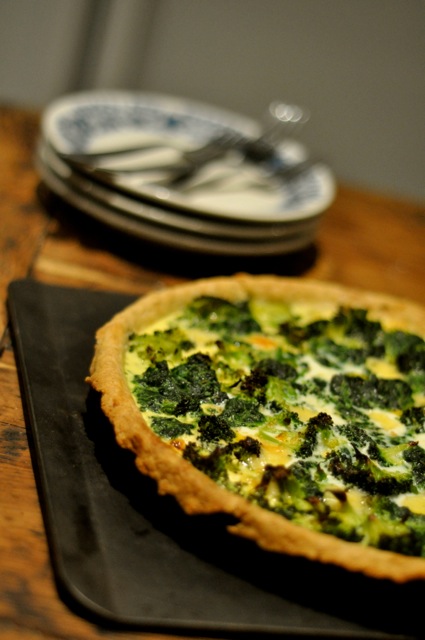 People often ask me if I'm a vegetarian, and I am…sort of. It depends on where I am, and what my body feels like it needs at the time. If that sounds too namby-pamby, well, that's just the way it is. Thing is I was a fairly strict vegetarian for about 15 years, but in the last eight or so, I've added all sorts of meat, fish, and what have you back into my diet, but not every day.
And not everywhere. I eat chicken in France (but rarely in the U.S.), and buy it from my friend Sandy, who brings chickens to the President Wilson Market twice a week (along with his fabulous chèvre), so I know they're fresh and humanely raised. Ditto with eggs. There's a butcher that I trust down the street for rotisserie chicken and other meats, from duck to pork, including bacon that he slices for me while I wait, as thick or thin as I'd like.
I love Angus beef in Texas, which I had plenty of on this last trip. Burgers, steak on the grill, in the cast iron skillet, in chili…you get the picture.
So much so that I'm feeling a bit beefy myself. Which is why I'm on a renewed back-to-veggies kick right now.
Enter the Broccoli Spinach Tart.
This one, made with fresh broccoli, frozen spinach (it's easier, and saves tons of time), and a sweet little 6-month old Comté that they had at the Franprix. You may swap out with a nice Swiss and it'll do just fine. But try my trick for a cheesier quichey tart: instead of shredding your cheese, cut it up into smallish cubes; this way, you'll get "pops" of cheese, with big melty spots instead of a more subtle cheese taste throughout.
Now, if I could just find my yoga mat.
Broccoli Spinach Tart
Makes 1 (11-inch/28 cm) tart
1 head of broccoli, florets removed
8 ounces/225 grams of frozen spinach, thawed and water squeezed out
4.5 ounces/125 grams of Comté cheese (or you may use Swiss), cut into smallish cubes
1 (11-inch/28 cm) pre-cooked tart shell (I use the crust recipe for Tiny Tarts in my book)
3 eggs, lightly beaten
1 cup/250 ml of whole milk
sea salt and pepper
a pinch of nutmeg
1. Preheat your oven to 400°F/200°C.
2. Steam your broccoli florets by putting them into a steamer basket in a saucepan with about 1/2-inch of water, the heat turned to high. This'll just take 5 to 10 minutes. Set this aside.
3. Dot the bottom of your pre-baked tart shell with the broccoli and spinach, and scatter the cheese cubes throughout.
4. Whisk together the eggs and the milk along with the salt, pepper, and nutmeg and pour into the tart shell. Bake for about 45 minutes or until the tart is set (it'll puff slightly to let you know it's ready). Let rest for 10 minutes before slicing.