Broccoli with Cranberries, Pecans and Parmesan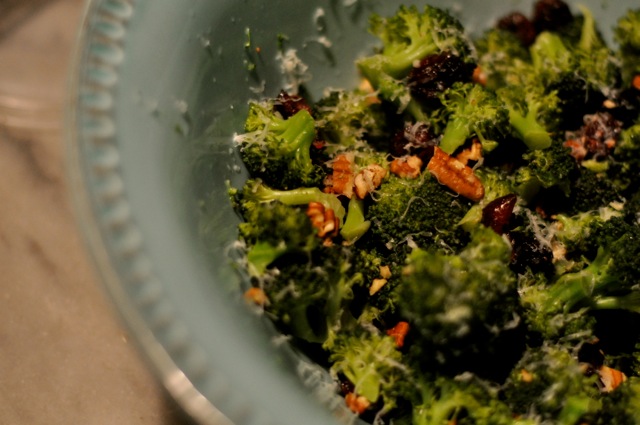 Some things don't need a whole lot of help.
I could eat broccoli just as it is, but I like it best cut in little florets – like popcorn, they are! — and steamed. It just takes a few minutes. Which is such a bonus especially this time of year, when time disappears faster than my daily afternoon triple-shot latte.
But maybe it's just me. Last year at this same time, when I was editing my book, I woke up each day breathless, and felt like I was sprinting to the finish…which I actually was. Two days before Christmas the manuscript was ready to be shipped to the printer, and my holidays could officially begin.
This year is a bit more relaxed. I'm back in Texas, teaching cooking classes and signing books, and spending long overdue time with my Mom and friends…and making tortilla chips a part of my daily diet. Naturellement.
Which brings me to broccoli, which I served on the side with some salmon the other night, and it was perfect. Figured I could use a tortilla chip break since my new jeans were already starting to feel like they were getting tight.
Cranberries and broccoli? Why not? 'Tis the season, after all, and these Central Market cranberries were even better — dried, but still plump, making them much more impactful than the shriveled up ones that you usually find. Pecans because I'm in Texas, and Parmesan's always a good thing to add to broccoli if you ask me.
A great super-quick and easy side for the holidays, which is great the next day, straight from the fridge…if you happen to have any leftover (I didn't).
Broccoli with Cranberries, Pecans and Parmesan
Makes 4 servings
2 large heads of broccoli, florets removed (about 4 cups)
a small handful of dried cranberries
a small handful of pecans, toasted
about 1 tablespoon of grated Parmesan
1 squeeze of fresh lemon juice (about 1 tablespoon)
sea salt and pepper
1. Put your steamer basket in the bottom of a medium saucepan along with about 1/2 cup of water. Put on the lid and turn the heat to high. When the water boils and the broccoli begins to steam, it'll only take a few minutes. Pour your broccoli into a large bowl.
2. Add the cranberries, pecans, lemon juice, Parmesan, sea salt and pepper, and toss. Taste. Serve warm or at room temperature.
Cowgirl Tip: Serve this with a poached egg on top for a light lunch or dinner.