Buckwheat Buttermilk Biscuits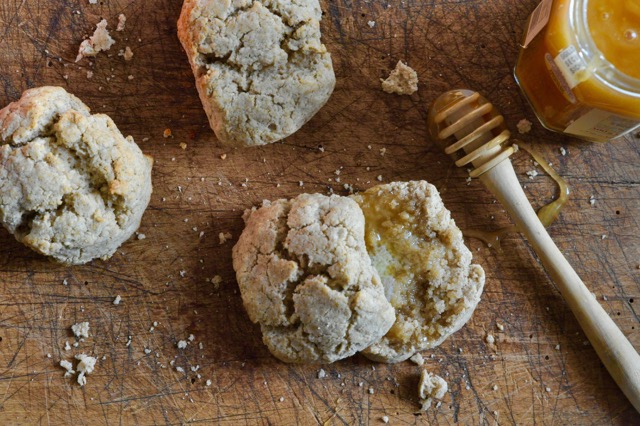 Cloudy and gray, cloudy and gray. That's what it's been for days and days, and on top of that, brutal winds more fitting to Tornado Alley than the Ile de France.
Come on, Paris, who do you think you are? Dallas?
I love me some bruisey purple and green skies as much as the next Texan, but I'd rather not walking around in it avec dog, thank you very much.
So I make steamy mugs of coffee and batches of biscuits, warm, comforting things that make the coldest and dreariest of days feel homey.
I've been experimenting with my biscuit recipe for the last few weeks, trying to strike a balance between the distinctive buckwheat flavor found in French crêpes (galettes, if you want to be correct) and the lightness that a good biscuit demands.
Third time, it worked. And I ate them as quickly as I could, with French butter and Italian aw honey — because we don't have sorghum around here.
Bring on the rain.
Buckwheat Buttermilk Biscuits
Makes 8 big ol' biscuits
1 cup buckwheat flour
1 cup all-purpose flour
½ teaspoon sea salt
2 tablespoons sugar
1 stick/½ cup butter, cold and cut into small pieces
⅔ cup buttermilk (you may not need it all)
Preheat your oven to 400°F and line a cookie sheet with parchment.
Whisk together both flours, baking powder, salt and sugar or just pulse a few times in your food processor. Add the cubes of butter and pulse quickly until the butter pieces are pebble-like throughout — or if you're using a pastry cutter, you're going for the same texture (not uniform bits or anything too small, rather different size pieces of butter).
Pour in half of the buttermilk and gently mix or pulse until the dough begins to come together — add a bit more if you need to. Whatever you do, don't overmix or your biscuits will be like hockey pucks.
Dump out the dough onto a floured surface and gently bring the dough together with your hands so it's a fat rectangle, about 1-inch thick. You don't need your rolling pin, just pat the dough down with the palms of your hands. Be gentle. Go easy with the dough, and you'll be rewarded with light and fluffy biscuits. Cut the dough into 8 fat biscuits. Put them on your cookie sheet and bake for 15 to 18 minutes or until the bottoms are brown.