Buckwheat Flatbread with Strawberries, Avocado + Herbs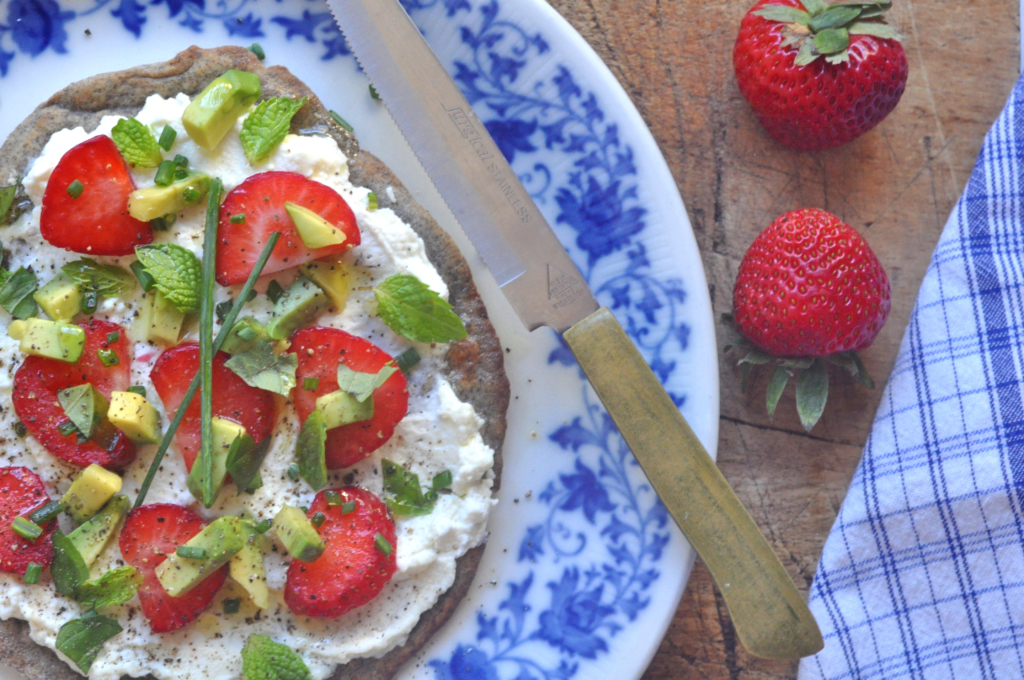 There are certain foods that always make me happy. Warm, homemade cookies. Ice cream with a bittersweet chocolate sauce poured on top. Flatbreads of any sort — pizza, pita, and naan.
All versions of childhood throwbacks, this is why they call it comfort food.
I don't know why it took us all so long to get with the flatbread program. Unlike, say, the cronut, they've been around in one form or another forever. Everyone's got some version of a flatbread, whether we're talking about focaccia or pizza in Italy or naan in India, it's out there, a bread of some sort, flat and open, with or without a topping.
The name itself implies that the bread is not a crazy, doughy carbfest. The great thing about making flatbreads yourself is that you can go as thin as you'd like — I like mine like cracker -crisp and super-thin.
Here I've made a flatbread using half buckwheat and half regular flour, and topped with strawberries instead of the usual go-to, tomatoes — because why not? Strawberries are still at their peak, and have that same sweetness plus slight acidity that tomatoes offer, plus they're a bit of a surprise. But they shouldn't be. Like tomatoes, strawberries are a fruit and they play just as nicely in savory dishes as they do in sweet.
Full disclosure: This is one of three paid recipes I'm developing for the California Strawberry Council. Recipes will appear here as well as on their site. 
Did you know?
Strawberries are packed with beneficial antioxidants and nutrients, including potassium, folate, and fiber.
Strawberries are brain food. A recent study in the Annals of Neurology suggests that eating strawberries twice a week could help delay cognitive delay by two and a half years.
Buckwheat Flatbreads with Strawberries, Avocado + Herbs
Makes 4
1 package yeast
¾ cup warm water
1 teaspoon honey
1 teaspoon sea salt
2 tablespoons olive oil + 1 tablespoon for the bowl
1 cup buckwheat flour
1 ¼ cups bread flour
16 ounces ricotta
1 pint California strawberries
1 avocado
8 fresh basil leaves
a few sprigs of fresh chives
12 fresh mint leaves
extra-virgin olive oil
sea salt and pepper
Put the first 5 ingredients in your mixer bowl and stir to combine. Let rest for 5 minutes or until the mixture is foamy. Add the flours. Mix for about 5 minutes or until the dough is smooth and no longer sticky and releases from the bowl.
Add the olive oil to a medium bowl, transfer the dough to the bowl and cover with plastic wrap. Put in the fridge for 6 to 8 hours or let rest overnight.
When you're ready to make the flatbreads, pull the dough out of the fridge and let it come to room temperature. Divide the dough into 8 pieces.
Half-cook the flatbreads. Roll out each piece of dough on a lightly floured board and put into a medium-size skillet over medium-high heat. When the first side bubbles, flip it over and cook for a few more seconds, until very lightly browned – remember, you're only cooking these halfway. Remove and stack on a plate. Repeat with the remaining flatbreads.
Save time: Make the flatbreads in advance and keep them in a plastic bag in the fridge or freezer.
Preheat the oven to broil. Put the 4 flatbreads on a baking sheet. Spread 2 tablespoonfuls of ricotta on each one. Bake for 10 minutes or until crisp on the edges.
Hull and thinly slice the strawberries and add them to the flatbreads.
Dice the avocado and add one-fourth to each of the 4 flatbreads.
Chop the herbs and scatter them on top. Drizzle with a little bit of olive oil and sprinkle with sea salt and pepper. Serve warm or room temperature.
SaveSave
SaveSaveSaveSave
SaveSaveSaveSave
SaveSave
SaveSave
SaveSave
SaveSave
SaveSave
SaveSave
SaveSave
SaveSaveSaveSave