Butternut Squash and Apple Cider Soup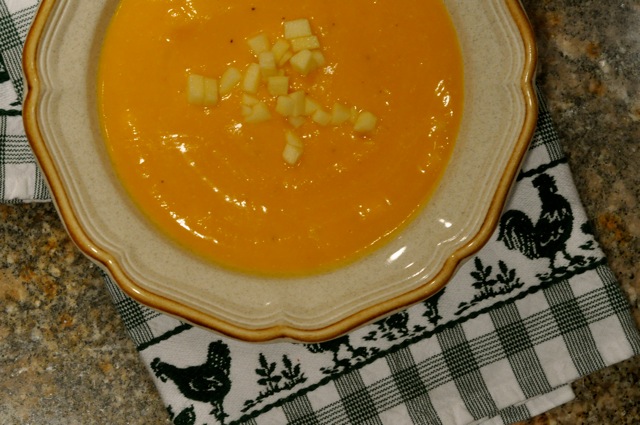 I've made this soup three times in the two months. Three times, I tell you.
But I can't help myself. I love butternut squash. And I love this soup.
I found this recipe on the wonderful culinary website, food52 — it's also in Amanda Hesser's new book, The Essential New York Times Cookbook (which I'm loving more than I ever imagined) — and I was immediately struck by the technique. No oil, just sliced shallots and garlic cooked in water; then, squash, plus the broth (or in a couple of versions, I used water, because I didn't have homemade stock on hand) for a half-hour. The recipe orignally comes from chef Barry Correia from Canyon Ranch in upstate New York, so that's why it's leaning towards lean — but trust me, it's not lacking in flavor one single bit.
I really hate to bring up the good-for-you aspect of this soup because it sounds like I'm trying to convince you that you should make this because it's healthy. Please don't do that. Don't make this soup because it's from a spa, or because it's low-fat. Make it because it lets butternut squash shine. Shine in all of its delicious butternut squashiness.  And make a double-batch, like I've learned to do. (Or, don't make it at all. Which means more butternut squash for me — and ultimately, more soup.)
The apple cider, poured into the blender once the butternut squash is cooked and puréed, makes this soup sing; the small amount of sour cream (in France, I used crème fraiche) adds just the right touch of elegance. And the apples! Don't forget to dice an apple for garnish, like I did the first time that I made this. The crisp, small bits of diced apple will make you rethink how you garnish soups from this day forward.
Butternut Squash and Apple Cider Soup
Adapted, just barely, from "The Essential New York Times Cookbook" by Amanda Hesser
Makes 2 large or 4 first-course servings
1 shallot, minced
1 clove garlic, minced
3 cups peeled, seeded, and cubed butternut squash
½ cup chicken broth (I use water if I don't have broth handy)
¾ cup apple cider
¼ cup light sour cream
½ teaspoon sea salt (or more to taste)
½ unpeeled Honey Crisp or Granny Smith* apple, cored and finely diced
cracked black pepper
1. Heat a medium-size saucepan over low heat. Add the shallot, garlic and 1/4 cup water. Cook until the shallot and garlic are softened, being careful not to let them burn, 3 to 5 minutes. Add the squash and the chicken broth (or water) and bring to a boil. Reduce heat, cover and simmer until the squash is soft, about 20 minutes.
2. Carefully pour the mixture in a blender. Holding the top down with a towel, blend until smooth. Add the cider, sour cream and salt. Continue blending until well combined. Note: the soup can be made ahead up to this point. Place in a clean saucepan over low heat until heated through.
3. Ladle the soup into two bowls. Garnish with apple and cracked black pepper. Serve immediately. And often.
*I used an American Cameo apple, which I've never tried before, and it was just perfect, somewhere between tart and sweet. I prefer this over a tart apple like the Granny Smith, but that's just me. Please use whatever apple you love most.