Butternut Squash Curry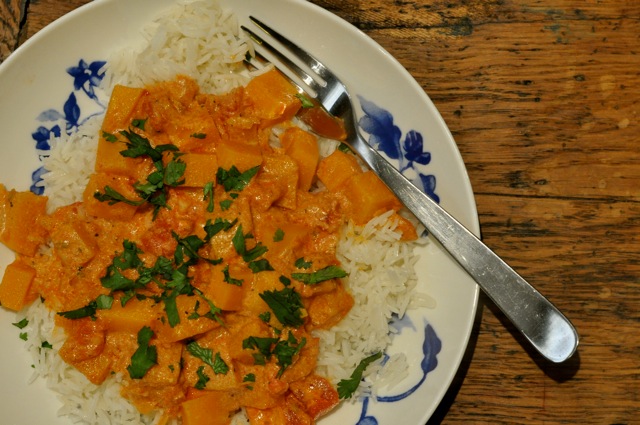 I scooped up what I'm sure was the last butternut squash of the season about a week ago, when it still felt like winter, and like summer tomatoes, I just hate to say goodbye to the butternuts.
I've always been rotten at goodbyes. Ask anyone. They'll tell you.
I'm also terribly lazy sometimes, and just can't bear the thought of going all the way across town for Indian food, something that I'm often in the mood for, but just not up for the travel, and on a crowded metro car to boot. So I figured butternut squash with an Indian twist would satisfy my curry craving, without a trip across town, or to the stinky stinky Franprix, even.
I love this curry and I've made this once before, with leftover turkey instead of squash, and it was wonderful —  all you do is omit the cooking time for the squash, and insert the turkey. This would work equally well with anything that you'd like – cauliflower (dare I?), spring peas, potatoes, leftover chicken. You get the idea.
And listen, don't be dismayed by the long list of ingredients. This is really a dump-and-stir and it comes together in a snap.
Butternut Squash Curry
Adapted from "New Indian Home Cooking" by Madhu Gadia (HP Books)
Makes four servings
2 tablespoons vegetable oil
1 medium onion, finely chopped
4 cloves garlic, minced
2 teaspoons fresh chopped ginger
¼ teaspoon cinnamon
1 teaspoon cumin
1 16 oz. can diced tomatoes in juice
½ teaspoon turmeric
½ teaspoon cayenne
½ teaspoon fennel seeds, crushed (you may used the back of your knife to do this)
1 teaspoon coarsely ground black pepper
1 teaspoon sea salt
1 cup plain yogurt
½ to 1 cup water
About 4 cups butternut squash, peeled, seeded and cut into 1-inch cubes
2 tablespoons chopped cilantro, for garnish (optional)
raita, for serving (optional)
Basmati rice, for serving
1. Put the vegetable oil in a large skillet, along with the onion, garlic, ginger, cumin, and cinnamon. Cook until the onions are translucent, about 5 minutes.
2. Add the tomatoes, turmeric, cayenne, fennel seeds, black pepper and salt. Stir and cook for 2 minutes, then add the yogurt and water, stirring constantly. Now add the butternut squash. Let mixture cook for 15 minutes (until the squash is cooked but still firm) and serve with chopped cilantro and raita over Basmati rice.