Caramelized Leek and Potato Tart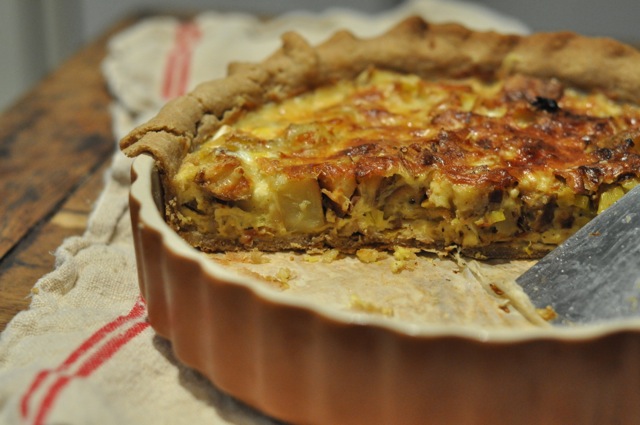 As crazy as it may sound to justify my flea market obsession as inspiration, I give you this, a very leek-y, cheesy, and potato-y tart that I made the day after I found this super-cute ceramic tart pan at Porte de Vanves one Saturday for the ridiculous price of 2 euros. That's right. Two, as in less than what I usually pay for a cup of coffee, euros.
My other tart pans are practical and nonstick and have these great removable bottoms, which this one clearly does not. Nevermind you, removable bottoms. I'd rather have the soul and history of this one, as well as the deeper sides, which none of my more sensible tart pans have.
Nonsense and sensibility, I say!
I will continue to spend my weekends and precious few euros with the vendors at Vanves flea, who back up their goodies-stuffed vans to the sidewalk, snow, rain, or on the rare occasion, shine.
Caramelized Leek and Potato Tart
Makes one 9-inch by 1 1/2-inch (23 cm by 3.8 cm tart)
2 ¼ cups/300 grams of whole wheat flour
½ teaspoon of sea salt
1 stick/125 grams of butter
1 egg yolk
½ cup/120 ml of ice water
3 large or 5 small leeks, sliced (white parts only)
olive oil
sea salt and pepper
1 pound/500 grams of red-skinned potatoes, cut into 1-inch cubes
3 eggs
1 cup/200 ml of milk
a pinch of nutmeg
1 cup/115 grams of grated Comté (Gruyère, Emmental or Swiss will work, too)
1. Preheat your oven to 400°F/200°C and line a 9-inch by 1 1/2-inch (23 cm by 3.8 cm)tart pan with parchment paper.
2. Make the whole wheat crust. Whisking together the flour and the salt. Working quickly, either with a pastry cutter or a food processor, cut in the butter only until it looks like small pebbles.
3. Mix the egg yolk with half of the ice water, add this to the mixture and pulse a few times. Then slowly add just enough additional water for the dough to come together when you press it between your fingers. It should still appear a bit crumbly. Dump the dough out onto a long piece of plastic wrap, mash it into a round disk, and put it in the fridge for an hour (or into the freezer for a bit less than that – I often do this when I'm in a hurry).
4. When the dough's chilly and firm, take it out and put it on your floured surface. You'll need to let it warm up just a bit — just to the point where it's not too cold so it's easy to work with. Roll out your dough, lay it into the tart pan, and pop into the freezer for 15 minutes, or until the dough is firm (very important for dough to be firm so it won't fall in on itself when you get to the next step). Note: you can do this days in advance.
5. Half-bake the crust. Brush the dough with an egg white mixed with a little water, and pop into the oven for 15 to 20 minutes, or until the crust turns a light brown.
6. While the crust is baking, toss your leeks and a couple of tablespoons of olive oil into a large skillet and cook on low until the leeks caramelize — this'll take about 15 to 20 minutes. Let the leeks cool.
7. When the crust has cooked, take it out to cool and increase the heat to 450°F/230°C. Toss the potatoes on a parchment-lined cookie sheet, drizzle them with a tablespoon or two of olive oil, some salt and pepper, and pop them in the oven for about 20 to 30 minutes or until browned. Let them cool.
8. To make the tart, mix up the eggs, milk, nutmeg, and a pinch of sea salt and pepper. Layer the potatoes and leeks in the tart shell, pour in the eggy-milky mixture, and top with the cheese. Bake for 30 to 45 minutes or until set.