Cardon Tart Gratinee
I'm not going to say that cardon (cardoon in English) is the ugliest vegetable at the market — there are lots more that are vying for that prize, such as celery root — but it's certainly not one of the prettiest, is it?
It looks like celery, but it's thorny; and also like celery, it's stringy, and sort of a pain to prepare — like its city cousin, the globe artichoke. Yep, artichoke, y'all. This crazy-looking stuff tastes like artichoke.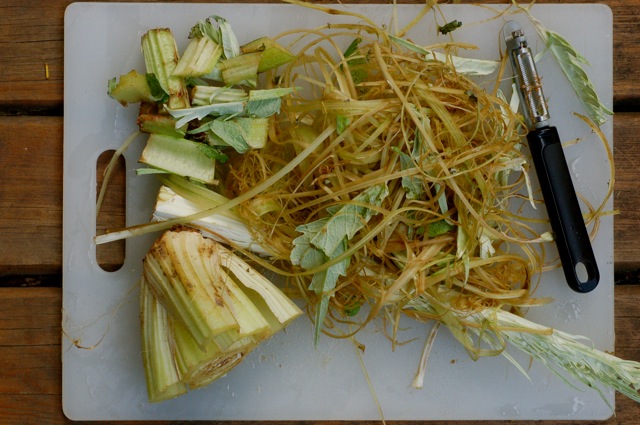 The first time I had this — or heard of it, even — was last Christmas, at X's uncle's house in Biarritz. We'd already had our requisite champagne/apero course, our foie gras, and along with the main attraction, a beautifully cooked capon, was a casserole of cardon, made with bechamel. First bite, I didn't know what hit me. So I had a few more, then another helping, too.
Turns out, cardon is grown in Provence and near Lyon, where X's uncle comes from, and is traditionally eaten on Christmas in this region. The Greeks and Romans loved it, too, but at some point throughout history, cardon fell out of favor (though I can't imagine why), and now it's just found in the winter in the south of France, Spain and Italy. It can rarely be found in the U.S.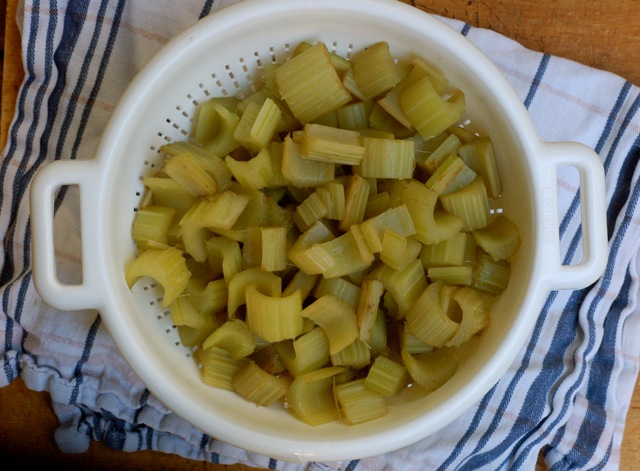 But for those of y'all that can find it, and for the folks in Europe who can pick this up as easily as I can over the next few months, I'm posting this recipe, a variation of a tart that I made awhile back, and with a gratin top. Next time, I'm going to add goat cheese to this, I think, and for sure, this Christmas (if not before), I'm making the bechamel sauce version.
Bechamel sauce. You just can't go wrong with that.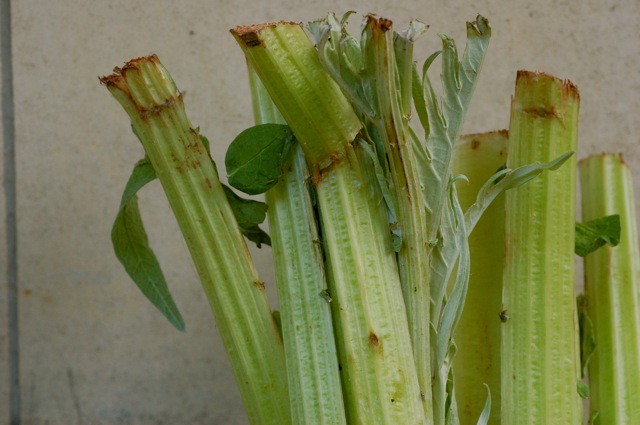 Cardon Tart Gratinee
Makes one 28 cm/11″ tart
500 grams/1 pound cardon (approximately)
Juice of half a lemon
4 green onions, choppped (or you may use young leeks)
3 large eggs
¾ cup cream
1 cup whole milk
¼ teaspoon sea salt
¼ teaspoon freshly ground pepper
1 teaspoon fresh thyme
olive oil crust for tart
1 cup breadcrumbs (plain)*
¼ cup Parmesan, grated
⅛ teaspoon sea salt
⅛ teaspoon freshly ground pepper
1. Wash the cardon stalks well and peel the outer layer of tough string, being especially mindful of the spiky edges, which must be trimmed off, too. Chop into 1-inch pieces, and drop into a bowl of water with the lemon juice. When they're all chopped, put in a medium pot, cover with water and 1/2 teaspoon of sea salt, and bring to a boil. When it boils, turn the heat down and let cook for 20-30 minutes, or until tender. Drain the cardon pieces.
2. In a medium bowl, whisk together the eggs, cream, milk, thyme, salt and pepper.
3. In a small bowl, mix together the breadcrumbs, Parmesan cheese, thyme, sea salt and pepper.
4. Spread the cardon pieces all of the bottom of the tart pan lined with olive oil-honey crust, and sprinkle the chopped green onion over mixture. Now, carefully pour the egg mixture on top of all of this, and slide the tart into the oven. Total cooking time for this is 45 minutes to one hour, until the center is firm and the edges begin to brown – so, you need to remove this from the pan when it's nearly done, but not quite (at about the 45 minute mark should be fine) and sprinkle the Parmesan-bread crumb mixture on top. Slide back into the oven and let the tart finish cooking while the bread crumb mixture browns.
Remove from oven and let cool for 15 minutes, at least, before slicing.