Carrot Cake Cookies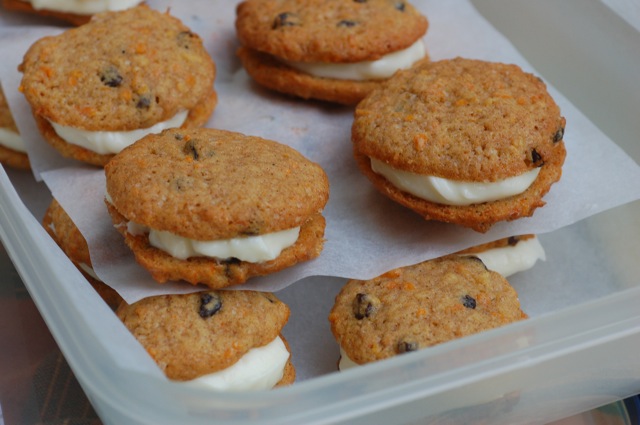 I must warn you, these cookies have magic powers.
They do crazy things to people…they quickly become addicted to their carrot cakey goodness, and excitedly declare these the best cookies in the world, that they've ever — ever! — tasted. They do the happy dance. They selfishly hide them from family members, stashing them in secret places.
Not that I would ever do anything like that.
You may be wondering, what's the big deal?  It's just a cookie, for goodness' sake!
No. There's "just" anything about it. Hipper than a cupcake and cooler than a whoopie pie or the confection-of-the-moment, le macaron, these little cuties are more cake than cookie-like, they are soft rather than crisp, and this happens to be a very good thing. You don't want that cloud of cream cheese filling to squish out on the first bite, so you need the cookie to be soft in order to keep everything together, and as long as you can, because these will go fast. I'm talking TGV fast.
You bake up the cookies, let them cool completely, then pair up cookies that are roughly the same size, ones that you feel will be the best match for each other. Then, spread the icing on thick. Like love, you shouldn't hold back when it comes to cream cheese icing.
These are not necessarily a holiday cookie, in the way that say, a gingerbread man or an iced Santa might be, but I thought this would be a fun something to throw into the mix. Plus there's lots of carrots in these, so technically, these count as a vegetable, too, which we all can use a lot more of this time of year.
Carrot Cake Sandwich Cookies
Makes about 3 dozen
Adapted from a recipe in Bon Appetit
½ cup of currants (I like these better than raisins because they're smaller)
¼ cup of oatmeal (quick)
1 ½ cups of flour
2 ¼ teaspoons of baking powder
¾ teaspoon of sea salt
1 ¼ teaspoons of cinnamon
½ cup/1 stick unsalted butter, at room temperature
½ cup of brown sugar
½ cup of sugar
1 egg
1 cup of finely grated peeled carrots (use small holes on box grater or shred and chop finely)
1 cup powdered sugar
6 ounces of cream cheese, room temperature
¼ cup of unsalted butter, room temperature
2 tablespoons of heavy cream
2 teaspoons of lemon juice
1. Preheat your oven to 350°F and line a couple of cookie sheets with parchment paper.
2. Toss the raisins (or currants) and oats in small bowl, add 1/4 cup of water, and give it a stir. Let the raisin-oat mixture soak for about 10 minutes, or until the water is completely absorbed.
3. Meanwhile, whisk your flour, baking powder, salt and cinnamon together in another bowl.
4. Cream the butter and both sugars in your big mixer until fluffy. Add the egg, and mix well. Now, add your grated carrots. Finally, add the flour mixture and mix only until combined. Fold in the raisins and oats.
5. Drop batter by teaspoonfuls (for bite-size cookies) onto the cookie sheet, spaced about 2 inches apart. Bake for 20 minutes (or 10 minutes on the convection setting), just until cookies begin to brown around the edges. Let them cool completely.
6. Make the cream cheese icing. Beat all of the ingredients together until smooth, then spoon a heaping teaspoonful of icing between two cookies to make the cookie sandwiches.
Cowgirl Tip: Of course you can use the small holes on your box grater, but I'm lazy when it comes to grating carrots. First, I use the grating disc on my food processor, then I dump the carrots into a bowl, put slide the regular chopping blade back onto my food processor, and pulse until the carrots are fine. The whole process takes less than five minutes.