Carrots and Brussels Sprouts + Rosemary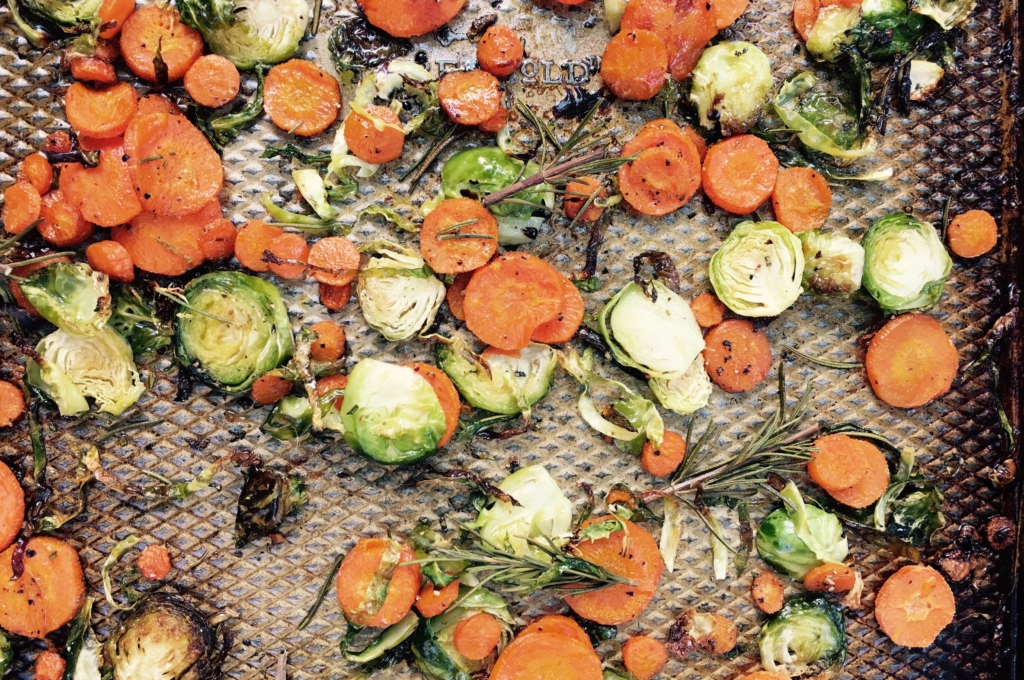 Since it's now officially fall, I made this, a easy mix-up of Brussels sprouts and carrots, which for some reason I've not paired before. Look at these two — they're great together.
I've added rosemary, but mostly by just putting little branches here and there so the oils will release while cooking, so the effect would be subtle as opposed to having that overwhelming Christmas tree flavor that you sometimes get when you're not careful. It works to brighten the Brussels sprouts and carrots, too, and the balsamic glaze drizzled on top pulls it all together.
Even though I stood and ate these by the forkful right off of the pan, this would be great with a roasted chicken or as a side for the holidays, coming up oh too soon. Thanksgiving menu, here's one for you.
Carrots and Brussels Sprouts + Rosemary
Makes 6 to 8 servings
1 pound carrots
1 pound Brussels sprouts
3 to 4 tablespoons olive oil
sea salt and pepper
3 (4-inch) branches rosemary, cut in half
½ cup balsamic vinegar
1 tablespoon brown sugar
Preheat the oven to 450°F.
Peel the carrots and slice them into 1/8-inch coins. Cut off the ends of the Brussels sprouts and slice them in pieces the same size as the carrots.
Put the sliced carrots and Brussels sprouts on a large baking sheet. Drizzle with olive oil, add salt and pepper, and toss.
Pull off a few leaves of rosemary and finely chop. Sprinkle about 1/4-teaspoon of chopped rosemary
on the veggies and scatter the branches on top (this way their oils will release and the flavor will be more subtle).
Roast for 30 minutes or until lightly browned on both sides, turning once. Remove the rosemary branches before serving.
While the veggies are roasting, make the balsamic glaze. Put the balsamic vinegar and sugar in a small saucepan over low heat and cook for 20 minutes or until it becomes thick and syrupy. Drizzle over the carrots and rosemary and serve.