Cauliflower and Potato Pakoras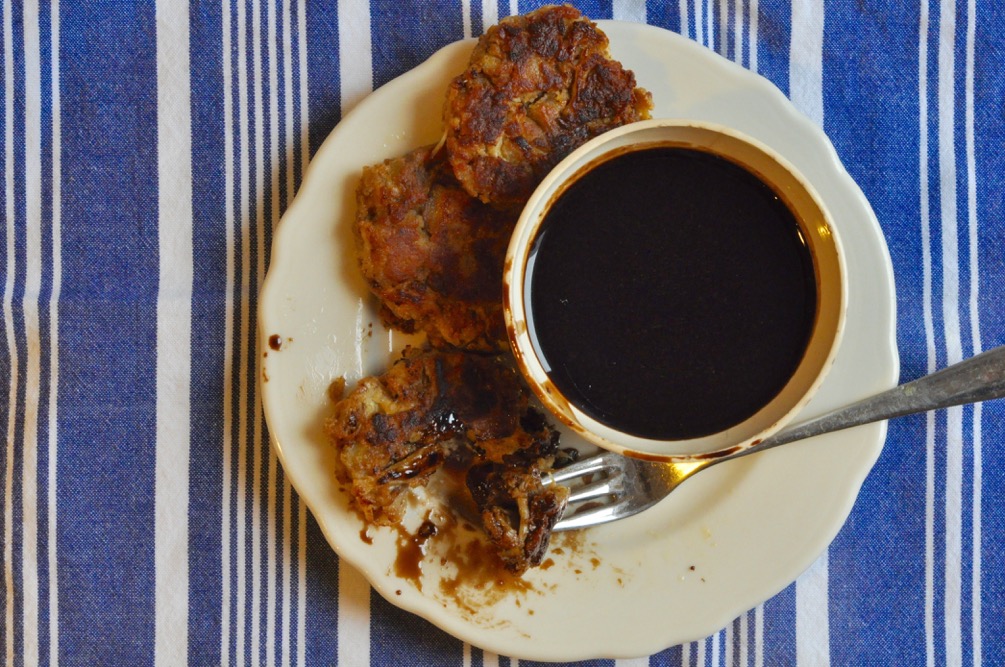 If you ever go with me to an Indian buffet, I will embarrass you. I will load up my plate with rice and dal and pakoras and palak paneer and whatever else I can find until there is room for nothing else. I will get bowls of all of the chutneys. The mint, the tamarind. I'll pour raita over everything. I'll hover and wait for the fresh naan to be put out. Back and forth, back and forth.
I will probably be wearing stretchy pants. I thought I should mention this.
Then it's time for dessert. I don't need to tell you what happens next.
There are no Indian buffets in Paris, which means that when I want Indian, it's up to me to do what I can to replicate the flavors of Kebab 'n Kurry, my favorite eat all you want buffet in Richardson.
I made these little fritters the other night. One dozen really is such a small number.
Cauliflower and Potato Pakoras
Makes about 1 dozen
2 cups roasted cauliflower florets (see note)
2 cups roasted red-skinned or Yukon Gold potatoes (see note)
1 teaspoon garam masala
½ teaspoon cumin
½ teaspoon ground ginger
¼ teaspoon cayenne
salt to taste
½ cup chickpea flour
1 tablespoon baking powder
1 egg, lightly beaten
vegetable oil for skillet
Gently mix everything together in a medium bowl.
Pour just enough oil into your largest skillet to coat the bottom — 3 to 4 tablespoons ought to do it. Turn the heat to medium.
Using an ice cream scoop, make pakora balls and put into the hot skillet, leaving about 2 inches between them. Press them down with the back of a spatula so they're more pancake-like. Let cook until browned on one side, and then turn over and let cook on the other side. These cook quickly and you may need to adjust the heat so they don't brown before they're cooked in the middle. Eat these right away, while they're still hot, with tamarind chutney.
Note: To roast cauliflower and/or potatoes, simply preheat the oven to 450°F and toss the cauliflower florets and potatoes (on separate baking pans, and baked separately) with 2 tablespoons olive oil and bake until browned on both sides, for 20 to 30 minutes. You can totally do this in advance — I made them the day before.
Tamarind Chutney
Makes about 1 cup 
Adapted from a recipe in Saveur magazine
⅓ cup tamarind paste (see note)
¼ teaspoon cumin
⅓ cup sugar
¼ teaspoon ground ginger
¼ teaspoon salt
¼ teaspoon cayenne (optional)
Stir together all of the ingredients in a saucepan over low heat, adding water as necessary to thin it out. Let cook for about 15 minutes. Once cooled, you can store in a jar in the fridge.
Note: You can find tamarind paste at Indian food stores.