Cherry Crostata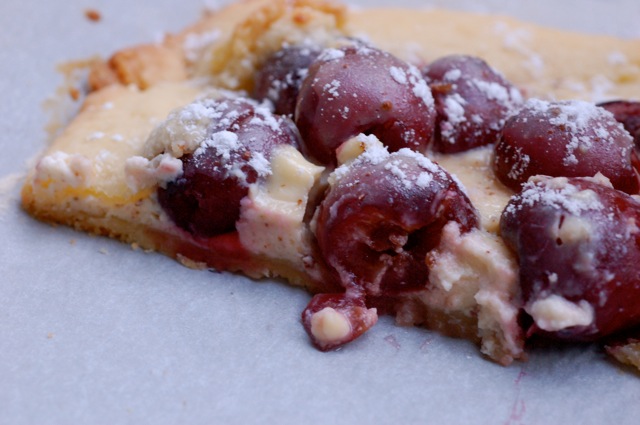 Man oh man, do I heart cherries. I have eaten cherries every day for the last three, and I'm actually making this little crostata again tonight.
See how plump these babies are? See that crunchy-around-the-edges crust?
That's just the beginning. Then there's the sweet, creamy ricotta inside. It's so simple, this little crostata.
This is one of my all-time favorite throw-together fruit pies, though it's not really a pie, is it? It's a rustic Italian tart, and I've adapted, though just barely, this recipe from Johanne Killeen and George Germon's book, "Al Forno."
The first time I made this was for an ex-boyfriend that I was trying to impress, back in 2000 (I'd been spending lots of time in Italy and this was during my pasta-making, Tuscan bread baking, and grappa drinking period). I made this in the late fall, when there wasn't much fresh fruit available, simply with the ricotta middle and a few chopped dates.
It was lovely. When it comes to doughs, this one's hard to beat. It's buttery and sweet, and super-easy to work with.
Now how many crusts can you say that about? Or boyfriends, for that matter?
Cherry Crostata
Adapted from "Al Forno" by Johanne Killeen and George Germon
Makes two
113 grams (1 stick or 1/2 cup) cold butter
226 grams (8 oz or 1 cup) all-purpose flour
3 tablespoons sugar
¼ teaspoon sea salt
3-4 tablespoons ice water
226 grams (8 oz or 1 cup) ricotta
2 egg yolks
1 teaspoon vanilla
3 tablespoons sugar
¼ teaspoon cinnamon
about 20 cherries, pitted
powdered sugar, for dusting
1. Cut one stick of butter into 1/4-inch cubes or shred with a grater into a bowl. Place butter in the freezer for at least an hour. (You may also do this a day or two in advance.)
2. Make the dough. Put the flour, sugar, and salt in a food processor, and pulse a few times to combine. Add the butter and pulse until the butter is the size of small peas or pebbles. Now, slowly add the ice water, and pulse just until the dough begins to come together. You don't want to over-blend or over work the dough. Put the dough onto a piece of plastic wrap and shape it into a large rectangle about 2 inches thick and pop into the fridge for an hour.
3. Make the filling. Whisk together the ricotta, two egg yolks, vanilla, sugar and cinnamon. Place back in the fridge until you're ready to make the crostatas.
4. Make the crostatas. Cut the dough in half, so you've got two squares. On a lightly floured surface, roll out the dough pieces. Don't worry about how it looks. The crusts don't need to be too thin or perfectly shaped – in fact, part of the charm of the crostata is its odd shape. Once rolled out, place on a piece of parchment paper on a cookie sheet and pop back into the fridge until you're ready to assemble. 

Preheat oven to 350.
5. Put as many cherries that will fit in the center of the crust, making sure to leave about 3 inches around the edges to fold over. Now pour some of the ricotta mixture on top, and fold the edges.
Bake for 20-30 minutes, or until the edges start to brown.
Serve with a dusting of powdered sugar and a side of vanilla ice cream.
Cowgirl Tip: I roll out the dough and make the ricotta mixture ahead of time, then assemble these as I'm finishing dinner, so they'll be nice and warm for dessert. It's equally good served at room temperature.