Chicken and Stars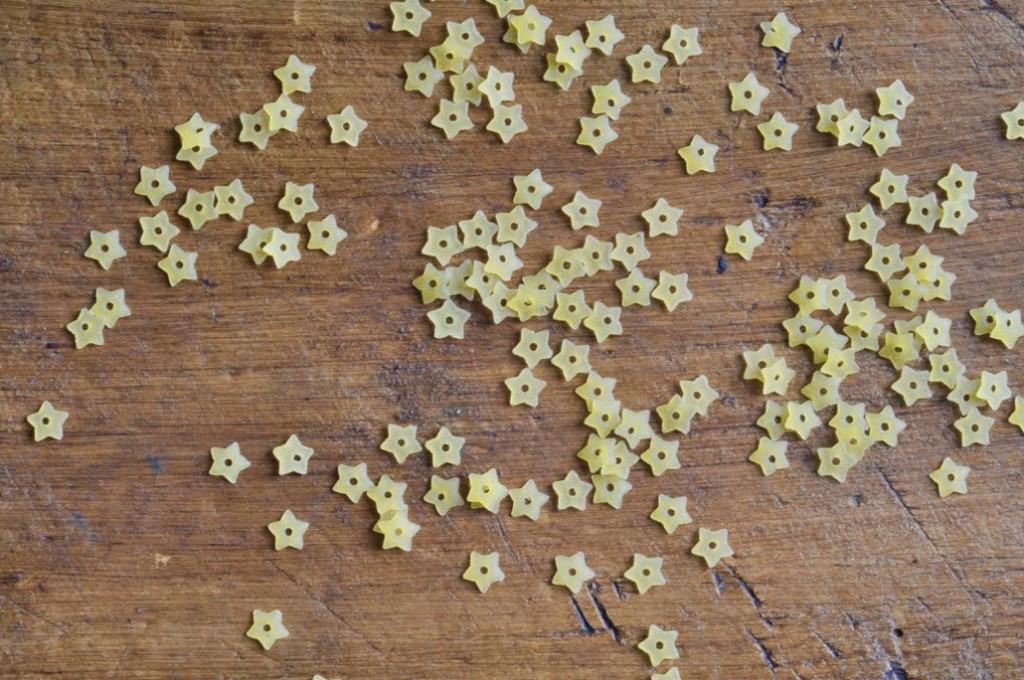 Chicken and stars, chicken and stars, chicken and stars.
That's what I had for dinner for three nights in a row when I returned to Paris, because along with a suitcase stuffed with corn and red chile flour tortillas, I brought back a rather nasty bronchitis.
I've never made Chicken and Stars soup before, but it popped into my head as I reluctantly unpacked, jet lagged and wishing I could do December all over again because, well, Texas, tacos, 80-degree days, teaching cooking classes for Central Market and Lake Austin Spa, and spending time with some of the best people I know. The only thing that I figured would ease my homesickness – and lingering sickness — was a batch of something I've not eaten since I was very small.
First, I'd need to make stock, since I'd used up the last of what I had before I left. It's so easy to make, you really don't need a recipe, but you do need to block off some time for simmering, which is the key to a rich stock. There is no such thing as a quick stock.
A short bus ride on the 123, a pop into the big Monoprix for a whole chicken, some celery, onion, garlic, carrots, and parsley, and I was on my way. I threw all of it in a big stockpot along with a few peppercorns and some Bay leaves and let it cook for about four hours. Besides skimming off the icky brown stuff that rises when you boil the stock, there's really nothing to do. It simmers on its own after that.
My Chicken and Stars soup, as you'll see below, is bare bones, nothing fancy, which is exactly what I wanted. You may add thyme or more Bay leaves if you'd like.
After I finished my soup — and the final season of "The Killing" on Netflix — I went back to the store and bought another round of ingredients for more stock. Tortilla soup's up next, along with season 2 of "Mozart in the Jungle."
I know. My glamorous life.
Chicken and Stars
Makes 4 servings
1 tablespoon olive oil
½ cup chopped onion (see note)
1 garlic clove, minced
½ cup chopped celery
½ cup chopped carrot
8 cups/2 quarts homemade chicken stock
2 cups cooked and chopped chicken
salt and pepper to taste
1 ½ cups dried pasta stars
fresh chopped parsley for serving
Put the olive oil, onion and garlic in a large stockpot over medium-high heat and cook until the onion becomes translucent, about 5 to 10 minutes. Add the carrot and cook until it softens, about 5 more minutes. Now add the celery and do the same. Cook for another 5 minutes or so until it softens along with the other vegetables.
Pour in the stock and add the chicken. Stir and add salt and pepper to taste. Let cook for about 15 to 20 minutes or until warmed through.
Add stars and cook until they're al dente, about 5 minutes. Serve with chopped parsley on top.
Note: For this soup, I chop my onion, celery and carrot in very small dice, about 1/8th of an inch, no larger than the size of the stars. It takes a bit longer, but I like to keep everything small in this soup. It's easier to eat — and it makes this very simple soup seem kinda fancy.