Chicken Fried Steak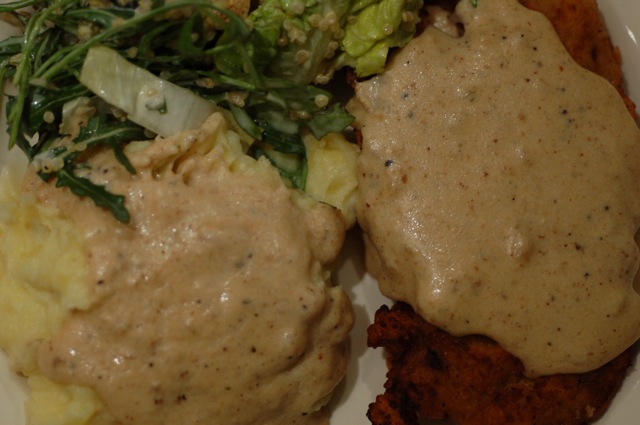 I had  the most incredible chicken fried steak a couple of months ago in Houston, at Lankford Grocery, which I read about in Jane and Michael Stern's book, "500 Things to Eat Before It's Too Late." The H-town legend is known for its burgers, and I nearly ordered up one, but I simply couldn't resist the urge to try the CFS since it was the special on the day that I visited.
Oh what a good idea! And it went so well with the Dr. Pepper that I'd ordered.
Eydie Lankford Prior told me that she made her CFS with an egg-buttermilk batter, some salt and pepper, and "Tony's" (Tony Cachere's Creole seasoning, it turns out), but I decided to leave out the egg and go for a slightly lighter crust. Not that I'm counting calories, as y'all know. (Do calculators even go that high?)
I made my CFS back in France, with a cut that's similar to the American cube steak, which is what Eydie uses for hers, and it worked just fine. More than fine, in fact. That's my CFS pictured above.
And PS. I know that I try to post stuff that's both quick and easy, but this takes a bit of time – mainly the stirring of the gravy, and the complete hose-down of the kitchen when you're finished. CFS isn't for kitchen wimps. Just roll up your sleeves, get in there, and fry fry fry. And maybe we all need to post this, the Lankford Grocery's Mission Statement, on our fridge when it's CFS night: "We have nothing small, nothing healthy, and nothing fast.  We never give you a check, but that does not mean it's free.  You pay at the register as you leave.  If you do not have 30 minutes to spend, you should try us another day."
I love that. Enjoy the show.
Chicken Fried Steak with Peppery Cream Gravy
Serves 2
2-8 oz. cube steaks, pounded a bit so they're the same width
2 cups buttermilk
2 cups all-purpose flour
1 teaspoon Tony Cachere's Creole seasoning
1 teaspoon pepper
4 cups whole milk
1-2 cups vegetable oil
1. Pour the buttermilk into a medium bowl and submerge the steaks. I usually let them rest in the buttermilk for a half-hour or so, while I get everything else ready.
2. Now, coat the buttermilk-soaked steaks in the flour mixture, put it back in the buttermilk, and in the flour once more. Set aside.
3. In a large, heavy-bottomed skillet, pour enough vegetable oil to measure about 1/2-inch deep. Turn the heat on medium-high, and using a candy thermometer, watch for the oil to reach 365 degrees. (Note: You'll want the temperature to stay here, and not dip below, or you'll get greasy, soggy chicken fried steak.)
4. Fry the steaks, flipping them to the other side when the bottom looks cooked and crispy. (You'll have to eyeball this; it all depends on the thickness of the steaks, but a 1-inch steak shouldn't take more than 10-13 minutes total.)
5. With tongs, remove the steaks from the oil and place them on a plate lined with paper towels.
6. Make the gravy. Pour almost all of of the oil out of the skillet, leaving the brown bits (this will give your gravy lots of great flavor). Now, with the skillet turned on medium, sprinkle the leftover flour mixture into the pan and stir until all of the brown bits have lifted off of the surface, and the flour begins to brown. Add the milk and keep stirring briskly, so you don't get lumps. Lower heat and stir constantly. It'll take 10-15 to thicken up. Be sure taste before serving. It may need a bit more salt or pepper.