Chicken Tinga Chili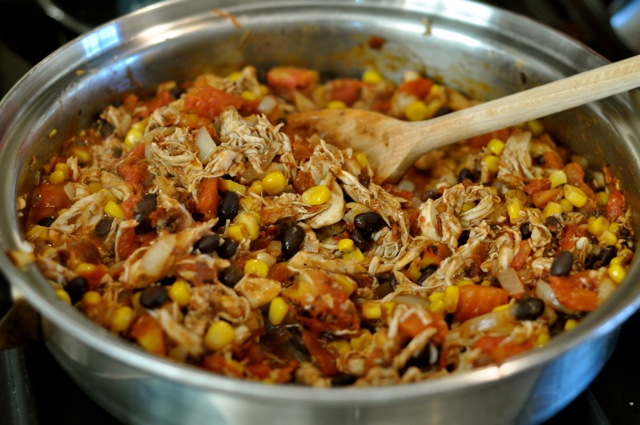 What do you get when you mix chicken with chipotles?
Chicken Tinga, a smoky, fiery Mexican classic that's just as fabulous heaped onto a crisp tostada, and eaten as a chalupa, or spooned between two flour tortillas and grilled as a quesadilla.
Which is where the whole idea for this chili came from. Last week, I had dinner with some friends at the new downtown Dallas Mexico City-style restaurant, Wild Salsa (which with more than 150 tequilas on the menu, might be better named "Hangover Grande"), and for an appetizer, we ordered the chicken tinga quesadillas, which none of us had tried before. The menu described chicken tinga as simply shredded (the word "tinga" means shredded) chicken with chipotles; and that, my friends, was good enough for me. Indeed it was so simple – just tender chicken that had been cooked with smoked jalapeño chiles and sandwiched between a couple of flour tortillas with some cheese and corn. Nothing much more than that.
I haven't stopped thinking about it since then, so I decided to come up with a version that would be just as good served in bowl, like chili, and happily scooped with fat tortilla chips, or used as a filling for a soft taco or enchilada. Plus, I just wanted to do something different for the Twitter #LetsLunch chili throwdown…something that would be totally Texas, but with an unexpected twist.
I had our state's reputation to uphold.  A lot was riding on this.
Plus, I only had an afternoon to pull this together, since I was heading out of town the next day.
I decided to take my chances and just march myself into the kitchen and give it a go. I poached the chicken tenders – a mistake, actually; I meant to buy chicken breasts, but these cooked up much more quickly – and chopped up my onion and garlic. It took just fifteen minutes to poach the chicken; another fifteen or so to sauté the onions and garlic, add the rest of the ingredients (chipotles, sweet corn, and black beans), and fold in the chicken and the fire-roasted tomatoes after that.  Seriously, 30 minutes, from start to finish – I didn't intend to make such a quick and dirty chili, but that's what happened. I love it when things come together effortlessly like that.
Easy, quick as a wink, and totally delicious, with the sweetness of the corn offsetting the fire of the chiles, served up with a squeeze of lime, some cilantro, avocado, and goat cheese. I scooped this out of the skillet with tortilla chips (testing, of course), then heaped it onto tortillas for soft tacos (this is one of my favorite ways to eat any kind of chili). Then I ran out of tortillas and had to stop.
For now.
Not a traditional bowl of chili, for sure, but it's a new year, and I'm hopeful that it'll be even more exciting than the last. So I figured, Chicken Tinga Chili, why the hell not? Let's get this 2012 business off to a rousing start — let's break some rules!
Plus, as my friend Lucy likes to say, "This is no time for caution." I'm thinking of making t-shirts with this printed on the front.
Here's what the other chiliheads came up with:
Karen's Hawaiian Chili at Geofooding
Linda's Smokin' Hot Vegan Vaquero Chili at Spicebox Travels
Grace's Chinese New Year Chili at Hapamama
Cheryl's Keema Chili at A Tiger in the Kitchen
Cathy's Chunky-Style Cowboy Chili at Showfood Chef
Charissa's Clean Out Refrigerator Night Cassoulet, A "Frenchified" Chili at Zest Bakery
Emma's Dave's Chili at Dreaming of Pots and Pans
Felicia's Low-Concept Vegetarian Chili at Burnt-Out Baker
Lucy's "Full of Beans" Chili at A Cook And Her Books
Pat's Miso Chili con Carne at The Asian Grandmother's Cookbook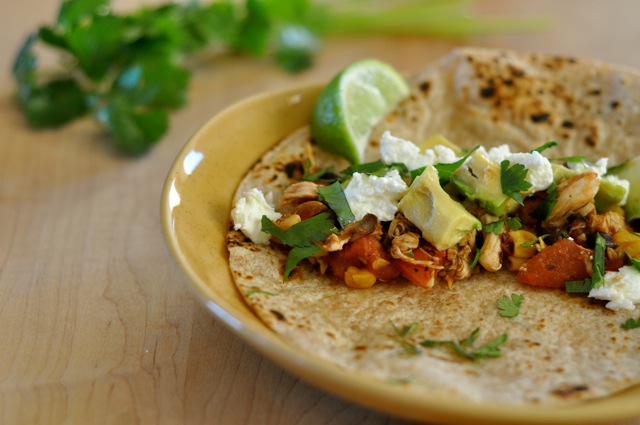 Chicken Tinga Chili
Makes 4 to 6 servings
1 pound/500 grams of chicken tenders
1 celery stalk, halved
1 carrot, halved
a couple of sprigs of parsley
about 10 peppercorns
olive oil
½ of an onion, diced
3 to 4 cloves of garlic, minced
2 chipotles in adobo, finely chopped
⅔ cup/170 grams of canned corn, rinsed and drained
1 cup/172 of canned black beans, rinsed and drained
1 14.5 ounce/411 gram can of diced fire-roasted tomatoes
6 to 8 tortillas (corn or flour), for serving
1 avocado, chopped, for serving
a handful of chopped cilantro, for serving
3 to 4 tablespoons of goat cheese, crumbled, for serving
2 to 3 limes, cut into wedges, for serving
1. Poach your chicken tenders: Put the chicken, celery, carrot, parsley, and peppercorns in a saucepan. Cover with plenty of water and put on the stove over medium-high heat, and cover. When it boils, reduce the heat to a simmer and set the timer for ten minutes. Let the chicken cool in the pot if you have time; if you don't (and I often don't), proceed to the next step.
2. Drizzle a little olive oil in a large skillet, add your onions and garlic and turn the heat to medium-low. Cook just until the onion is translucent; about 5 to 10 minutes. Now add the chipotle, corn, and black beans and give it a stir.
3. Add the shredded chicken, combine with the rest of the ingredients, and let this cook for 10 to 15 minutes; then add your tomatoes and let it go for 5 minutes more. Taste and add seasonings if necessary — I didn't add any additional salt when I made this because it didn't need it. Serve either in a bowl, or heaped onto warm tortillas with chopped avocado, cilantro, goat cheese, and limes.