Chickpea Pancakes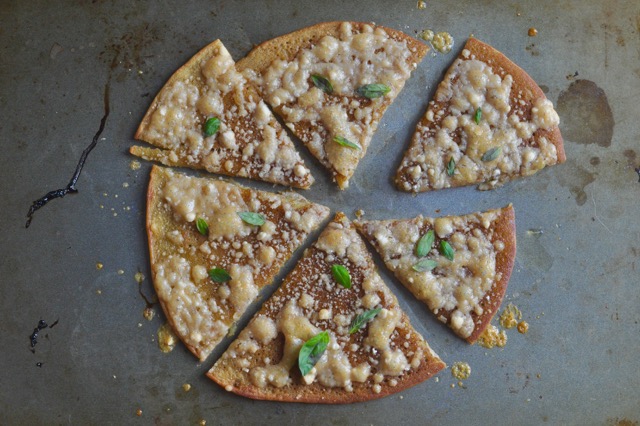 Known as socca in the south of France, and farinata in Italy, for simplicity's sake, I'm just going to call these chickpea pancakes. Because that's what we've got here. Made with chickpea flour, water, olive oil and a bit of salt, think of this recipe as a foundation, and build upon it as you'd like. You can do whatever you want with this batter — fold in a handful of chopped spinach and olives, some grated carrots, beets, zucchini, or fresh herbs — but I'd keep the add-ons scant so you avoid having a too-lumpy pancake.
I've put Parmesan cheese, tiny basil leaves, and a bit of olive oil to top of the basic one pictured above, which I put under the broiler for about 10 minutes to melt the cheese. The toasted pancakes are more pick-upable than the right-out-of-the-skillet ones, making for a great party appetizer.
Or, if left on the counter while you're in the other room changing the radio station, a quick snack for a dog named Rose.
Chickpea Pancakes
Makes 3 (6-inch) pancakes
1 cup of chickpea flour
2 tablespoons of olive oil, plus a bit more for the skillet
1 cup of water
¾ teaspoon of salt
½ teaspoon of cumin
Whisk the chickpea flour, water, olive oil, salt and cumin together, and let this rest for 2 hours.
When you're ready to make the pancakes, pour 1/3 of the batter into a skillet lightly greased with olive oil over medium-high heat. Let it cook until you see bubbles, check the bottom to make sure it's nice and brown, then flip to the other side. Repeat with the rest of the batter.
Cowgirl Tip: If you want to make these in advance, simply let the pancakes cool and keep them in the fridge in a plastic bag until you're ready to reheat them.