Chipotle Miso Sauce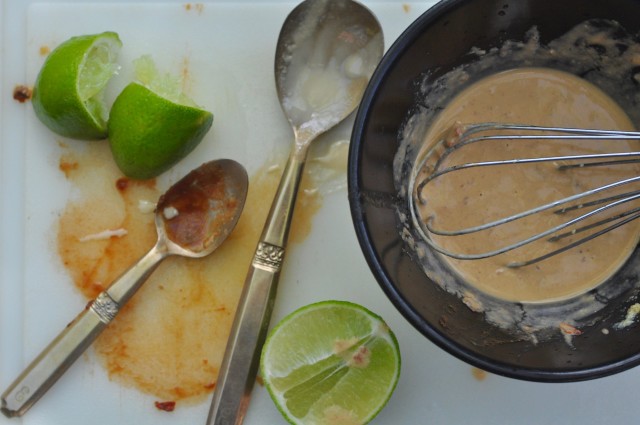 The first time I bought miso paste – at K-mart on rue Sainte-Anne, where you can find all things Japanese – I bought the dark red one, which is sort of like going from never eating spicy foods to dipping your tortilla chip into a habanero salsa.
I actually liked the red, but thought that its big flavor – a strong punch of rich and salty umami goodness – was overwhelming. When I mixed it with anything else, the anything else was obscured. So I went back and bought the white. Bingo.
Same great flavor and all of the umami of the red but toned down. I've been on the miso love train since.
As I'm aiming to continue eat lighter and healthier, I'm also trying to come up with new ways to make my always go-tos different. This sauce works as well on a bowl of steamed veggies and rice as it does a taco. It would be nice spooned over grilled salmon, or added to a burger, veggie or non, and topped with avocado. Used as a dip for sweet potato fries. Or swirled into a soup.
My last batch? Lasted less than 24 hours.
Chipotle Miso Sauce
Makes about 1 cup
1 chipotle chile in adobo, finely chopped
1 teaspoon adobo sauce
1 teaspoon white miso
1 tablespoon tahini
juice of 1 lime (about 1 tablespoon)
water to thin it out
Whisk everything together in a bowl, adding as much water as needed for a thinish, pourable consistency. Leftover sauce will keep in the fridge for a few days.
Cowgirl Tip: You can find white miso at Asian or Japanese grocers. In Paris, I go to K-mart; in Dallas, there's a great selection at 99 Ranch Market in Plano.