Chipotle-Salmon Salad Tartine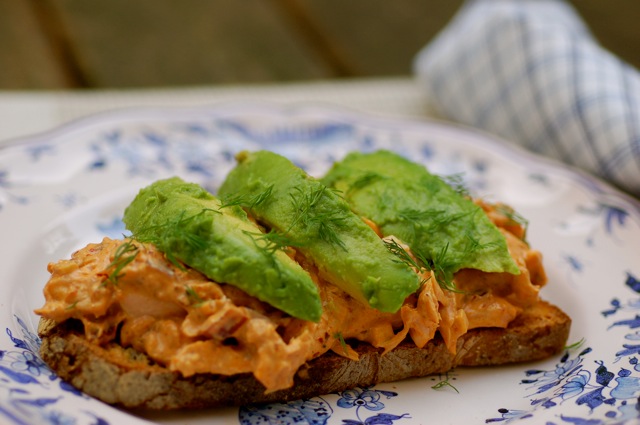 Acknowledgement is the first step, right? Well, all right then.  I'll just say it. I've become dependent on the chipotle.
Happy?
Since I moved to France three and a half years ago, I've relied on the deep red, smoked jalapeño — that packs 20 times the heat of a regular jalapeño — to give me the fiery flavor that I missed from home. Easy to transport on those long-haul flights from Dallas to Paris, chipotles come 15 to 20 per 7 ounce can, and are packed in adobo sauce, a puree of ground chiles and garlic. I usually bring back a half-dozen or so per trip, and keep them on the chile shelf in my kitchen. Or shelves, as it's becoming lately.
While I'm confessing, I might as well admit that I've also gotten a bit salmon-crazy. I love its soft orangey color, its distinctive flavor and texture, too, but above all, I love its versatility. Salmon lends itself well to Asian flavors, to Mediterranean, and I've found, Tex-Mex, too. Salmon seems not to care who it's playing with, as long as it's invited to the party.
So I figured, why not get these two kids, chipotle and salmon, together?
This is what I came up with. A super-simple salad, made with fresh salmon. I just used one chipotle, and added a bit of adobo sauce, too (I'd made my own a couple of weeks before, but you may use what's in the can), for a little additional smokiness. I mixed it all up and let it sit in the fridge overnight.
The next day, it was perfect.
Chipotle-Salmon Salad Tartine
1 11 oz (300 g) salmon filet, with skin
1 medium lemon, halved
2 tablespoons chopped red onion
1 chipotle chile (in adobo), finely chopped
1-2 tablespoons mayonnaise
1 tablespoon adobo sauce
¼ teaspoon sea salt
pepper
Preheat oven to 200C/400 F
1. Put salmon filet on a piece of parchment paper (or use foil), put two slices of lemon on top, and a sprig of dill. Wrap the paper up, tucking the last bit underneath the fish, so it'll stay put. Cook for 15 minutes, or until the top of the paper begins to brown. Rip open the paper, let the salmon cool off a bit, and refrigerate for 2 hours, at least, until completely cooled.
2. With a fork, flake the salmon in large pieces into a medium bowl. Add the chipotle, 1 tablespoon mayo, 2 tablespoons chopped red onion, chipotle, and 1 tablespoon of adobo sauce. Squeeze the other half of the lemon into the mixture, and gently mix. At this point, you may want to add the additional tablespoon of mayo if it needs it. If you like big pieces of salmon like I do (as opposed to shredded), be careful not to overmix.
Taste for salt and pepper and let rest in the fridge for 2 hours, at least, so the flavors can combine. Serve with avocado slices and lime.
Cowgirl Tip: This would also work as a great party appetizer. Just thinly slice a baguette on the diagonal, toast, and top with the chipotle-salmon salad, a bit of avocado, and dill.