Chopped Greek Pita Bread Salad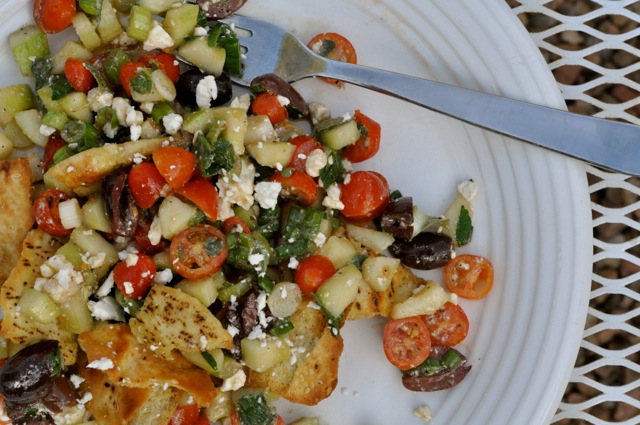 I've made this salad three times in the last month, and I've decided I like it best when I don't have to share.
It's sort of like an Italian bread salad gone Greek, one of those things that you can make in the morning and stick in the fridge and it just gets better as the day gets hotter. Somehow knowing that there's this cool, crunchy salad waiting at the end of the day makes the heat a bit more bearable.
The first time I made this, I ate very single bit of it myself. Then I decided that I needed to see if others loved it as much as I did, so I kept on making it and sharing it, and unfortunately, they loved it as much as I did.
Now that cucumbers and tomatoes are abundant, I'm going to double –or maybe triple–the recipe. That way, I might even share.
Chopped Greek Pita Bread Salad
Makes 2 large or 4 first-course servings
1 teaspoon of chopped shallot
3 tablespoons of red wine vinegar
1 tablespoon of balsamic vinegar
1 teaspoon of Dijon mustard
sea salt and pepper
about ½ cup of olive oil
3 pieces of stale pita bread, torn into 1-inch pieces
1 cucumber, peeled, halved lengthwise, seeded, and cut into 1/2-inch cubes
10 cherry tomatoes, halved
4 green onions, chopped
a handful of Kalamata olives, halved
a small handful of fresh mint leaves
a small handful of fresh oregano
about ¼ cup of crumbled feta
1. Preheat your oven to 400°F. Toss the pita bread pieces with the 2 tablespoons of olive oil, a pinch of sea salt and pepper and lay out on a cookie sheet. Cook until the pita pieces are brown and crispy, about 10 minutes; then take them out of the oven, flip them over and cook for 5 minutes more.
2. Make your vinaigrette: Put your chopped shallot, vinegars, mustard, a pinch of salt and pepper in a jam jar and give it a good shake. Let it rest for about 10 minutes, then add the olive oil and shake again. Taste for seasonings.
3. Put the rest of the ingredients in a large bowl and just before serving, add the crispy pita pieces, some of the vinaigrette, and toss. Eat right away.