Cornmeal Crêpes with Rotisserie Chicken and Pecan-Sundried Tomato Pesto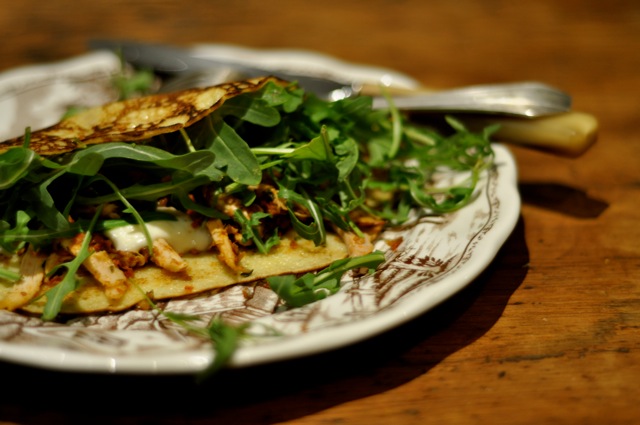 A few years ago (and boy, does that sound funny), before Yves Camdeborde turned the little crêperie next to Le Comptoir into the wildly successful Basque tapas place, L'Avant Comptoir, I'd stop by when I was in the 6th for one of his fancier, more gourmet-ish crêpes. Because as much as I love a straight-up ham and cheese crêpe, the ones here were bigger and stuffed with all sorts of things that I'd never seen in a crêpe before, like chicken and arugula.
L'Avant Comptoir still makes crêpes, and they're the walk-around, wrapped in paper kind, which I love, because this allows for window shopping to occur while eating, which is a very un-French thing to do (and probably why I like doing it).
I've been on a crêpe-making kick lately, and I wanted to come up with a savory crêpe that was a bit more Cowgirl. So I swapped out some of the flour for cornmeal, which gave the Frenchy flat pancake a very Southern twist, made a pecan pesto, and tossed in some rotisserie chicken and a few bits of mozzarella, too (because I wanted a stringy melty cheese).
Crêpes are super-easy to make and the only trick is to make sure the batter is thin enough to make a thin pancake, otherwise you'll end up with a thick, American one, and that's just not going to work when you want to put something in the middle and fold it over. So play around with this batter as you see fit.
You can put whatever you're in the mood for inside of these…and I wouldn't limit this to just savory things, either. I caught X stuffing spoonfuls of raspberry jam inside of these and rolling them up, taco-style, and eating them for dessert.
I like to think of these as big French quesadillas. Same idea. Just a lot more butter involved.
Cornmeal Crêpes with Rotisserie Chicken and Pecan and Sundried Tomato Pesto
Makes 10 8-inch crêpes
½ cup of cornmeal or polenta
¼ cup of flour
1 teaspoon of sea salt
3 eggs
1 ¼ cups of milk
5 tablespoons of butter, melted and cooled
2 tablespoons of sunflower or canola oil
about 7 ounces/200 grams of shredded rotisserie chicken
2 tablespoons of Pecan and Sundried Tomato Pesto, recipe follows
½ of a ball of mozzerella, torn into small pieces
two big handfuls of arugula, for serving
1. Make your crêpe batter: Sift the flour, cornmeal, and salt together in a medium bowl. In another bowl, lightly beat the eggs with the milk and add the melted, cooled butter. Pour the wet ingredients into the dry, dissolving most (but not all – a few are OK) of the lumps, and voila! You're ready to make crepes.
2. Cook your crêpes: Lightly grease a 10-inch nonstick skillet with 1 tablespoon of canola or sunflower oil poured onto a paper towel and smeared all around the bottom, and turn the heat to medium-high. When the pan's nice and hot, just pour about 1/4 cup of batter a bit onto the skillet and work quickly to spread the batter around the bottom of the pan by lifting the pan up and tilting it so the batter will evenly distribute in a circle. The crepe should be thin, not thick like an American pancake. If it's too thick, simply add a bit more milk to thin out the batter.
3. Warm the rotisserie chicken with the Pecan and Sundried Tomato Pesto in a skillet over medium heat. When it's warmed through, just set this skillet aside.
4. Lightly grease your 10-inch nonstick skillet with another tablespoon of canola or sunflower oil poured onto a paper towel. Turn the heat to medium-high, and warm up one crêpe at a time, putting the darkest side down, and filling half of the crêpe with the still-warm chicken and half of the mozzarella pieces before folding the other side on top and flipping the whole thing over. Serve immediately, opening the top half of the crêpe and stuffing it with a handful of arugula.
Cowgirl Tip: You can make these crepes in advance, and stack them between pieces of waxed paper and keep them in the fridge until you're ready to eat them. To reheat, simply lightly re-grease a skillet with canola or sunflower oil, and add each crepe to the pan, flipping over after 30 seconds or so. It won't take long.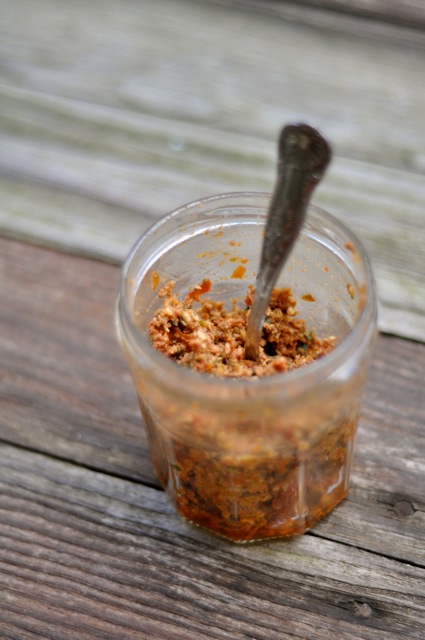 Pecan and Sundried Tomato Pesto
Makes about 2 cups
100 grams of sundried tomatoes in oil, drained (reserve the oil)
½ cup of pecans, toasted
1 teaspoon of fresh-squeezed lime juice
6 large basil leaves
1 tablespoon of capers
½ teaspoon of red pepper flakes
a pinch of sea salt
Put everything in your small food processor and pulse a few times to combine. Add about 1/4 cup of the reserved oil from the sundried tomatoes, or enough to reach the desired consistency — this shouldn't be too dry. Let this rest at least a half hour before you want to use it. Store the leftovers in an old jam jar in the fridge.
Double-Duty: This pesto would be great smeared on tiny toasts as an appetizer, stirred into pasta, or used instead of mayo or mustard on a sandwich or tartine.