Crunchy, Cheesy Chiles Rellenos with Roasted Tomato Salsa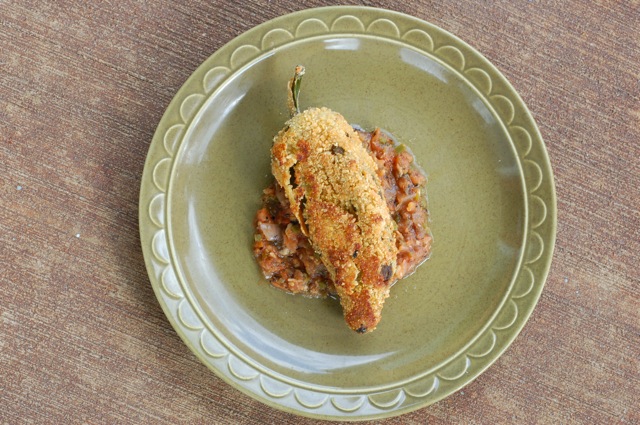 The best souvenirs from my travels? The food.
I've always been able to recreate the tastes of the places that I've visited, and when I do, it's like I'm there all over again. When I was in Thailand a couple of years ago, I came back with recipes from both cooking schools that I attended, but my favorite was the Thai Basil Fried Rice that I ordered from room service at the Four Seasons in Chiang Mai one night. While in New Delhi and the Himalayas the year before that, dal with tamarind chutney was a daily treat, so when I arrived back home, I spent more than a week trying to recreate a dal like the ones that I'd eaten each day – which I finally did – but it was the naan bread that (still) stumped me. Hard to make with a traditional oven, you know.
What I love about living in Paris is that I'm discovering new foods each day – and as a bonus, now when I go back to the States, which I did recently, I see lots of dishes that I'm actually quite accustomed to in a brand new way. I eat with the eyes of a tourist wherever I go.
Which is how this little number came about.
I was in New Mexico, eating chile this and chile that all over the place, and while I was in Taos one night at the funky Taos Inn's Doc Martin's restaurant, I tasted a chile relleno that had a special crunch. The secret? Crushed tortilla chips, the chef told me, and I made a mental note to try this when I got home.
The last day, I was in Santa Fe, and for breakfast at Tune-Up Cafe, ordered the chile relleno with a roasted tomato salsa, which wasn't hot at all, in fact – just a slightly sweet, smoky tomato sauce that let the taste of the chile shine through. So I decided that this was something that I needed to figure out, too.
So here you go. My latest souvenir from New Mexico — so much better than a t-shirt, don't you think?
Crunchy, Cheesy Chiles Rellenos
4 large Poblano peppers, roasted and skins removed*
8 ounces Pepper Jack, mozzarella, or any other mild and easily melting cheese
2 cups buttermilk
1 ½ cups all-purpose flour
¼ cup yellow corn meal
1 teaspoon sea salt
2 cups crushed tortilla chips**
1 quart peanut oil or vegetable oil
1. Make a "T" with a sharp, serrated knife in each peeled poblano pepper, and with a spoon, remove all of the seeds and the white membrane at the top and along the sides. Now, put the peppers in a bowl and pour the buttermilk over them.
2. Sift the flour, corn meal and salt into a bowl. Set aside. Put the crushed tortilla chips in another bowl.
3. Pour the oil into a large, tall-sided pan (I like to use the same pots that I make soup with so the oil doesn't splatter all over the stove), and turn heat on high. Use a candy thermometer, and when the oil reaches 350 degrees, it's ready.
4. Now, the fun part. First, stuff each pepper with a bit of the cheese, cut in long sticks, so they'll easily slide into the peppers.
5. Working one pepper at a time, dip back into the buttermilk, then into the flour-corn meal mixture, then back into the buttermilk, and this time, into the crushed tortilla chips. Set each pepper onto a plate so they'll dry just a bit before you fry.
6. Using a spatula, carefully slide each pepper into the hot oil. They'll fry about 30 seconds to one minute and then, you'll need to flip them over and let the other side cook. Remove and put on paper towels to drain.
Serve immediately with roasted tomato salsa and a bit of sour cream, if you'd like.
*Two easy ways to roast peppers: 1. Place directly on a gas flame and turn the peppers as the skins burn. 2. Turn oven on broil, place peppers on cookie sheet, and roast, again, turning the peppers. Then, put roasted peppers in a tightly sealed plastic bag for 10-15 minutes and let steam. Now you can easily remove the skins.
**You may use a food processor, or a rolling pin with chips (my favorite method) in a Ziploc freezer bag (much sturdier) to crush the tortilla chips.
Roasted Tomato Salsa
8 large Roma tomatoes
1 medium jalapeno, with seeds
4 cloves garlic, peeled
½ small white onion, sliced
1 lime
sea salt
1. On a comal or cast-iron skillet, over high heat, put the tomatoes, onions, garlic, and jalapenos, and cook until well-roasted on each side.
2. Put everything but the jalapenos in a bowl. Set aside.
3. Slice off the top of the peppers, devein and remove the seeds. Put the cleaned jalapenos in the bowl with the rest of the ingredients.
4. Using a hand blender, and working in stops and starts, whir until just until the ingredients combine, and the mixture is still chunky. Taste and add squeeze of half a lime or more if needed.
Let rest for 2-4 hours before serving.