Cucumber-Avocado Gazpacho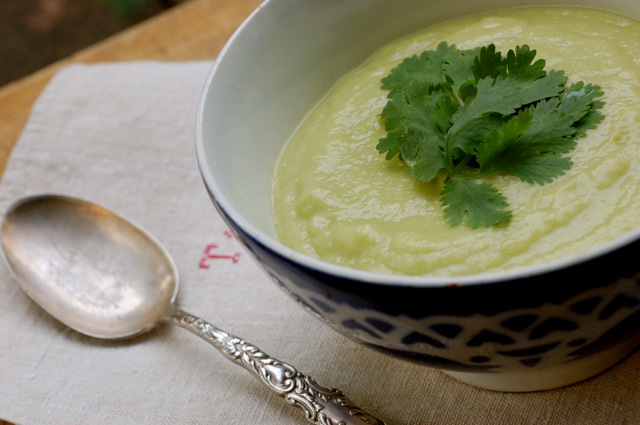 I actually came up with this recipe last year, and I've been waiting for the weather to get warm enough to make it again —  luckily, we're in the middle of a heat wave – well, for springtime in Paris, that is.
I can't believe I now think that 70 degrees is warm. Back home in Texas, 70 degrees meant that we were in the middle of winter.
When our Twitter #LetsLunch bunch decided to have a liquid lunch today, because one of our longtime lunchers, @geokaren, is going in for cancer surgery,. When she mentioned that she'd be on a liquid diet this week, we all figured that we'd join her as a show of solidarity.
Karen, I hope you like this super-easy, Tabasco-spiked green gazpacho – and I hope the rest of y'all do, too.
I've got a whole bunch of avocados in a bowl right now, and when they ripen up, I'm making another batch.
Here's what the rest of the #LetsLunch gang came up with today:
Cooking in the Fruit Bowl's Peanut Butter Espresso Smoothie
Free Range Cookies' Crack Pie Shake
Hot Curries & Cold Beer's Spring Pea and Mint Soup
Cheryl Tan's Miso-Bacon-Corn Chowder
Caitlin Shetterly's Spring Greens Soup
Cucumber-Avocado Gazpacho
Makes 2 regular-size bowls or 4-6 small appetizer portions
4 large cucumbers (or two English cukes)
2 large avocados
2 medium shallots
¼ cup olive oil
2 tablespoons sherry vinegar
juice of one lime
½ teaspoon sea salt
drop or two Tabasco sauce (you don't want to overdo, or you'll overwhelm the flavors of the cucumber and avocado)
cilantro (for garnish)
1. Peel cucumber, and cut off the ends. Cut in manageable pieces, about 4-5 inches long. Now, slice away the part with the seeds, leaving you with the flesh. Do this with all of your cucumbers and put in the blender.
2. Add the avocado and add this to the blender, too, along with the rest of the ingredients. Puree until smooth. Taste and adjust ingredients. Refrigerate for 2-3 hours, at least, so the flavors can come together. Garnish with cilantro.
Cowgirl Tip: This is even better the next day, so it's a great do-ahead soup.