Daddy's Hot Fudge Sauce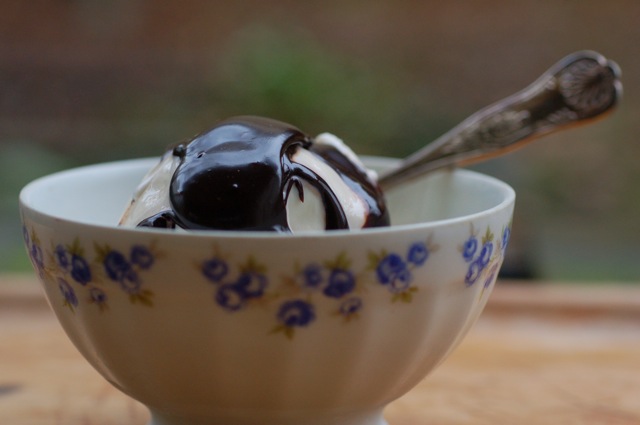 My dad didn't cook on any sort of regular basis – that was solidly Mom's domain – but he had a few specialties. There was always a jar of this strange-looking, thick gray stuff on the top shelf of the fridge, right behind the purple half gallon of milk with the smiling Elsie the cow– sourdough starter for those days that he wanted to make tangy loaves of bread, or occasionally, pancakes. In the summertime, he made bread and butter pickles with the cucumbers that he grew in his garden out back, and canned jalapenos, too, which we were grateful for throughout the year. He also made the best fried egg sandwiches in the world.
But my dentist dad, whose sweet tooth drove him to keep his own stash of Reese's peanut butter cups high in the cabinet behind the cups and saucers, really excelled at making hot fudge sauce.
Usually late at night, long after the dinner dishes were put away, and often when I was studying for an exam, I'd hear a knock on the door, and Daddy would peek his head in and smile. "How about a hot fudge sundae?" he's say.
Um, yeah. And down the stairs I'd go, taking the steps two at a time, trying to beat my brother to the kitchen. I loved Daddy's late-night hot fudge sundaes because they were always a surprise — and special because he'd made them just for us. Even today, a couple of scoops of Blue Bell vanilla bean in a bowl covered with his thick, shiny chocolate sauce is my preferred dessert – and go-to comfort food when I'm feeling a bit homesick, or blue, or both.
Here in France, they fancifiy the idea by hiding the ice cream in little choux pastry puffs and calling them profiteroles. In Belgium, vanilla ice cream with hot fudge is known as a "Dame Blanche."
Call it what you will, in whatever language you choose, it's the same thing, isn't it? Wherever in the world you happen to be, melty chocolate poured on top of vanilla ice cream satisfies.
Daddy's recipe was straight from Craig Claiborne's "The New York Times Cookbook," and while there's nothing wrong with this version, I tweaked this a bit – I cut the sugar and corn syrup in half, upped the cocoa and added some bittersweet chocolate, too.
Because, like scarves and boots, you can never have too much chocolate.
Daddy's Hot Fudge Sauce
Adapted from Craig Claiborne's "The New York Times Cookbook"
¾ cup cocoa
4 ounces bittersweet chocolate
½ cup sugar
½ cup corn syrup
½ cup cream
3 tablespoons butter
1 teaspoon vanilla
In a heavy saucepan over medium-low heat, combine all of the ingredients except the vanilla extract. Cook and stir constantly until the mixture comes to a rolling boil. Remove from heat and add the vanilla.
Serve warm.
This sauce will keep for a week in the fridge (yeah, right).
To reheat, put chocolate sauce in a bowl over a saucepan of hot (not boiling) water, and let warm up again.