Egg Salad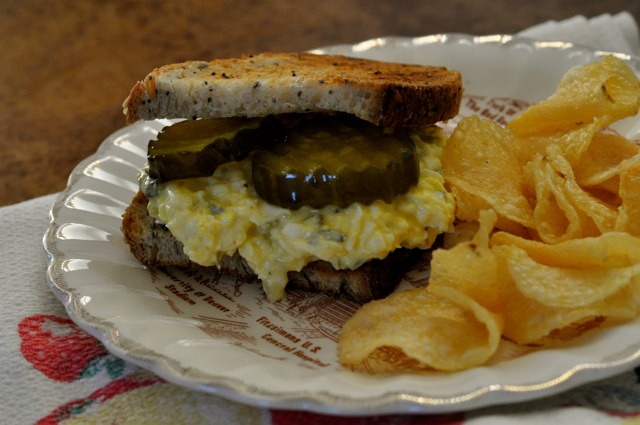 I know. Possible overkill with the pickles. But bread and butter pickles are not something that we don't have over here in cornichon-land, so when I can get my hands on them, I load them up on everything I can, including Mom's egg salad sandwiches.
I don't know why there are no egg salad sandwiches in France. Here, in the most egg-loving place I've ever visited, where eggs are routinely added to pizzas; tops of sandwiches (the Croque Madame is the most famous); and egg-based tarts, both small and large, are a boulangerie staple, there's nothing even close to an egg salad. Or a deviled egg, even.
I don't know how the Frenchies missed this one. You've got eggs, without which there would be no quiche. No crème brulée. No soufflé. No mousse. Plus, two of the country's other national obsessions – mayonnaise and mustard.
It seems so obvious. Eggs, mayo, mustard. Mix it all up, and you're halfway to egg salad.
The magic of this seemingly benign combination is something that my mom is all too familiar with. She makes incredible egg salad sandwiches – and with extra pickle relish, too, per my request – which I never seem to tire of.
Because she lives about a half-hour from the big city, on this last visit, Mom and I were all-too-often looking at five o'clock without a clue about dinner, and certainly not wanting to make the long drive to and from the Albertson's.
Which is where the egg salad sandwiches came in.
It became a running joke. Mom and I would look at each other, glance at the clock on the wall, and one of us would say, "Egg salad sandwiches?"
But I don't want y'all to think that we got stuck in some sort of dull, predictable routine. Sometimes we'd get creative and roll our egg salad up in tortillas.
Egg Salad
This is my mom's recipe for egg salad, which she's been making for years. The only difference between hers and mine is that I roughly chop the eggs. "I grate the eggs," Mom says. "I used to chop them but I do them now this way because it's quicker. But you can do whatever you want to do."
It's also the basis for Mom's picnic staple: "I make deviled eggs the same way — it's just yolks mashed up with all of the same ingredients. This is the way my mother did it and I like it. I want it to taste like it did when I was growing up."
6 jumbo eggs
2 tablespoons pickle relish, drained
¼ cup Hellman's mayo
1 teaspoon mustard
pinch cayenne
pinch salt
pinch pepper
1. Put the eggs in a saucepan, cover with water by 2 inches, and put on the stove over medium-high heat. When the water boils, cover, reduce heat to a simmer and put on the timer for 10 minutes. Carefully pour off the hot water, then put the pot in the sink and let cold water run over the eggs until they're cool enough to peel. Peel the eggs and grate them into a bowl.
2. In a separate bowl, mix everything else together and then fold into the eggs. Taste for seasonings. Refrigerate for a couple of hours, at least, before serving. Spread generously over grainy toast — with or without big fat pickles.