Eggplant and Black Olive Caviar Recipe and a Giveaway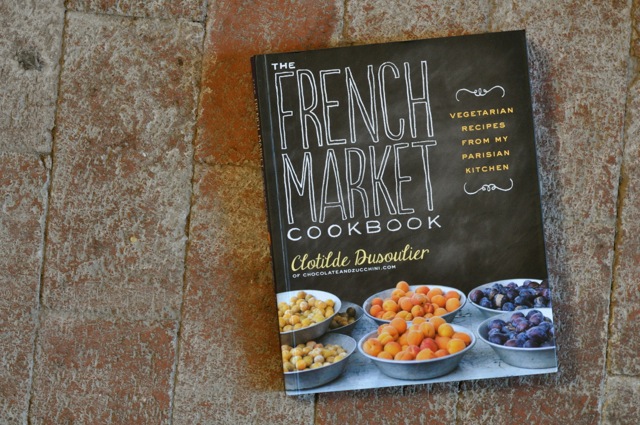 I feel like I've been on a recruiting mission for Team Eggplant lately. Auburgine is one of the most-loved and most available veggies in France, but it seems like folks in the U.S. either don't like it, don't know what to do with it, or both.
It may be big and purple, but it is not the Barney of vegetables.
Please, people, don't just cover up eggplant with a thick layer of tomato sauce and cheese. Not that I have anything against the Italian classic — I love it — but eggplant can be so much more.
I've always loved eggplant and now that there are non-bitter varieties in grocery stores in the U.S., it's even easier to cook. In other words, there's no need to do all of that salting and draining beforehand.
In France, caviar d'aubergine–a simple purée of eggplant and some spices–is so common and so loved that it's available commercially in just about every grocery store you'll find. However, it's really easy to make at home. And it's way better.
Caviar d'aubergine is a wonderful thing to put out with a few pita chips and serve as an appetizer with rosé or Champagne. It also makes a great sandwich spread the next day. I love it and especially like playing around with different variations.
In my book, I make one with cherry tomatoes and lots of basil, and it's a chunky, summery version, which I like a lot.
Clotilde Dusoulier, a friend of mine in Paris, who writes the fabulous blog, chocolateandzucchini, came out with a new cookbook this year, "The French Market Cookbook" (Clarkson Potter)  and she has yet another twist on my favorite caviar — it's a practically oil-less version, with garlic and Kalamata olives. Meaty and bold, it's packed with flavor. It's amazing, really.
And it's a perfect thing to make right now, while summer eggplant are still available and the weather is tip-toeing into fall, but with the promise of l'été indien, too.
I'm dying to dig in and try more from her new book. It's all vegetarian and divided by the seasons, making shopping and menu planning a snap. Plus it was fun to hear her talk about it while she was putting it together. Clotilde and I met for coffee at Kooka Boora in Montmartre when she was just starting to work on it (and I was just starting to put my book together) and she was so excited about the way it was going to come together, season by season, with the book's photography, too, scheduled for when those particular fruits and vegetables were available. (Unlike the U.S., where you can buy asparagus in January, most produce in Paris is only available seasonally. Imagine that.)
What's so nice about her book and her blog is that Clotilde demystifies everyday French cooking and her recipes are never complicated. In her new book, along with veggies, she uses lots of grains and nuts, now very au courant on both sides of the Atlantic.
Come fall (and it IS coming), I plan to make her Mushroom Broth with Parisian Gnocchi and Rolled Barley and Carrot Stir-Fry…or maybe I won't wait. I think I feel a slight chill in the air now…
Want a FREE copy of Clotilde's fabulous, seasonal new cookbook? Just leave a note in the Comments below telling me what your favorite season is and be sure and put your email address in your comment, too. I'll put your name in the hat and draw the winner in about a week. Bon chance!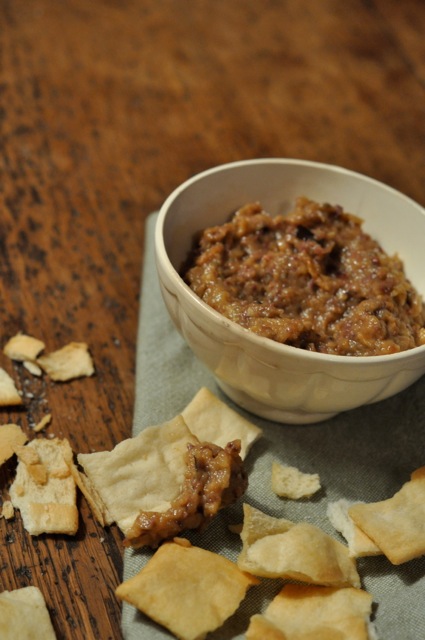 Eggplant and Black Olive Caviar
Makes 2 1/2 cups
Adapted from Clotilde Desoulier's "The French Market   Cookbook" (Clarkson Potter)
2 pounds/900 grams of eggplants
2 cloves of garlic, sliced into thin slivers
12 brine-cured black olives, such as Kalamata, pitted
2 tablespoons fresh squeezed lemon juice
1 tablespoon extra virgin olive oil
1 cup/20 grams of chopped fresh flat-leaf parsley
sea salt and cracked pepper
hot sauce (I used Valentina and it was wonderful)
1. Roast the eggplants a few hours in advance or the day before. Use a knife to pierce three or four slits into the skin and slip the garlic slivers into the flesh.
2. Place the whole eggplants on a lightly oiled baking sheet and insert into the cold oven. Turn the oven to 400°F/200°C and roast the eggplants, flipping them halfway through, until they're completely soft, 45 minutes to 1 hour. Set aside to cool completely. If you're roasting them the day before, after they've cooled, put them in an airtight container in the refrigerator.
3. Halve the eggplants lengthwise, scoop out all of the flesh and garlic, and put in the food processor.
4. Add the olives, lemon juice, olive oil, and parsley along with a good pinch of salt and pepper and a dash of hot sauce. Process until very smooth. Taste for seasonings.
Note: I like to serve this with toasted pita chips or blue corn chips, but it would also be great with rustic bread or tiny toasts.