Eggplant Caviar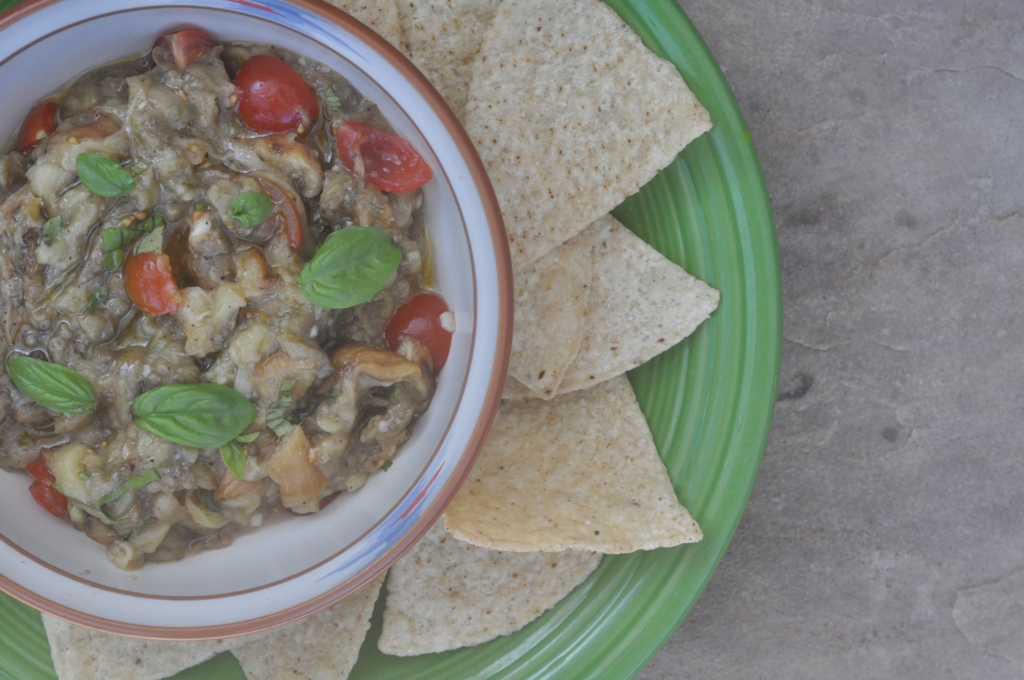 It may seem a little weird to be making eggplant anything in November, but it's been almost 80 degrees in Dallas lately, and I'm going with the weather instead of what the calendar says, so t-shirts and eggplant dip it is. (Plus I noticed that Yotam Ottolenghi published an eggplant and lentils recipe in his column recently, so if he can tout eggplant when it's past  season, I figure I can, too.)
I've been in the throes of coming up with all sorts of appetizer recipes in the last week or two, and just when I think I'm out of ideas, this one came floating back into my brain, which I'd totally forgotten about. Because as much as I love avocados, there's only so much guac you can eat, and if this crazy warm weather holds, you're going to need more recipes that are on the light side for the upcoming holiday season, which will include more wines that are chilled than not and a whole lot of Champagne if you're lucky.
This recipe is one that I stole from my own book, and I didn't change a thing, which is unusual for me. I'm a perpetual recipe tinkerer and normally can't leave a recipe alone, but with this one, I didn't see any way to improve upon the original. With chips, thin slices of toasted bread or pita, or slathered on top of a flatbread and turned into a pizza like I did last night, this is an easy add to your holiday repertoire that you can return to year-round.
Eggplant Caviar
Makes 2 to 3 cups
2 large eggplants, halved
½ cup/4 ounces olive oil, plus a little more for serving
sea salt and pepper
juice of 2 lemons
pinch cayenne
8 basil leaves
12 cherry tomatoes, quartered
1 tablespoon pepitas for serving
Preheat the oven to 400°F/200°C and line a cookie sheet with parchment paper. Place the four halves of eggplant on this, fleshy-side up, and with a sharp knife, make a few long slashes into the flesh of each one. Divide the olive oil between the eggplant pieces, brushing it on so it's evenly distributed. Sprinkle with some salt and pepper and pop into the oven. Bake for 45 minutes to one hour, until the eggplant's soft and the top has browned. Remove and let this cool.
Scoop out the eggplant's flesh and mix it with a fork with the lemon juice, cayenne, and basil. Taste for seasonings, then gently fold in the cherry tomato quarters. Refrigerate for an hour before serving. Drizzle with olive oil and add pepitas on top.
SaveSave
SaveSave
SaveSave
SaveSave
SaveSave
SaveSaveSaveSave
SaveSave
SaveSave