End of Summer Salad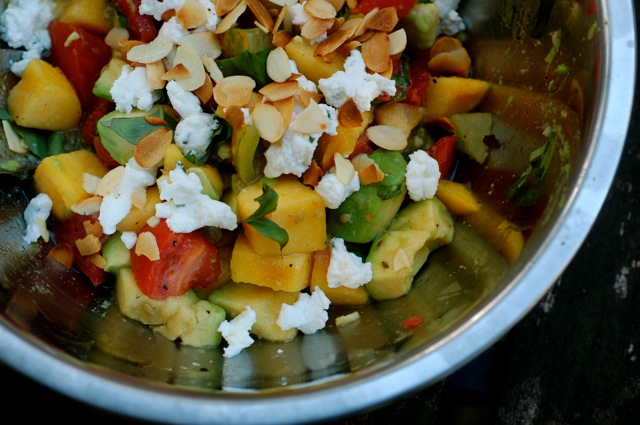 Truth is, I'm not ready to write this post. For summer to be in my rear view mirror, getting smaller by the minute. (Rhubarb, we spent so little time together. You left without saying a proper goodbye, which I must tell you, I felt was quite rude. Strawberries, cherries, peas, tiny girolles, for God's sake, DON'T GO! Not yet. Please. I'm begging y'all.)
Last week, at President Wilson Market, I bought nectarines and peaches, and paid dearly for them, too –8 euros — for two of each. I know what this means. It's over for them, too.
Sigh.
So, I must let go. Let go and let fall, well, fall upon us.
In the spirit of saying au revoir to what has been my juiciest, fruitiest and veggiest summer ever, I threw together this little salad the other night. One overpriced peach, a couple of beautiful tomatoes, an avocado, along with some of the cute goat cheese man's wonderful chevre, and, voila, I had salade. With each bite, I said goodbye – until next year.
Today, I'm off to the market in anticipation of returning with a full lime green wheely cart of the goodies that I'll find. I know that the beautiful, oh-so-sweet Reine Claudes are here, and so are the lovely yellow mirabelles..and I saw the first potimarrons and cepes the other day, which I'm very excited about. Also, figs. I think that I'll find some lovely figs today.
Oh how I love figs!
End of Summer Salad
1 large avocado
2 medium tomatoes (I used one red and one green zebra)
1 large peach
125 grams/4.5 oz fresh chevre
6-8 leaves fresh basil, torn
appx 2 tablespoons almonds, toasted
splash sherry vinegar
drizzle olive oil
pinch sea salt
pinch pepper
Chop the avocado, tomatoes, and peach into pieces roughly the same size and put in a medium bowl. Add just a splash of sherry vinegar and olive oil, the pinch of salt and of pepper and very gently toss. Taste for seasonings and when ready to serve, add the chevre, toasted almonds, and torn pieces of basil. Looks so much prettier that way.