End of the Road Tartine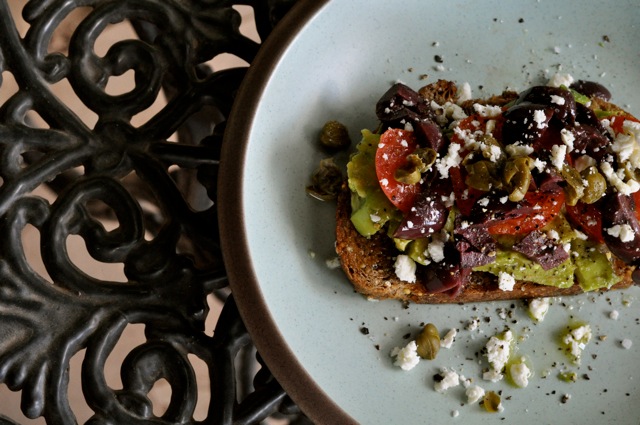 It's been a hairy last few weeks. I've driven so many miles on my rental SUV that the "change oil" light just came on, and when people ask me where I'm living now, I just say, "My car." And it's not even my car. Thank goodness I have enough floss to get the bugs out of my teeth.
I've been to San Antonio and back, to Austin, too, and done more events in Dallas and Fort Worth than I can count right now. Also in New Mexico, my adopted home. This is my third trip in less than two months. I zipped back to Texas late last week for the Saturday Cowtown Farmer's Market Summer Festival, and I'm so glad I did. I met lots and lots of great folks, signed more books than I thought imaginable, and then got right back on the road at 5:30 am the next day.
Now I'm back in my little on-loan casita on Upper Canyon Road, settling back in for another couple of weeks of writing, developing recipes, and happily waking up to a chill that requires a pair of sweats before I take my first sip of coffee.
But when I arrived yesterday afternoon, with the ten-hour drive in my rearview, I couldn't even rally to get to the grocery store. So I popped some grainy bread in the toaster that I had in the fridge from last week, found an avocado, a few kalamata olives, capers, and sliced up one of the tomatoes that I'd bought at the Fort Worth farmer's market. A drizzle of olive oil, some fleur de sel and fresh pepper, and I had dinner.
Even better, I walked right into the middle of a "Damages" 'thon on TV, and I spent the next few hours blissfully stretched out on a fat blanket on the floor. For the first time in a very long time, I felt like I was home.
End of the Road Tartine
Makes 2
2 slices of grainy bread, toasted
1 avocado, sliced in half and seed removed
1 tomato, sliced
about 6 kalamata olives, pitted and roughly chopped
1 teaspoon of capers, rinsed and roughly chopped
about 2 tablespoons of feta, crumbled
olive oil
fleur de sel
fresh pepper
Put  your toasted bread on two plates and smash each piece with half of an avocado. Layer your tomato slices on top this; then add your kalamata olives, capers, and feta. Finish with a pinch of fleur de sel and some fresh cracked pepper. Drizzle with olive oil. Repeat as often as necessary.