End of Winter Side/Salad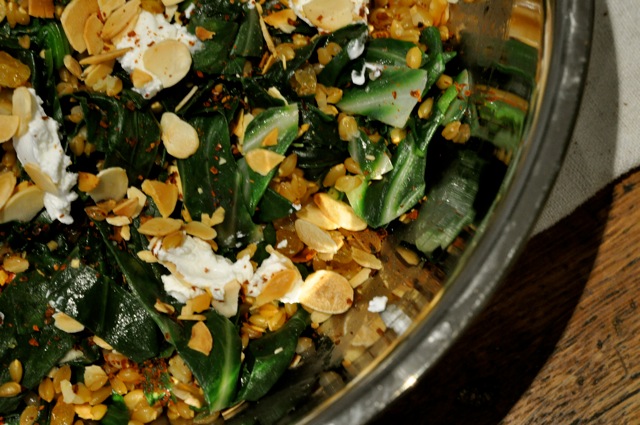 Do y'all remember my End of Summer Salad post awhile back, and how wistful I was, not wanting summer to end?
Let me assure you, that this is not the case today. I am ready to kick winter to the curb. I'm still wearing the big black puffy down coat that I've been wearing, oh, since sometime around the first of October, best I can recollect. (I know, I know. I once said that I loved wearing scarves and gloves and hats and bundling up in the cold blah, blah, blah, but enough is enough.)
Even more depressing is the lack of interesting produce right now. Once vibrant and hopeful, the weekly markets are stuck in that betwixt and between stage, offering the last roots, cabbages and other dark leafy things. Sadly, we're still a few weeks away from asparagus, which is when spring – and all of the fun that comes along with it – really begins.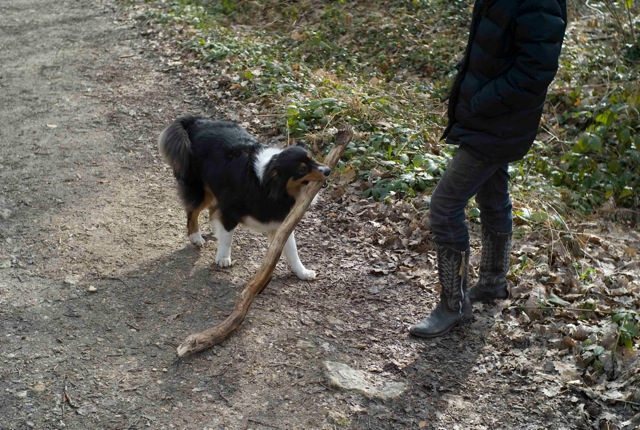 On Sunday, X, Rose and I drove to the forest near Versailles, and afterwards, went to the market to pick up a few things for the week. I bought what will be perhaps my last bunch of Swiss chard, a kilo of spinach, and what turned out to be a sack of subpar Brussels sprouts, which I hope to trim up and roast later this week, in hopes of coaxing out a bit of flavor.
Note to self: Do not buy from the vegetable seller that's next to the rotisserie chicken stand and the flirty straw shopping bag man in Versailles.
The spinach wasn't the best that I'd ever seen, either, so I picked through what I had, and cleaned it up. After I tossed out the bad leaves, I didn't have much left, so I decided to cut up the Swiss chard, too, and add this to the mix.
I'd been wanting to try out a new grain that I found a couple of months ago, called petit épautre, which I thought could be the base to pull this all together. Turns out, this grain, grown in Provence, is an ancient form of wheat that's been around since 16,000 B.C. or so, give or take a millennia. It's also known as triticum monococcum, but I like petit épautre better. It's cuter and easier to pronounce.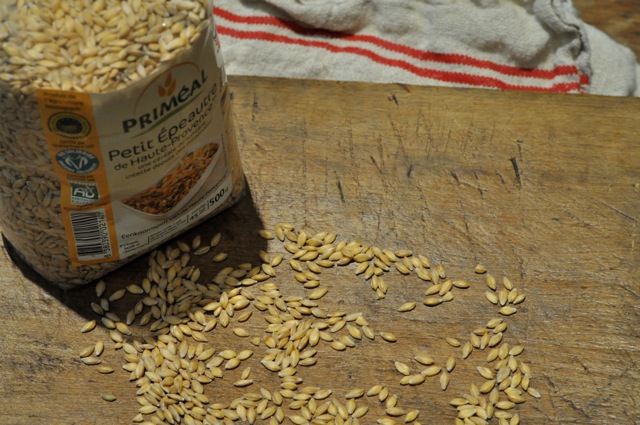 Either way, it's a wonderful grain – sweet and nutty  — it has more protein than wheat, and is high in vitamin B and magnesium. It takes nearly an hour to cook (but unlike rice, isn't fussy), and can be swapped out for rice or pasta or any other grainy thing that you might otherwise use.
If you can't find this in the U.S., I'd suggest using barley or something with a similar texture.
The rest of the recipe is dump-and-stir: sweet white raisins to balance the slightly bitter greens; toasted almonds for crunch; red pepper flakes for a bit of zing; and creamy goat cheese because I love it so.
I loved this salad, too.
Voila, winter. Here's your denouement.
Now, get outta here. I'm over you.
End of Winter Side/Salad
Makes 6-8 side servings or 4 larger ones
1 cup petit épautre or barley
1 tablespoon olive oil
6 oz. spinach, washed, and stalks trimmed (and removed if the pieces are large), chopped into 1/2-inch pieces
1 bunch Swiss chard, well-rinsed and chopped into 1/2-inch ribbons
½ teaspoon sea salt
½ teaspoon freshly cracked black pepper
pinch nutmeg
½ teaspoon lemon zest
⅓ cup white raisins
2 oz. toasted almonds (or pine nuts or your favorite nut)
2 oz. goat cheese
pinch red pepper flakes
1. Cook the petit épautre or grain of your choice according to the directions on the package, and set aside to cool.
2. Pour the olive oil into a large skillet and turn the heat on medium. Add the spinach, Swiss chard, salt, pepper, nutmeg and lemon zest and cook only for a few minutes, or until it slightly wilts. Drain in a colander.
3. Toss the greens with the grains, and add raisins, almonds, goat cheese and red pepper flakes. Serve warm, at room temperature, or cold.
Cowgirl Tip: You may use any kind of greens that you like here – kale or turnip greens would be great, too.