Fattoush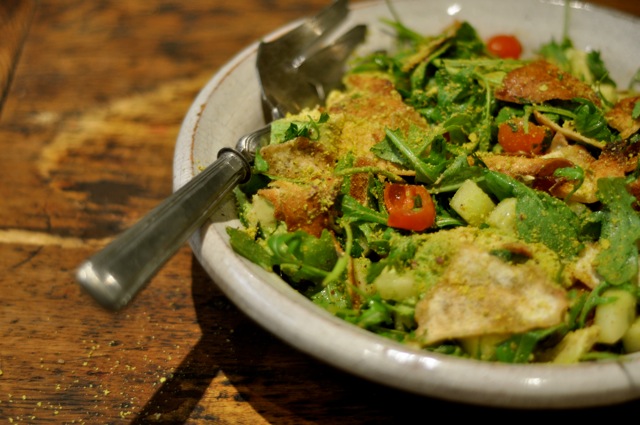 I decided after I made this (and then promptly made more pita crispy chips for post-dinner snacking) that I would have to call this Fattoush I, because there would certainly be a second, and most likely a third take on this Lebanese bread salad. I'd been meaning to make this for awhile, but haven't, simply because when I have pita in the house, it usually doesn't stay around long enough to get stale, which is what you need for this salad….or at least some uneaten pita.
So make it fast, before the pita runs off with the socks.
I made this on a Sunday night, always a notoriously short evening it seems, when I didn't want to spend too much time in the kitchen. Once the pita toasts are under the broiler (which must be watched more carefully than teenagers), you're pretty much there.
I used arugula instead of romaine (which most recipes call for and which would add crunch but not the lovely bitterness that arugula offers), tossed in some tiny tomatoes that I squished with my hands (rustic and oh so easy), a cuke, and for fun, added an avocado and some crushed pistachios…because they're both delicious and green, and I didn't feel like I was taking a left turn off of the dish's intent with those two add-ins.
But who knows where I may go next with this.
Note that I use the traditional spice, sumac, to sprinkle on top of my little pita chips and I strongly urge you to do so, too. It is a lovely, bright and slightly lemony and would be great sprinkled on top of all sorts of things where you might use a bit of lemon…lamb, chicken, fish and other meats to grilled veggies, I'm thinking.
Oh and guess which lemon-hater in the house loves sumac?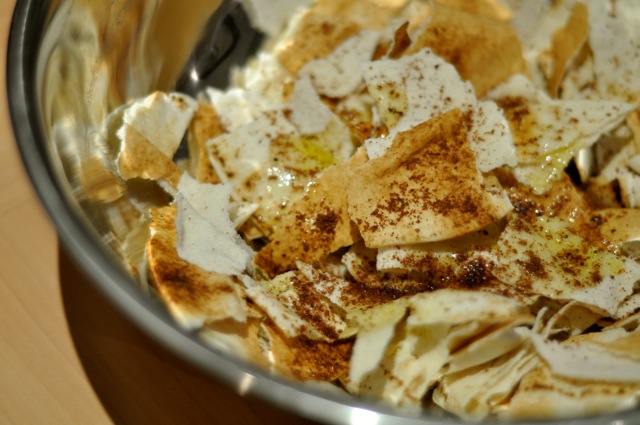 Fattoush
Makes 2 large or 4 first-course servings
3 to 4 stale pita breads (or if they're not yet stale, it'll work)
a few tablespoons of olive oil
sea salt
1 teaspoon of sumac*
1 cucumber, peeled and chopped
12 cherry tomatoes, squished by hand (this is what I had, but any tomato will do)
2 big handfuls of arugula
1 handful of cilantro
a few sprigs of mint (stems included)
1 avocado, chopped
1 blood orange, juiced
pepper
2 tablespoons of crushed pistachios
1. Preheat your oven to Broil and line a cookie sheet or two with parchment paper.
2. Toss the pita pieces in a bowl with the olive oil, sea salt, and sumac, and make sure the pita pieces are well-coated. Lay these out on the cookie sheets and slide into the oven. Watch these verrrrry carefully. They'll cook in a minute or two.
3. Put the cucumber, cherry tomatoes, arugula, cilantro, mint, and avocado in a big bowl and add the pita pieces, too. Pour the blood orange juice directly onto the salad, add a small drizzle of olive oil, and toss. Taste for seasonings. Here, you might want to add another pinch of salt and/or sumac, along with some fresh pepper. Top with crushed pistachios and serve.
*Sumac is a Middle Eastern spice that's been around since Roman times, and it's often used for rubs, marinades, dressings, and sprinkling on top of meats, fish, and veggies. It's slightly tart with citrusy notes, and brightens up just about everything it touches.