Figgy Bread Pudding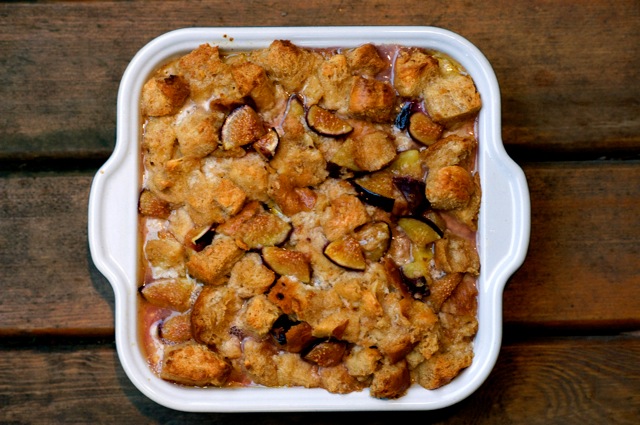 Because I can't seem to get enough of figs, which are down to 1 euro a kilo right now, I thought that it would be fun to do something other than a tart or pie. Don't get me wrong. I love tarts and pies, but I also love lots of other desserts, too, as y'all well know by now.
Cooler weather means bread pudding time, so I though that a figgy bread pudding would be just the thing to welcome fall, which is tip-toeing in this year, instead of taking us by storm as it usually does, in blustery bursts of gray.
This is a variation on my regular bread pudding recipe — I've added figs and swapped out regular bread for brioche and used honey and some other spices — but I didn't want to get too far from what it's supposed to be in the first place. Just a tweak or two to make it different, which turned out even better than I'd imagined.
Ha! Go figure.
Figgy Bread Pudding
Makes 9 generous servings
3 tablespoons butter, divided
4 thick slices stale brioche-style bread, cubed
1 cup whole milk
1 cup whipping cream
3 large eggs
½ cup honey
1 teaspoon cinnamon
¼ teaspoon nutmeg
¼ teaspoon sea salt
1 teaspoon vanilla
15 oz (appx) figs, cut into eighths
Preheat oven to 180 C/350 F.
1. With 1 tablespoon of the butter, generously grease an 8″ x 8″ casserole dish.
2. Put the stale bread cubes in a large bowl (if they're not stale, toast them slowly at a low temperature until they dry out a bit).
3. In a medium bowl, whisk together the milk, cream, eggs, honey, cinnamon, nutmeg, sea salt and vanilla. Make sure all of the honey is incorporated (it likes to stick to the bottom of the bowl).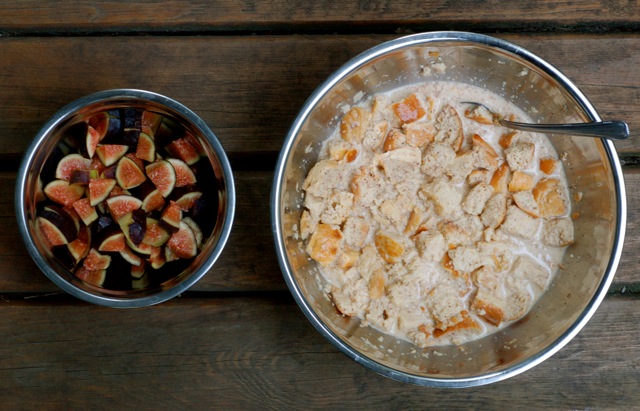 4. Pour the eggy-milk mixture over the bread and smoosh it all down so it soaks up as much liquid as possible. Let it rest for 15 minutes to a half-hour, stirring it around, so all of the bread soaks up the mixture.
5. When ready to bake, put half of the figs on the bottom of the 8″ x 8″ inch dish, pour the bread/egg mixture over them, and then add the rest of the figs, gently pressing some of them down into the custard. Put the other 2 tablespoons of butter in bits all over the top. Cover with foil and bake in a bain-marie for 45 minutes or until a knife inserted in the center comes out clean. Be sure to remove the foil for the last 10 minutes of baking so the top gets crunchy.