Five Cheese Spinach and Mushroom Lasagna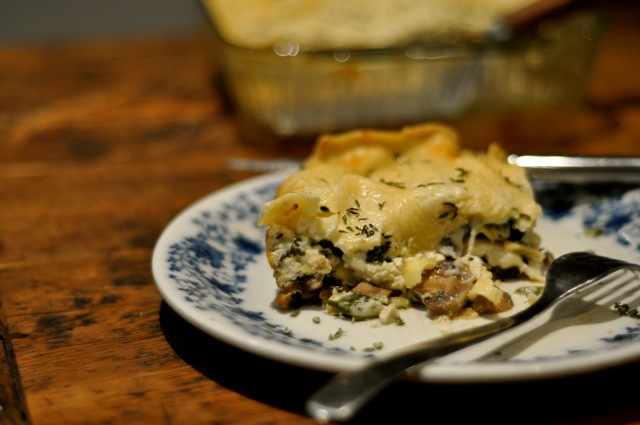 Sometimes a day or two goes by without me spending time in the kitchen. This is hard for me, because I actually would rather be in the kitchen than just about anyplace else. Other times, like the last week or so, I'm so loaded up with appointments in the afternoon that it's impossible for me to spend any sort of quality time with my pots and pans, and I'm throwing together bits of this or that — smashing an avocado on toast, shoving French lentils into a tortilla and splashing Valentina sauce on top, or scrambling some eggs — anything to get dinner made and I'm sad to say, over with.
This is not my preferred way of approaching meals.
Even though the temperatures are warm — it's been nearly 70 degrees lately — and the flowers are blooming, I just finished off what was undoubtedly the last butternut squash I'll see till next winter. Spring is officially here, but I'm still waiting for the first green asparagus to arrive (I've spotted the white, but again, it just feels too early).
In this in-between time, when the weather says one thing, but the markets say another, I'm at a loss. When it's this warm, I'm walking around thinking, Tomatoes! Tarts! Salads! But it's not time…not yet.
Those periods when you're finished with one thing — in this case, winter — and anxious for the next — spring —  are some of most difficult. (The wishing, the longing! When oh when will time pass and I can enjoy what's sure to be the most delicious batch of strawberries/asparagus/peas I've ever tasted? Hurry! Come on!)
The waiting, like Tom Petty said.
On Sunday, to pass the time while waiting for spring, I made croissants for the second time this month (better than the first batch, but still having butter issues), and I went to the stinky stinky Franprix for carrots, most of which were covered in a cottony white mold.
I managed to find a few carrots with a little life in them for Rose, who loves carrots, and for my juicer, and on a whim (and because as I mentioned earlier, I was plum out of ideas), I tossed two packages of mushrooms into my basket.
I cooked them up the next morning, still not sure what I was going to do with them.
At 5:30, there they were, just staring at me from the fridge.
I pulled "Ottolengthi, The Cookbook," from my shelf, and began to flip through it. This book, along with Yottam Ottolenghi's newer cookbook, "Plenty," always inspires…the photographs are gorgeous and the recipes are wonderful.
So there it was. A Cook's Illustrated magazine recipe for mushroom lasagna that was adapted for this cookbook, which I then adapted to what I had on hand.
For those of you who think making lasagna is a labor intensive process, this one's not. Once the mushrooms are cooked — like me, you can do this ahead of time — it's really just a matter of making the béchamel sauce, which takes less than 10 minutes, and assembling the parts.
I made this with champignons de Paris, or button mushrooms, but soon I'll be able to add spring mushrooms, too. Until then, I'm quite happy with this little dish, this in-between, tossed together at the last minute lasagna which will be just as nice any time of the year.
Five Cheese Spinach and Mushroom Lasagna
Makes 4 large servings
Inspired and adapted from "Ottolengthi, The Cookbook" and Cooks Illustrated magazine
1 pound/500 grams of button mushrooms, sliced
olive oil
sea salt and pepper
1 tablespoon of butter
1 tablespoon of flour
1 cup of whole milk
a pinch of fresh nutmeg, if you've got it (canned if you don't)
6 lasagna noodles (uncooked)
9 ounces/250 grams of ricotta
1 egg
a few sprigs of fresh thyme
3.5 ounces/100 grams of baby spinach
3.5 ounces/100 grams of grated Emmenthal, Gruyère or Swiss cheese
a 4.5 ounce/125 gram ball of mozzarella, torn into bits
about 2 ounces/56 grams of goat cheese
about 2 ounces/56 grams of Parmesan cheese
1. Preheat your oven to 375°F/190°C and get out an 8-inch by 8-inch casserole dish.
2. Get out your biggest skillet, drizzle a little bit of olive oil in the pan, and turn the heat to medium. Give this a minute or two to warm up; then toss in about half of your mushrooms or as many as will comfortably fit without crowding (like me, mushrooms don't like crowds, and they'll not get crispy if too many are in the pan). Sprinkle with some salt and pepper and add more oil if you need to, flipping these over as they brown on one side. Cook up the rest of the mushrooms and set them aside to cool.
3. Make your béchamel sauce: Put the butter into a saucepan over medium-low heat, and when it melts, sprinkle in the flour, little by little, stirring the entire time with your wooden spoon. Slowly add the milk, stirring as you do so so you don't get lumps. Add the salt, pepper, and nutmeg. Taste. Set this aside, too.
4. In a bowl, whisk together the ricotta, egg, herbs, along with a little salt and pepper. Make sure to taste this, too, to make sure the flavors are balanced.
5. Now, assemble your lasagna. Put a tiny bit of sauce in the bottom of your casserole and spread this around. Add a layer of the uncooked lasagna noodles and half of: the ricotta/mushrooms/spinach/Emmenthal/mozzarella/goat cheese, and one-third of the béchamel sauce. Add a second layer of the noodles and the other half of the mixture, along with a second-third of the béchamel sauce. Add your final layer of noodles, top with the last third of the béchamel, and top with the parmesan. Cover with foil and bake for 40 minutes; remove the foil and bake for another 10 minutes, or until the lasagna is bubbly. Let cool for 5 to 10 minutes before serving. You may want to pass the parmesan at the table, because there's really not much cheese in this…
Advance Planning: You can do the first three steps ahead of time — or any one of them, for that matter. I usually always cook up the mushrooms in advance and just pop them in the fridge.