French Tomato Tarts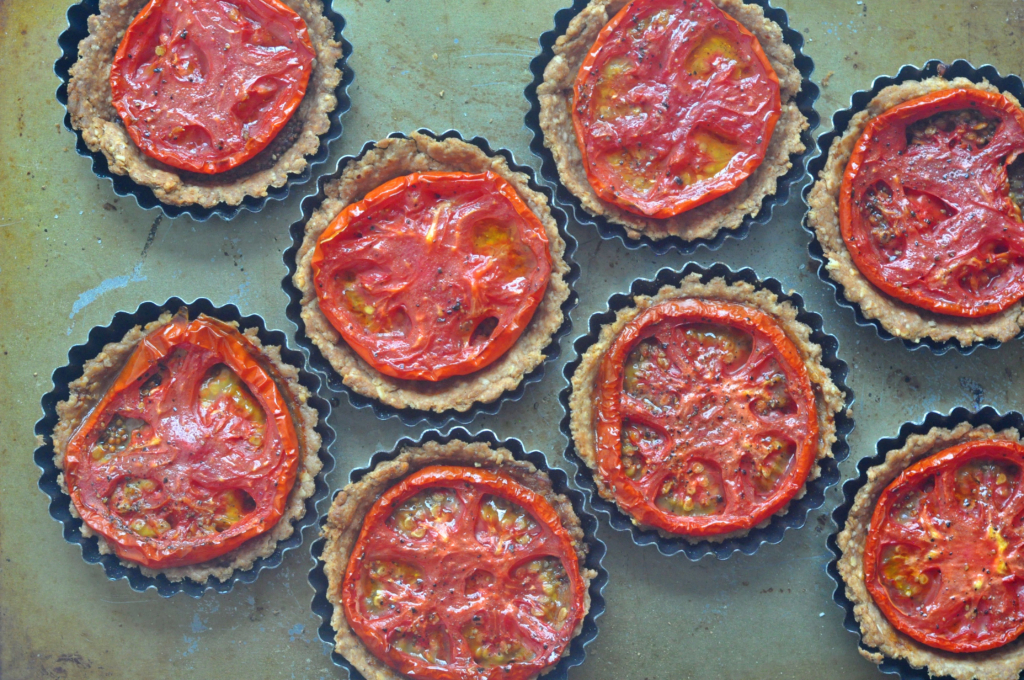 I've been on a big tomato kick this summer. I've eaten more bowls gazpacho and salmorejo than I can count, and I've made this tart only once, so I thought it was time to do it again before the tomatoes packed up and left for the season.
Tomato tarts are the tomato sandwich of France. Simply a crust with a few spoonfuls of mustard and tomatoes, they couldn't be simpler — or more French.
Some people use the regular Dijon for this tart, but I prefer the grainy, which has a slightly more exotic taste and a tiny bit of heat. I added a few leaves of basil for serving, but if you don't have basil, don't sweat it. These are fine on their own.
You could add slices of chèvre on top, which I've done on occasion, or add ricotta on the bottom, which I've done, too, but the idea here is not to get too complicated with the tart because the tomato is the star. Because I already made a regular-size version of this earlier in the season, I wanted to see how it would work with baby tart shells, which I never seem to use as much as I thought I would. Regular size, this tart travels well and is a great for picnics along the Seine. In miniature, these would be a great party appetizer.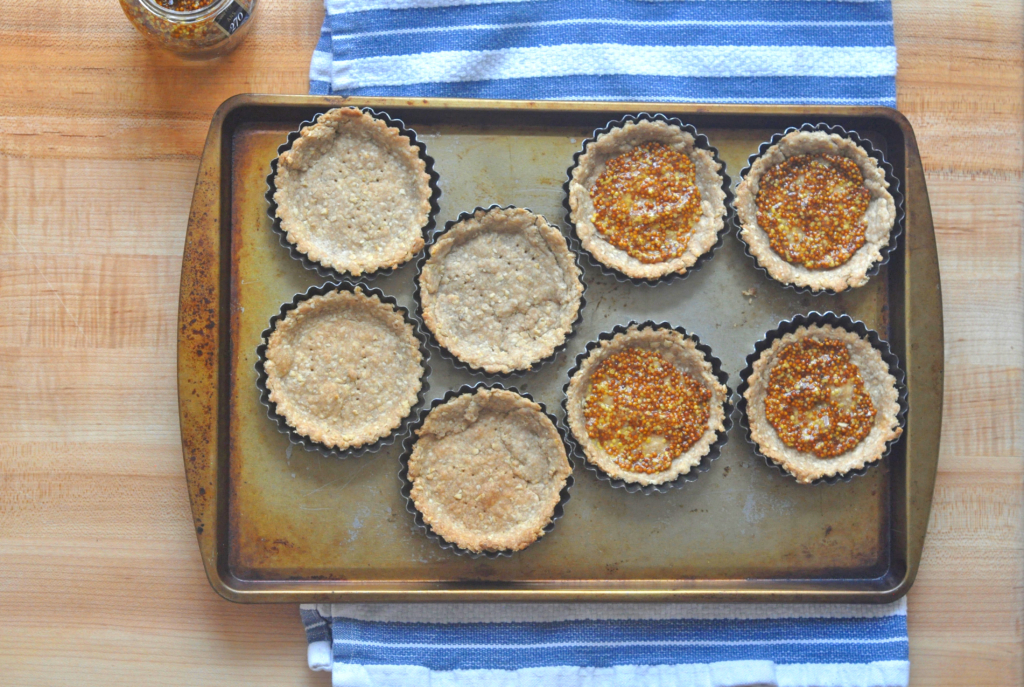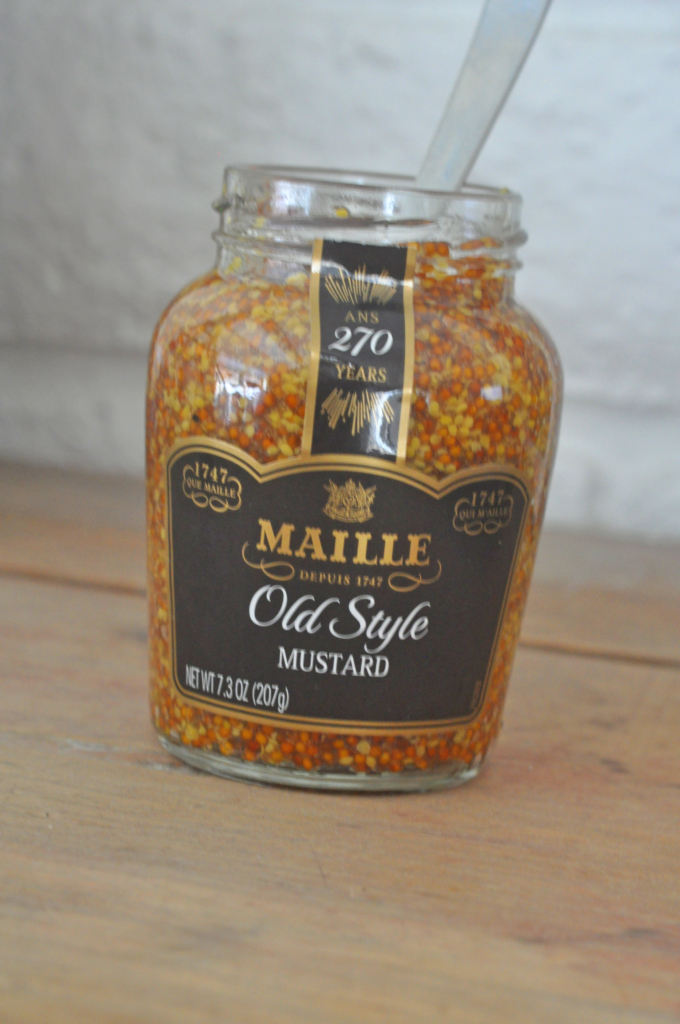 French Tomato Tarts
Makes 8 small or 1 regular-size tart
1 cup flour
1 cup whole wheat flour
½ cup oatmeal
1 tablespoon sugar
½ teaspoon sea salt
¼ cup butter, cold
¼ cup olive oil
6 to 8 tablespoons ice water
2 to 3 large tomatoes
Grainy mustard
a few basil leaves for serving
Make the crust. Put the flours, oatmeal, sugar, and salt in your food processor and pulse a time or two to combine.
Add the cold cubes of butter and olive oil and pulse quickly 4 or 5 times. The mixture should look like it has pebbles scattered throughout.
Add about half of the water. Pulse a few times to combine. If you need to add more water, add a little at a time, and only as much as you need. It will look crumbly yet will be moist. If you can pinch the dough together with your fingers, it's where it needs to be.
Dump the dough out onto a floured board and gently press it together with your hands. Now flatten it into a disc, cut it in half, and wrap up one half and put it in the fridge (or freezer if you're not going to use the other half). If the dough's too soft, put it in the fridge to rest for a half-hour before rolling it out.
Save time: Make the dough a day in advance.
Roll out the dough on a lightly floured board and fit it into your pans (8 small or 1 regular size). Freeze until firm.
Preheat the oven to 375°F. Put the tart shells on a baking sheet and blind bake for 20 minutes or until lightly browned. Add a teaspoon of mustard to each one. Slice the tomatoes about ¼-inch thick and place in the tart shells. Sprinkle with salt and pepper. Bake for 30 to 40 minutes or until the tomatoes are soft. Let cool. Add basil leaves. Serve at room temperature.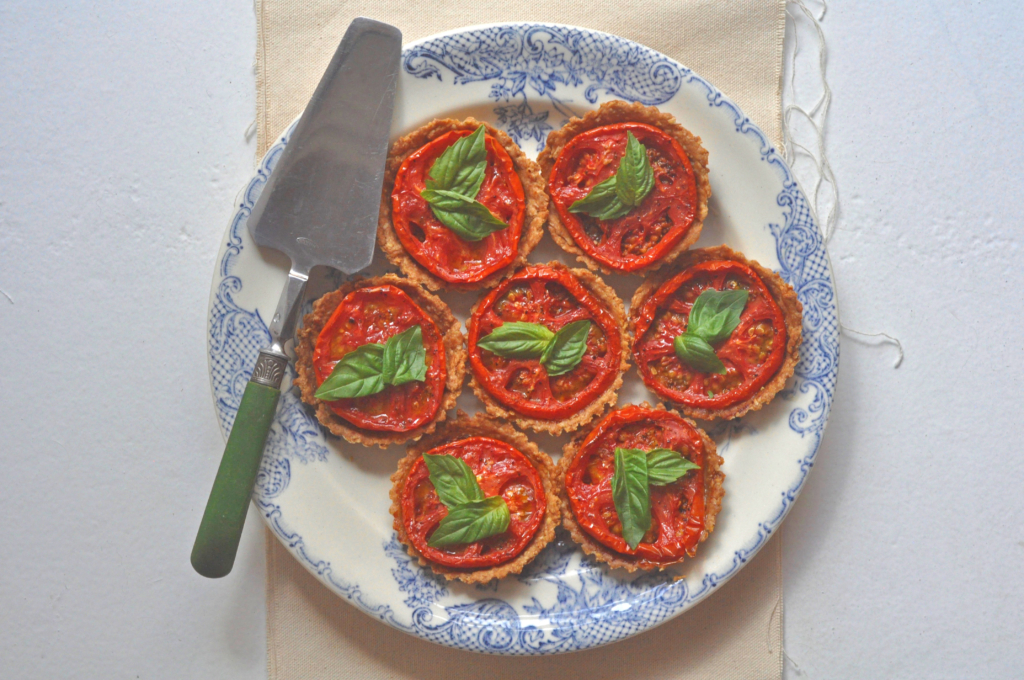 SaveSave
SaveSave
SaveSave
SaveSave
SaveSave
SaveSave
SaveSaveSaveSave
SaveSave
SaveSave