Galette des Rois: Kings' Cake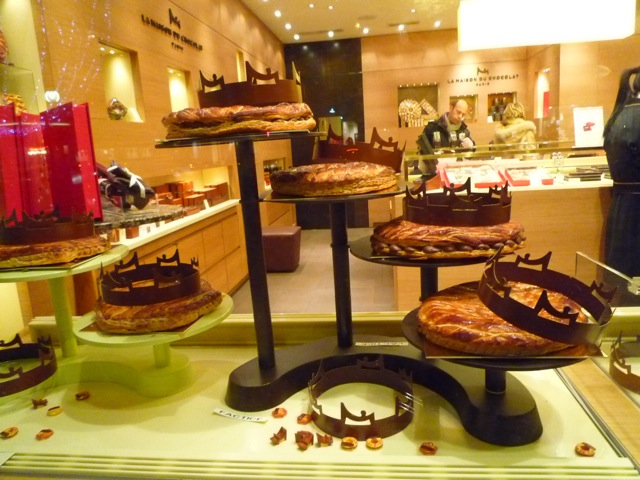 If good fortune was handed out with the amount of pastries one consumed, I'd be the luckiest cowgirl in Paris.
Truth be told, I'm usually not that tempted by the endless windows of perfect puffy this or flaky that, but lately, I've been nibbling on all sorts of things — all in the name of research, of course. How else can I properly report back to all of you on the good, the incredibly delish, and the you-can't-live-without?
I've probably mentioned this before, but it bears repeating because I still find this funny – and fun. You know how in the States we just say, "Happy New Year" on January first? Well, here, the "Bonne Année" wishes go on for weeks; heck, people even send cards.
Along with the well-wishing for the new year comes a couple of things. One, lentils, which you eat pretty much all the time, anyway, but especially on the first day of the new year because they're coin-shaped and therefore considered lucky; and two, Kings' Cake, or galette des Rois, which amounts to basically a large, flaky croissant, sliced open and filled with something creamy (it's usually frangipane, which I'm not crazy about).
Now, this croissant cake  isn't a New Year's lucky cake per se, but a something that's eaten the first part of January, because it's in honor of Epiphany. It doesn't have to be eaten at a particular time or on a certain day, even, which I find interesting, but there's usually a fève (plastic baby, or any sort of trinket or coin) hidden inside and whoever gets this piece of cake gets to be king — or queen — for the day. Which is why the paper crowns are always stacked on top of the cakes. When you buy a cake, you get a crown, too.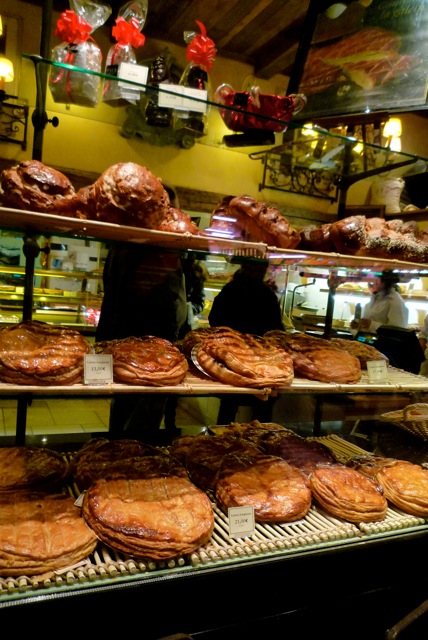 The other day, X  surprised me with a little galette des Rois, which I nibbled on with my afternoon coffee. It was lovely and not until I'd eaten half of it did I realize that it was a bit too almondy-tasting, so I gave it to him – which tells me that my professed dislike for frangipane may be waning.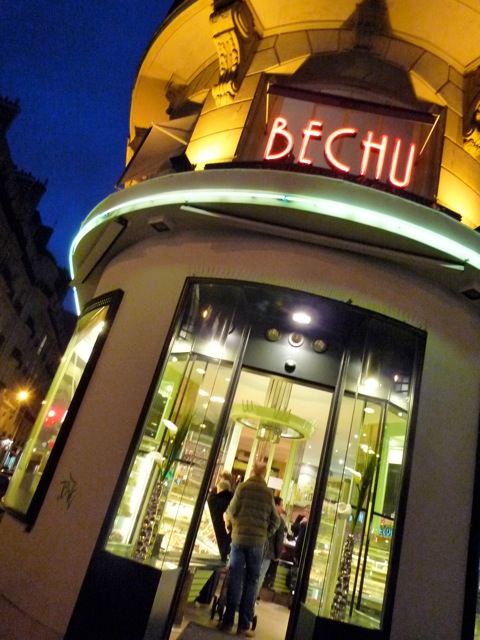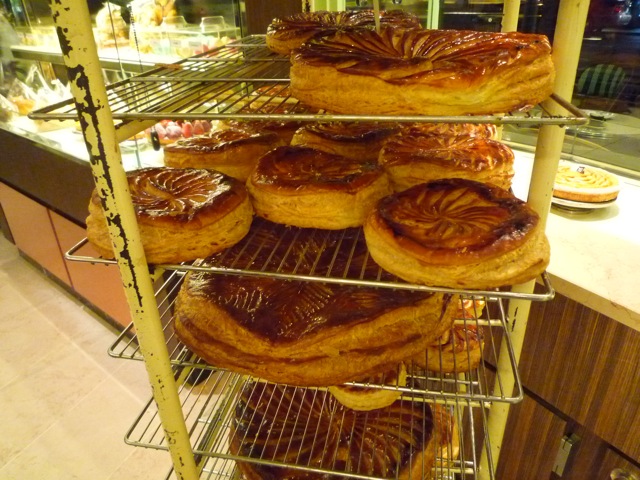 I asked X if he'd ever eaten a Kings' Cake with a different filling, and he said that he hadn't. I wanted to try some others, I told him, so next time we were passing by La Maison du Chocolat, we stopped in. Turns out they had three flavors – frangipane, chocolate, and a pistachio/frangipane/chocolate mixture – and we chose the chocolate. Naturally.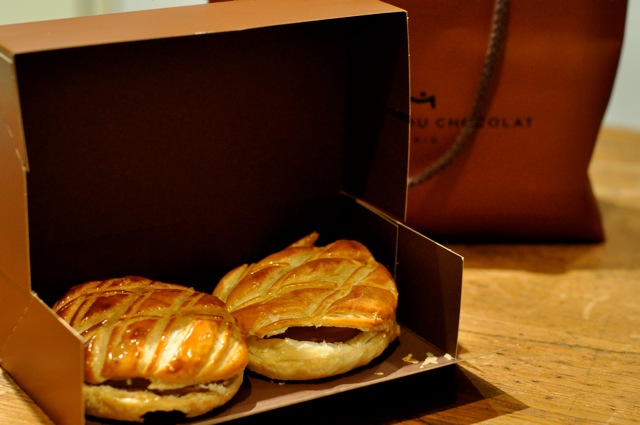 I asked if the chocolate filling was ganache or merely a chocolate pastry cream, and the salesgirl assured me that it was ganache, so we took two. Do I even need to tell you that?
Because these were small cakes, they didn't come with the fève, but I felt quite lucky, anyway, to be eating a croissant cake — my second, so far — to kick off this new year. Besides, aren't I already the queen? Of every day?
I say, let's all eat cake!
La Maison du Chocolat
120 Avenue Victor Hugo
75016
01 40 67 77 83